Mysteries : The Official GrahamHancock.com forums
For serious discussion of the controversies, approaches and enigmas surrounding the origins and development of the human species and of human civilization. (NB: for more 'out there' posts we point you in the direction of the '
Paranormal & Supernatural
' Message Board).
eyeofhorus33 Wrote:
-------------------------------------------------------
> Hello
>
> Apologies for being forgetful and for repeating
> myself in respect of the Khufu Khaf photograph -
> sadly, it is happening all too frequently to me
> these days!
Lol. No worries. I'm right there with you.
> The offering formula itself evolved and lengthier
> examples such as the one I referenced are quite
> common decorations on stela, false doors and
> wooden coffins, perhaps because they were not
> exclusive to royal burials.
>
> You'll have seen the offering formula itself
> everywhere. By the MK onwards it was ubiquitous
> and consequently, most museums exhibit artefacts
> with the inscription on in one form or other. Here
> it is on a 12th dynasty wooden coffin, top right
> to left:
>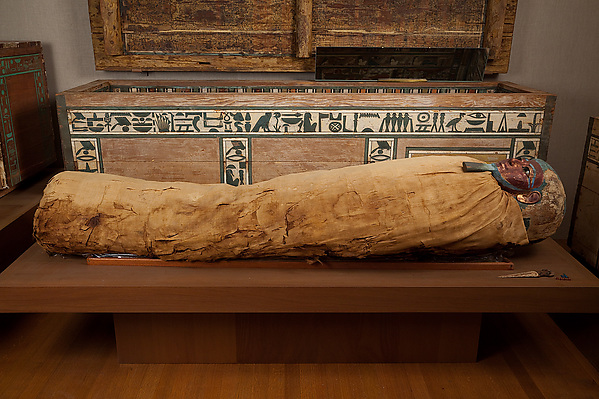 > Image: Metropolitan Museum of Art
Now that I know exactly what I've been looking at all this time, no doubt.
> The Khufu Khaf inscription seems incomplete to me,
> perhaps because it is O.K. I'm only familiar with
> Middle Egyptian, to be honest. In the photograph
> of the other wall you kindly provide (again!) it
> seems as if what we are looking at is complete,
> that there is nothing more. Is this your opinion,
> too?
I believe it is complete as in general what is found beginning in the 3rd Dynasty through the 4th is quite "simple" by comparison from the 5th Dynasty and onward which by the MK appears quite complex. I have to wonder if what we see in the OK are "standard phrases" more so than "formulas" which developed over time. The concept of the false door of which offerings were an integral part appears to have began in the 3rd Dynasty. It's interesting to compare what is seen later to what is found inside the stepped pyramid of Saqqara:
Large photos of inset panels:
HERE
HERE
HERE
Source
Granted, these may not be related to "offerings", but the sensibility of the use and conglomeration of particular iconography seems quite different than what is found in preceding Dynasties which is very interesting to me.
Edited 1 time(s). Last edit at 19-Dec-16 21:31 by Thanos5150.
Sorry, only registered users may post in this forum.