Mysteries : The Official GrahamHancock.com forums
For serious discussion of the controversies, approaches and enigmas surrounding the origins and development of the human species and of human civilization. (NB: for more 'out there' posts we point you in the direction of the '
Paranormal & Supernatural
' Message Board).
The Dry Moat Surrounding the Step Pyramid Complex at Saqqara
Lots of good photos. If you scroll down about 60% of the way it shows this curious object:
This was apparently found somewhere in a deep channel compartment between a series of mastabas along the south bank. It is next to the mastabas of Bebi and Hotep (Ptah-Hotep) who are known to be 5th-6th Dynasty officials, but is unclear whether the provenance of these compartments are related as the like the complex of Unas in the area may have been built over early Dynastic structures. There is writing barely discernible on the side which appears to show only a serekh and another enclosure, but no cartouche. This is curious to me which make leave the door open for a provenance before the the end of the 3rd Dynasty. The pharaoh of Hotep was Djedkare Isesi whose serekh was this: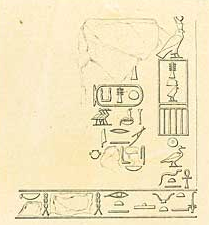 Zooming in on the photo of the artifact doesn't reveal much detail but it does not look the same to me but admittedly is hard to tell.
From the corrosion the artifact definitely appears to be metal, assuredly copper, with series of curious circular "templates" on the top. The shape with legs gives the appearance of a raised bench work surface that someone might kneel or sit in front of.
Can anyone identify this object with a source?
Edited 3 time(s). Last edit at 13-Dec-16 03:49 by Thanos5150.
Sorry, only registered users may post in this forum.