Mysteries : The Official GrahamHancock.com forums
For serious discussion of the controversies, approaches and enigmas surrounding the origins and development of the human species and of human civilization. (NB: for more 'out there' posts we point you in the direction of the '
Paranormal & Supernatural
' Message Board).
Some info on how others view'd the Ratchet configuration of the side walls.
This pic shows the broken in top section of the gallery that leads into the RC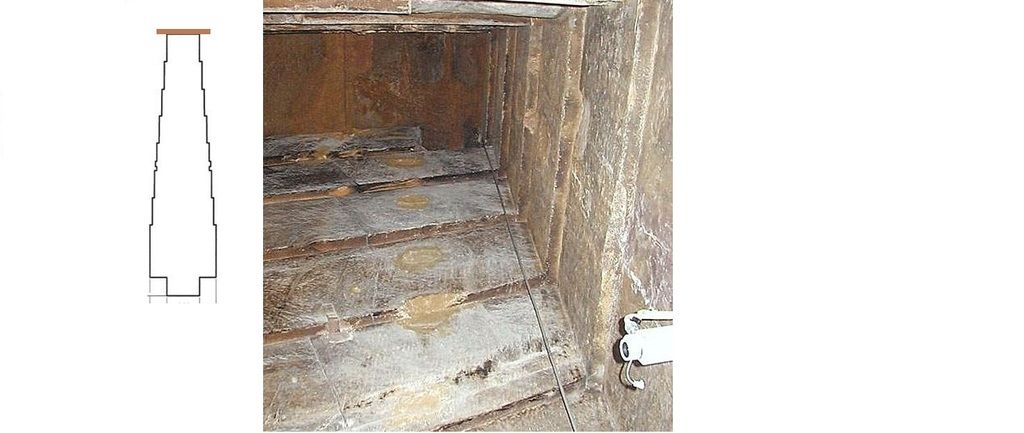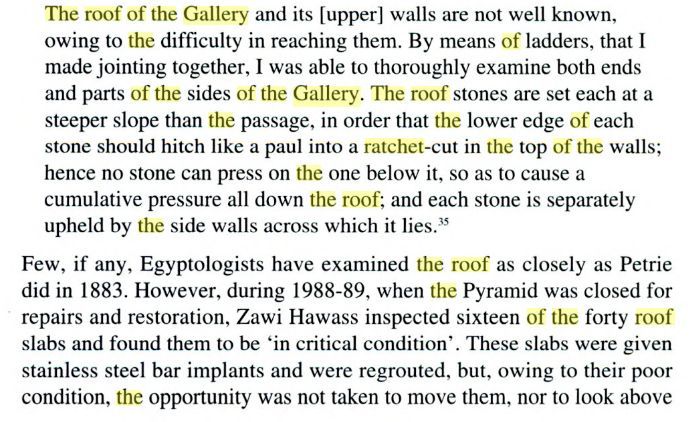 This next pic is a screen grab from a 360 degree panoramic view of the GG roof section,
It looks like some of these overlaps have been purposely chipped away, as you can see regular chisel marks that suggest intention, i would think this could have been done if they felt the stone was so unstable that it could have fallen on the heads of any visitor.
The image is slightly out of alignment due to stitching for the 360 view.
See 360 pan here [
www.facebook.com
]
DPP
| Subject | Views | Written By | Posted |
| --- | --- | --- | --- |
| Pyramid Construction | 7956 | Thanos5150 | 11-Dec-16 06:05 |
| Re: Pyramid Construction & Grand Gallery | 1165 | M. J. Thomas | 11-Dec-16 11:10 |
| Re: Pyramid Construction & Grand Gallery | 1057 | Thanos5150 | 11-Dec-16 17:28 |
| Re: Pyramid Construction & Grand Gallery | 983 | cladking | 11-Dec-16 19:03 |
| Re: Pyramid Construction | 952 | Jon Ellison | 11-Dec-16 12:49 |
| Re: Pyramid Construction | 960 | cladking | 11-Dec-16 14:38 |
| Re: Pyramid Construction | 901 | DScribr | 11-Dec-16 14:49 |
| Re: Pyramid Construction | 893 | Thanos5150 | 11-Dec-16 18:03 |
| Re: Pyramid Construction | 872 | Lee McGiffen | 16-Dec-16 10:43 |
| Re: Pyramid Construction | 907 | DUNE | 16-Dec-16 12:08 |
| Re: Pyramid Construction | 789 | DUNE | 16-Dec-16 14:10 |
| Re: Pyramid Construction | 920 | cladking | 11-Dec-16 14:57 |
| Re: Pyramid Construction | 804 | Thanos5150 | 11-Dec-16 17:29 |
| Re: Pyramid Construction | 913 | cladking | 11-Dec-16 19:15 |
| Re: Pyramid Construction | 840 | Thanos5150 | 11-Dec-16 17:43 |
| Re: Pyramid Construction | 842 | sfbey | 11-Dec-16 17:55 |
| Re: Pyramid Construction | 830 | DScribr | 11-Dec-16 21:20 |
| Re: Pyramid Construction | 694 | Warwick | 11-Dec-16 21:25 |
| Re: Pyramid Construction | 938 | DScribr | 11-Dec-16 22:55 |
| Re: Pyramid Construction | 769 | Warwick | 11-Dec-16 20:56 |
| Block Construction | 808 | DScribr | 11-Dec-16 21:23 |
| Re: Block Construction | 843 | Warwick | 11-Dec-16 21:35 |
| Re: Block Construction | 861 | randompHactor | 11-Dec-16 21:53 |
| Re: Block Construction | 795 | DScribr | 11-Dec-16 22:59 |
| Re: Pyramid Construction | 894 | loveritas | 11-Dec-16 22:16 |
| Re: Pyramid Construction | 856 | DScribr | 11-Dec-16 23:02 |
| Re: Pyramid Construction | 804 | loveritas | 12-Dec-16 01:08 |
| Re: Pyramid Construction | 864 | DScribr | 12-Dec-16 14:31 |
| More Sand | 835 | loveritas | 12-Dec-16 22:11 |
| Re: More Sand | 802 | cladking | 12-Dec-16 23:19 |
| Re: More Sand | 825 | Thanos5150 | 13-Dec-16 00:15 |
| Re: More Sand | 820 | cladking | 13-Dec-16 00:25 |
| Re: More Sand | 830 | DScribr | 13-Dec-16 01:03 |
| Re: More Sand | 823 | Thanos5150 | 13-Dec-16 01:19 |
| Where is the Sand | 837 | DScribr | 13-Dec-16 01:00 |
| Re: Where is the Sand | 839 | cladking | 13-Dec-16 02:15 |
| Re: Where is the Sand | 847 | DScribr | 13-Dec-16 03:34 |
| Re: More Sand | 881 | Audrey | 13-Dec-16 03:50 |
| Re: More Sand | 811 | cladking | 13-Dec-16 04:43 |
| Re: More Sand | 874 | Audrey | 13-Dec-16 04:55 |
| Re: More Sand | 913 | Jon Ellison | 13-Dec-16 11:40 |
| Re: More Sand | 921 | Audrey | 14-Dec-16 02:43 |
| Re: More Sand | 918 | Jon Ellison | 14-Dec-16 10:39 |
| Re: More Sand | 853 | Audrey | 15-Dec-16 01:19 |
| Re: More Sand | 851 | Jon Ellison | 15-Dec-16 03:03 |
| Re: More Sand | 817 | Jon Ellison | 15-Dec-16 03:19 |
| Re: More Sand | 887 | Audrey | 15-Dec-16 05:40 |
| Re: More Sand | 841 | Jon Ellison | 15-Dec-16 09:50 |
| Re: More Sand | 753 | DUNE | 15-Dec-16 11:35 |
| Re: More Sand | 794 | Jon Ellison | 15-Dec-16 12:38 |
| Re: More Sand | 825 | Audrey | 16-Dec-16 06:10 |
| Re: More Sand | 815 | Origyptian | 16-Dec-16 14:52 |
| Re: More Sand | 775 | Origyptian | 15-Dec-16 14:33 |
| Re: More Sand | 756 | Jon Ellison | 15-Dec-16 15:17 |
| Re: More Sand | 795 | Origyptian | 15-Dec-16 15:35 |
| Re: More Sand | 770 | Jon Ellison | 15-Dec-16 15:45 |
| Re: More Sand | 845 | Origyptian | 15-Dec-16 16:02 |
| Re: More Sand | 846 | Jon Ellison | 15-Dec-16 16:25 |
| Re: More Sand | 766 | DUNE | 15-Dec-16 17:00 |
| Re: More Sand | 686 | Jon Ellison | 15-Dec-16 17:20 |
| Re: More Sand | 812 | DUNE | 15-Dec-16 17:38 |
| Re: More Sand | 782 | Jon Ellison | 15-Dec-16 17:48 |
| Re: More Sand | 818 | Audrey | 16-Dec-16 06:27 |
| Re: More Sand | 773 | Jon Ellison | 16-Dec-16 14:41 |
| Re: More Sand | 798 | DUNE | 16-Dec-16 15:38 |
| Re: More Sand | 765 | Thanos5150 | 16-Dec-16 17:02 |
| Re: More Sand | 894 | DUNE | 16-Dec-16 17:15 |
| Re: More Sand | 871 | Jon Ellison | 16-Dec-16 19:12 |
| Re: More Sand | 762 | DUNE | 16-Dec-16 20:04 |
| Re: More Sand | 846 | Origyptian | 15-Dec-16 17:01 |
| Re: More Sand | 732 | Jon Ellison | 15-Dec-16 17:33 |
| Chisel Marks Suggest..... | 810 | DScribr | 15-Dec-16 15:20 |
| Re: Chisel Marks Suggest..... | 828 | Origyptian | 15-Dec-16 15:41 |
| Re: Chisel Marks Suggest..... | 753 | DScribr | 15-Dec-16 15:49 |
| Re: More Sand | 758 | Audrey | 16-Dec-16 06:17 |
| Re: More Sand | 775 | Jon Ellison | 14-Dec-16 11:43 |
| Popular Posters | 965 | loveritas | 14-Dec-16 10:57 |
| Re: Popular Posters | 956 | M. J. Thomas | 14-Dec-16 13:52 |
| Re: Popular Posters | 788 | DScribr | 14-Dec-16 15:18 |
| Presumption Correction | 935 | loveritas | 13-Dec-16 06:35 |
| Re: Presumption Correction | 881 | Audrey | 13-Dec-16 06:38 |
| Re: More Sand | 866 | Thanos5150 | 13-Dec-16 07:17 |
| Re: More Sand | 809 | cladking | 13-Dec-16 14:46 |
| Re: More Sand | 848 | Thanos5150 | 13-Dec-16 18:07 |
| Re: More Sand | 753 | Thanos5150 | 13-Dec-16 19:07 |
| Re: More Sand | 880 | cladking | 13-Dec-16 21:19 |
| Re: More Sand | 827 | Thanos5150 | 14-Dec-16 02:34 |
| Re: More Sand | 869 | cladking | 14-Dec-16 03:41 |
| Re: More Sand | 801 | Thanos5150 | 15-Dec-16 17:39 |
| Re: More Sand | 842 | cladking | 13-Dec-16 21:16 |
| Re: More Sand | 762 | Audrey | 14-Dec-16 03:31 |
| GOT Sand??? | 820 | DScribr | 14-Dec-16 04:06 |
| Re: GOT Sand??? | 868 | Audrey | 14-Dec-16 04:36 |
| Re: GOT brains??? | 919 | DScribr | 14-Dec-16 15:16 |
| Re: GOT Sand??? | 928 | cladking | 14-Dec-16 04:51 |
| Who Ya' Gonna Call? | 841 | cladking | 17-Dec-16 17:51 |
| Re: More Sand | 778 | loveritas | 13-Dec-16 01:33 |
| Re: Pyramid Construction | 753 | Steve Clayton | 11-Dec-16 23:36 |
| Re: Pyramid Construction | 731 | Sirius7237 | 12-Dec-16 00:48 |
| Re: Pyramid Construction | 839 | Thanos5150 | 12-Dec-16 01:03 |
| Re: Pyramid Construction | 785 | Steve Clayton | 12-Dec-16 01:19 |
| Re: Pyramid Construction | 806 | Sirius7237 | 12-Dec-16 05:55 |
| Re: Pyramid Construction | 1115 | Thanos5150 | 12-Dec-16 06:29 |
| Re: Pyramid Construction | 847 | Sirius7237 | 13-Dec-16 23:30 |
| Re: Pyramid Construction | 746 | Thanos5150 | 14-Dec-16 19:00 |
| Re: Pyramid Construction | 808 | M. J. Thomas | 12-Dec-16 11:52 |
| Re: Pyramid Construction | 821 | Sirius7237 | 12-Dec-16 17:24 |
| Re: Pyramid Construction | 830 | M. J. Thomas | 13-Dec-16 01:22 |
| Re: Pyramid Construction | 795 | DScribr | 13-Dec-16 03:30 |
| Re: Pyramid Construction | 1223 | Steve Clayton | 13-Dec-16 18:13 |
| Re: Pyramid Construction | 776 | Jon Ellison | 13-Dec-16 18:33 |
| Re: Pyramid Construction | 841 | cladking | 13-Dec-16 21:29 |
| Re: Pyramid Construction | 850 | Steve Clayton | 13-Dec-16 23:22 |
| Re: Pyramid Construction | 796 | cladking | 13-Dec-16 21:27 |
| Re: Pyramid Construction | 772 | Sirius7237 | 13-Dec-16 23:41 |
| Re: Pyramid Construction | 797 | Steve Clayton | 14-Dec-16 17:31 |
| Houdin's most critical error | 880 | Warwick | 14-Dec-16 18:17 |
| Re: Houdin's most critical error | 805 | Steve Clayton | 14-Dec-16 18:52 |
| Re: Houdin's most critical error | 869 | Warwick | 14-Dec-16 19:14 |
| Re: Houdin's most critical error | 774 | Origyptian | 15-Dec-16 21:07 |
| the $64,000.00 Question | 842 | Warwick | 16-Dec-16 19:35 |
| Re: the $64,000.00 Question | 736 | DScribr | 16-Dec-16 21:03 |
| Re: the $64,000.00 Question | 775 | Warwick | 16-Dec-16 22:03 |
| Re: the $64,000.00 Question | 836 | Origyptian | 16-Dec-16 22:23 |
| Re: the $64,000.00 Question | 760 | Warwick | 16-Dec-16 22:43 |
| Re: the $64,000.00 Question | 785 | Origyptian | 16-Dec-16 23:07 |
| Re: the $64,000.00 Question . . . PLUS | 757 | M. J. Thomas | 18-Dec-16 11:24 |
| Re: the $64,000.00 Question . . . PLUS | 827 | DUNE | 18-Dec-16 12:14 |
| Re: the $64,000.00 Question . . . PLUS | 750 | Origyptian | 18-Dec-16 17:05 |
| Re: the $64,000.00 Question . . . PLUS | 829 | DUNE | 18-Dec-16 17:51 |
| Re: the $64,000.00 Question . . . PLUS | 711 | Origyptian | 19-Dec-16 01:47 |
| Re: the $64,000.00 Question . . . PLUS | 679 | Jon Ellison | 19-Dec-16 19:41 |
| Re: the $64,000.00 Question . . . PLUS | 720 | DUNE | 19-Dec-16 21:29 |
| Re: the $64,000.00 Question . . . PLUS | 644 | Jon Ellison | 19-Dec-16 22:47 |
| Re: the $64,000.00 Question . . . PLUS | 802 | DUNE | 19-Dec-16 23:21 |
| Re: the $64,000.00 Question . . . PLUS | 685 | Jon Ellison | 20-Dec-16 11:56 |
| Re: the $64,000.00 Question . . . PLUS | 834 | Origyptian | 18-Dec-16 14:53 |
| Re: the $64,000.00 Question . . . PLUS | 702 | cladking | 18-Dec-16 16:17 |
| Where are the Taxonomies? | 755 | cladking | 18-Dec-16 16:26 |
| Re: Where are the Taxonomies? | 768 | cladking | 18-Dec-16 16:33 |
| Re: the $64,000.00 Question . . . PLUS | 700 | M. J. Thomas | 18-Dec-16 16:26 |
| Re: the $64,000.00 Question . . . PLUS | 752 | cladking | 18-Dec-16 16:43 |
| Re: the $64,000.00 Question . . . PLUS | 789 | Origyptian | 18-Dec-16 16:58 |
| Re: the $64,000.00 Question . . . PLUS | 767 | Origyptian | 18-Dec-16 16:44 |
| Re: the $64,000.00 Question . . . PLUS | 626 | M. J. Thomas | 18-Dec-16 17:33 |
| In A Cemetery | 767 | DScribr | 18-Dec-16 20:06 |
| Re: In A Cemetery | 753 | cladking | 18-Dec-16 20:11 |
| Re: In A Cemetery | 777 | DScribr | 18-Dec-16 22:59 |
| Re: In A Cemetery | 719 | cladking | 19-Dec-16 00:52 |
| Re: In A Cemetery | 770 | DScribr | 19-Dec-16 01:32 |
| Re: In A Cemetery | 665 | Origyptian | 19-Dec-16 01:52 |
| Re: In A Cemetery | 779 | DScribr | 19-Dec-16 03:54 |
| Re: In A Cemetery | 815 | Thanos5150 | 19-Dec-16 04:44 |
| Re: In A Cemetery | 708 | M. J. Thomas | 19-Dec-16 17:53 |
| Re: In A Cemetery | 701 | cladking | 19-Dec-16 17:59 |
| Re: In A Cemetery | 715 | Origyptian | 19-Dec-16 18:13 |
| Yes, Buried In A Cemetery | 751 | DScribr | 20-Dec-16 03:50 |
| Re: Yes, Buried In A Cemetery | 719 | Origyptian | 20-Dec-16 15:34 |
| Re: In A Cemetery | 737 | M. J. Thomas | 20-Dec-16 11:23 |
| Re: In A Cemetery | 712 | Jon Ellison | 20-Dec-16 11:28 |
| Re: In A Cemetery | 696 | M. J. Thomas | 20-Dec-16 11:52 |
| Re: In A Cemetery | 664 | Corpuscles | 20-Dec-16 11:58 |
| Re: In A Cemetery | 659 | DUNE | 20-Dec-16 15:06 |
| Re: In A Cemetery | 853 | Jon Ellison | 20-Dec-16 17:42 |
| Re: In A Cemetery | 740 | Origyptian | 20-Dec-16 15:49 |
| Re: In A Cemetery | 692 | Jon Ellison | 20-Dec-16 16:31 |
| Re: In A Cemetery | 633 | Origyptian | 20-Dec-16 16:49 |
| Re: In A Cemetery | 692 | Jon Ellison | 20-Dec-16 17:11 |
| Re: In A Cemetery | 695 | cladking | 20-Dec-16 19:46 |
| Re: In A Cemetery | 682 | Origyptian | 20-Dec-16 20:51 |
| Re: In A Cemetery | 712 | Warwick | 20-Dec-16 20:56 |
| Re: In A Cemetery | 763 | Origyptian | 20-Dec-16 21:09 |
| Re: In A Cemetery | 677 | Warwick | 20-Dec-16 21:15 |
| Re: In A Cemetery | 683 | Origyptian | 20-Dec-16 21:42 |
| Re: In A Cemetery | 662 | Warwick | 21-Dec-16 23:01 |
| Re: In A Cemetery | 740 | Origyptian | 22-Dec-16 05:28 |
| Re: In A Cemetery | 678 | cladking | 20-Dec-16 21:07 |
| Re: Why was the Egyptologist so depressed? | 718 | Sirius7237 | 21-Dec-16 02:58 |
| He just wasn't getting enough FUNicular... | 673 | cladking | 21-Dec-16 20:27 |
| Re: He just wasn't getting enough FUNicular... | 579 | Warwick | 21-Dec-16 21:35 |
| Re: In A Cemetery | 750 | Thanos5150 | 20-Dec-16 21:44 |
| Re: In A Cemetery | 618 | Origyptian | 20-Dec-16 22:13 |
| Re: In A Cemetery | 760 | Thanos5150 | 21-Dec-16 00:02 |
| Re: In A Cemetery | 756 | Origyptian | 21-Dec-16 01:24 |
| Re: In A Cemetery | 861 | Thanos5150 | 21-Dec-16 01:55 |
| Re: In A Cemetery | 765 | Audrey | 21-Dec-16 02:52 |
| Enough et als to build a pyramid. | 728 | cladking | 21-Dec-16 03:06 |
| Re: In A Cemetery | 744 | Thanos5150 | 21-Dec-16 03:15 |
| Re: In A Cemetery | 722 | Audrey | 21-Dec-16 04:50 |
| Re: In A Cemetery | 755 | Thanos5150 | 21-Dec-16 21:02 |
| sidebar | 817 | Warwick | 21-Dec-16 21:16 |
| Re: In A Cemetery | 877 | Audrey | 22-Dec-16 02:01 |
| Re: In A Cemetery | 918 | eyeofhorus33 | 21-Dec-16 07:16 |
| Re: In A Cemetery | 716 | Corpuscles | 21-Dec-16 12:00 |
| Re: In A Cemetery | 630 | M. J. Thomas | 21-Dec-16 13:39 |
| Re: In A Cemetery | 669 | eyeofhorus33 | 21-Dec-16 13:54 |
| Re: In A Cemetery | 876 | DUNE | 21-Dec-16 15:55 |
| Re: In A Cemetery | 827 | Thunderbird | 21-Dec-16 17:48 |
| Re: In A Cemetery | 719 | Thanos5150 | 21-Dec-16 22:33 |
| Re: In A Cemetery | 859 | Martin Stower | 21-Dec-16 22:02 |
| Re: In A Cemetery | 686 | Warwick | 21-Dec-16 22:11 |
| Re: In A Cemetery | 736 | Audrey | 21-Dec-16 02:49 |
| Re: In A Cemetery | 787 | M. J. Thomas | 21-Dec-16 06:02 |
| Re: In A Cemetery | 741 | cladking | 21-Dec-16 14:44 |
| Re: In A Cemetery | 506 | Steve Clayton | 30-Mar-18 20:42 |
| Re: In A Cemetery | 648 | DScribr | 19-Dec-16 23:06 |
| Re: Pyramid Construction | 776 | Sirius7237 | 14-Dec-16 23:27 |
| Re: Pyramid Construction | 858 | Steve Clayton | 15-Dec-16 02:29 |
| Re: Pyramid Construction | 712 | Sirius7237 | 15-Dec-16 03:12 |
| Re: Pyramid Construction | 871 | Sirius7237 | 15-Dec-16 04:25 |
| Re: Pyramid Construction | 809 | Steve Clayton | 15-Dec-16 13:33 |
| Re: Pyramid Construction | 844 | Sirius7237 | 15-Dec-16 15:35 |
| Animal Fat for Lube?!? | 800 | DScribr | 15-Dec-16 15:48 |
| Re: Animal Fat for Lube?!? | 768 | Steve Clayton | 15-Dec-16 17:26 |
| Re: Animal Fat reduces Friction-That's A Fact! | 773 | DScribr | 15-Dec-16 20:13 |
| Re: Counterweights and counterthoughts | 742 | Sirius7237 | 17-Dec-16 22:09 |
| Re: Counterweights and counterthoughts | 756 | Steve Clayton | 19-Dec-16 02:03 |
| Re: Counterweights and counterthoughts | 911 | Sirius7237 | 19-Dec-16 18:42 |
| Re: Counterweights and counterthoughts | 721 | Steve Clayton | 20-Dec-16 17:56 |
| Re: Counterweights and counterthoughts | 612 | Sirius7237 | 21-Dec-16 02:56 |
| Re: Counterweights and counterthoughts | 708 | Steve Clayton | 21-Dec-16 18:04 |
| Re: Pyramid Construction | 789 | cladking | 12-Dec-16 14:30 |
| Re: Pyramid Construction | 738 | Steve Clayton | 12-Dec-16 15:29 |
| Re: Pyramid Construction | 746 | cladking | 12-Dec-16 15:56 |
| Re: Pyramid Construction | 770 | Steve Clayton | 12-Dec-16 01:18 |
| Re: Pyramid Construction | 872 | Sirius7237 | 12-Dec-16 05:57 |
| Re: Pyramid Construction | 833 | cladking | 12-Dec-16 02:46 |
| Re: Pyramid Construction | 729 | Thanos5150 | 12-Dec-16 01:26 |
| Re: Accretion Layers | 745 | Thanos5150 | 12-Dec-16 02:14 |
| Re: G3 Exposed | 974 | Thanos5150 | 12-Dec-16 03:53 |
| Re: G3 Exposed | 856 | loveritas | 12-Dec-16 04:44 |
| Re: G3 Exposed | 723 | Thanos5150 | 12-Dec-16 05:15 |
| Re: G3 Exposed | 1052 | Thanos5150 | 12-Dec-16 05:39 |
| Re: G3 Exposed | 810 | loveritas | 12-Dec-16 06:17 |
| Re: G3 Exposed | 740 | Steve Clayton | 12-Dec-16 15:40 |
| Re: G3 Exposed | 721 | Thanos5150 | 12-Dec-16 16:40 |
| Re: Detail of Queen's Pyramids | 1063 | Thanos5150 | 12-Dec-16 04:02 |
| Re: Detail of Queen's Pyramids | 808 | loveritas | 12-Dec-16 05:12 |
| Re: Detail of Queen's Pyramids | 800 | Thanos5150 | 12-Dec-16 05:21 |
| Re: Detail of Queen's Pyramids | 778 | loveritas | 12-Dec-16 05:38 |
| Re: Detail of Queen's Pyramids | 1147 | Thanos5150 | 12-Dec-16 06:00 |
| Re: Pyramid Construction | 807 | Steve Clayton | 12-Dec-16 14:30 |
| Re: Pyramid Construction | 709 | Thanos5150 | 12-Dec-16 16:38 |
| Re: Pyramid Construction | 709 | DScribr | 12-Dec-16 17:28 |
| Re: Pyramid Construction | 762 | Warwick | 12-Dec-16 18:01 |
| Re: Pyramid Construction | 737 | cladking | 12-Dec-16 18:32 |
| Re: Pyramid Construction | 732 | Warwick | 12-Dec-16 18:53 |
| Re: Pyramid Construction | 761 | cladking | 12-Dec-16 19:18 |
| Re: Pyramid Construction | 744 | Warwick | 12-Dec-16 19:46 |
| Re: Pyramid Construction | 691 | cladking | 12-Dec-16 20:43 |
| Re: Pyramid Construction | 759 | Warwick | 13-Dec-16 19:05 |
| Re: Pyramid Construction | 711 | cladking | 13-Dec-16 20:29 |
| NO | 715 | Warwick | 13-Dec-16 21:54 |
| Re: Pyramid Construction | 745 | cladking | 13-Dec-16 21:05 |
| Re: Pyramid Construction | 747 | Warwick | 14-Dec-16 18:42 |
| Re: Pyramid Construction | 869 | cladking | 14-Dec-16 18:52 |
| While Egyptology fiddles... | 704 | cladking | 14-Dec-16 19:32 |
| Re: While Egyptology fiddles... | 804 | Warwick | 16-Dec-16 19:48 |
| Re: While Egyptology fiddles... | 701 | cladking | 16-Dec-16 20:22 |
| Re: While Egyptology fiddles... | 750 | Warwick | 16-Dec-16 22:48 |
| Re: While Egyptology fiddles... | 759 | cladking | 16-Dec-16 23:58 |
| Re: Pyramid Construction | 821 | Steve Clayton | 12-Dec-16 20:45 |
| Re: Pyramid Construction | 768 | cladking | 12-Dec-16 21:00 |
| Re: Pyramid Construction | 650 | Steve Clayton | 12-Dec-16 22:26 |
| Re: Pyramid Construction | 743 | cladking | 12-Dec-16 23:13 |
| Mind-reading a means of Sentence (Re)Construction | 788 | DScribr | 13-Dec-16 01:06 |
| Re: Mind-reading a means of Sentence (Re)Construction | 731 | cladking | 13-Dec-16 02:27 |
| Re: Mind-reading a means of Sentence (Re)Construction-Webster's is not...... | 783 | DScribr | 13-Dec-16 03:36 |
| Re: Pyramid Construction | 680 | Steve Clayton | 14-Dec-16 19:35 |
| Re: Pyramid Construction | 751 | cladking | 14-Dec-16 19:40 |
| Re: Pyramid Construction | 691 | Warwick | 14-Dec-16 20:33 |
| Re: Pyramid Construction | 714 | cladking | 14-Dec-16 20:40 |
| Re: Pyramid Construction | 706 | Audrey | 15-Dec-16 01:39 |
| Re: Pyramid Construction | 801 | cladking | 15-Dec-16 01:48 |
| correction | 656 | Warwick | 16-Dec-16 19:30 |
| Re: correction | 744 | Jon Ellison | 16-Dec-16 19:49 |
| Re: correction | 702 | Warwick | 16-Dec-16 20:05 |
| Re: correction | 677 | Jon Ellison | 16-Dec-16 20:27 |
| Re: correction | 679 | Warwick | 16-Dec-16 22:10 |
| Re: correction | 684 | Jon Ellison | 16-Dec-16 22:50 |
| NONE | 604 | DScribr | 16-Dec-16 22:59 |
| Re: correction | 706 | Origyptian | 16-Dec-16 22:53 |
| Re: 21st Century Westerner v 4th Dyn. Ancient Egyptian | 780 | M. J. Thomas | 18-Dec-16 23:28 |
| Re: correction | 715 | Martin Stower | 22-Dec-16 16:20 |
| Re: correction | 691 | DocKnowles | 22-Dec-16 20:22 |
| Re: correction | 712 | Martin Stower | 22-Dec-16 21:00 |
| Re: correction | 732 | DocKnowles | 23-Dec-16 06:43 |
| Re: correction | 676 | eyeofhorus33 | 23-Dec-16 07:43 |
| Re: correction | 673 | DocKnowles | 23-Dec-16 10:44 |
| Re: correction | 652 | eyeofhorus33 | 23-Dec-16 12:06 |
| Re: correction | 669 | cladking | 23-Dec-16 14:26 |
| Re: correction | 690 | eyeofhorus33 | 23-Dec-16 15:41 |
| Re: correction | 731 | cladking | 23-Dec-16 17:13 |
| Re: correction | 618 | Origyptian | 23-Dec-16 17:16 |
| Re: correction | 597 | cladking | 23-Dec-16 17:31 |
| Re: correction | 710 | Thanos5150 | 23-Dec-16 17:39 |
| Re: correction | 700 | eyeofhorus33 | 24-Dec-16 08:13 |
| Re: correction | 675 | cladking | 24-Dec-16 15:18 |
| Re: correction | 826 | eyeofhorus33 | 24-Dec-16 16:49 |
| Re: correction | 677 | cladking | 24-Dec-16 17:24 |
| Re: correction | 663 | Thanos5150 | 24-Dec-16 16:52 |
| Re: correction | 711 | Origyptian | 24-Dec-16 18:12 |
| Re: correction | 724 | Martin Stower | 24-Dec-16 23:42 |
| Re: correction | 956 | Thanos5150 | 25-Dec-16 00:51 |
| Re: correction | 704 | Thanos5150 | 25-Dec-16 01:03 |
| Re: correction | 811 | DUNE | 27-Dec-16 18:09 |
| Re: correction | 800 | DUNE | 30-Dec-16 21:16 |
| Re: correction | 778 | Thanos5150 | 30-Dec-16 23:58 |
| Re: correction | 905 | eyeofhorus33 | 31-Dec-16 07:38 |
| Re: correction | 666 | Martin Stower | 23-Dec-16 14:44 |
| Re: correction | 684 | DocKnowles | 23-Dec-16 20:39 |
| Re: correction | 677 | Martin Stower | 23-Dec-16 22:02 |
| Re: correction | 653 | Thanos5150 | 16-Dec-16 21:42 |
| Re: correction | 669 | Jon Ellison | 16-Dec-16 22:24 |
| Re: correction | 798 | Origyptian | 16-Dec-16 22:38 |
| Re: correction | 675 | Jon Ellison | 16-Dec-16 23:00 |
| Re: correction | 867 | Thanos5150 | 16-Dec-16 23:32 |
| Re: correction | 706 | Jon Ellison | 17-Dec-16 00:46 |
| Re: correction | 710 | Thanos5150 | 17-Dec-16 05:28 |
| Re: correction | 657 | Origyptian | 17-Dec-16 06:02 |
| Re: correction | 625 | Thanos5150 | 17-Dec-16 06:31 |
| Re: correction | 640 | Audrey | 17-Dec-16 07:07 |
| Re: correction | 737 | DUNE | 17-Dec-16 11:16 |
| Re: correction | 829 | Origyptian | 17-Dec-16 14:39 |
| Re: correction | 728 | DUNE | 17-Dec-16 16:48 |
| Re: correction | 726 | Origyptian | 17-Dec-16 17:00 |
| Block Removal | 762 | DScribr | 17-Dec-16 17:25 |
| Re: correction | 740 | Jon Ellison | 17-Dec-16 12:36 |
| Re: correction | 669 | Origyptian | 17-Dec-16 15:08 |
| Re: correction | 769 | Origyptian | 17-Dec-16 13:56 |
| Egypto-illogic. | 639 | cladking | 17-Dec-16 15:32 |
| Re: Egypto-illogic. | 653 | Origyptian | 17-Dec-16 16:41 |
| Ori-illogic. | 726 | DScribr | 17-Dec-16 17:12 |
| Re: Egypto-illogic. | 675 | cladking | 17-Dec-16 17:38 |
| Got Shovels? | 677 | DScribr | 17-Dec-16 17:30 |
| Reality-what a concept | 763 | DScribr | 17-Dec-16 17:09 |
| Re: correction | 581 | Thanos5150 | 17-Dec-16 18:26 |
| Re: correction | 701 | Thanos5150 | 17-Dec-16 19:14 |
| Re: correction | 674 | cladking | 17-Dec-16 19:37 |
| Re: correction | 646 | Audrey | 17-Dec-16 20:14 |
| Modern Gods! | 616 | cladking | 17-Dec-16 20:55 |
| Re: correction | 695 | Thanos5150 | 17-Dec-16 22:27 |
| Birds Of A Feather | 698 | DScribr | 17-Dec-16 22:30 |
| Re: correction | 643 | Origyptian | 18-Dec-16 00:37 |
| Re: correction | 697 | Audrey | 18-Dec-16 01:35 |
| Re: correction | 637 | Thanos5150 | 18-Dec-16 02:29 |
| Re: correction | 630 | Audrey | 18-Dec-16 01:21 |
| Re: correction | 732 | cladking | 18-Dec-16 02:03 |
| Re: correction | 517 | Warwick | 20-Dec-16 20:45 |
| Re: correction | 708 | cladking | 20-Dec-16 21:28 |
| Re: correction | 735 | Thanos5150 | 17-Dec-16 06:50 |
| Re: correction | 685 | Origyptian | 17-Dec-16 14:45 |
| "We" have no objective reason to believe..... | 763 | DScribr | 17-Dec-16 17:16 |
| Re: correction | 623 | cladking | 17-Dec-16 14:51 |
| Post o' the week! | 672 | DScribr | 17-Dec-16 16:04 |
| Re: Post o' the week! | 662 | cladking | 17-Dec-16 16:11 |
| Same Old Logic | 750 | DScribr | 17-Dec-16 17:00 |
| Re: correction | 693 | Warwick | 20-Dec-16 20:33 |
| Re: correction | 885 | Origyptian | 17-Dec-16 05:43 |
| Not cropped, 'enhanced.' | 753 | DScribr | 17-Dec-16 02:10 |
| Re: correction | 727 | Audrey | 17-Dec-16 03:45 |
| Re: correction | 589 | Audrey | 17-Dec-16 03:40 |
| Re: correction | 706 | Warwick | 20-Dec-16 20:28 |
| Re: correction | 618 | cladking | 20-Dec-16 21:37 |
| Re: correction | 981 | Origyptian | 20-Dec-16 22:08 |
| Re: correction | 693 | Origyptian | 20-Dec-16 21:47 |
| Ducks in a barrel | 704 | Warwick | 21-Dec-16 20:50 |
| Re: Ducks in a barrel | 728 | Thanos5150 | 21-Dec-16 21:15 |
| Re: Ducks in a barrel | 844 | Origyptian | 22-Dec-16 05:15 |
| Re: correction | 741 | Martin Stower | 22-Dec-16 01:14 |
| Re: correction | 714 | Audrey | 21-Dec-16 01:54 |
| Good Grief!!! | 716 | Warwick | 21-Dec-16 20:32 |
| Re: Good Grief!!! | 722 | Origyptian | 21-Dec-16 23:04 |
| Clueless | 782 | eyeofhorus33 | 21-Dec-16 23:24 |
| Re: Clueless | 692 | Audrey | 22-Dec-16 02:08 |
| Re: Good Grief!!! | 843 | Martin Stower | 21-Dec-16 23:45 |
| Re: Pyramid Construction | 821 | Steve Clayton | 15-Dec-16 02:59 |
| Re: Pyramid Construction | 755 | cladking | 15-Dec-16 04:00 |
| The AE HAD Air Conditioning!!! | 781 | DScribr | 15-Dec-16 04:54 |
| Re: The AE HAD Air Conditioning!!! | 742 | cladking | 15-Dec-16 05:15 |
| Re: The AE HAD Air Conditioning!!! | 755 | DScribr | 15-Dec-16 15:22 |
| Re: The AE HAD Air Conditioning!!! | 662 | cladking | 15-Dec-16 17:08 |
| thank you for the opportunity | 732 | Warwick | 13-Dec-16 19:35 |
| Re: Pyramid Construction | 767 | Steve Clayton | 12-Dec-16 20:31 |
| It wasn't hard, it was funicular! | 741 | cladking | 12-Dec-16 21:03 |
| Re: It wasn't hard, it was funicular! | 764 | Steve Clayton | 12-Dec-16 22:32 |
| Re: It wasn't hard, it was funicular! | 753 | cladking | 12-Dec-16 22:58 |
| Re: It wasn't hard, it was funicular! | 809 | Steve Clayton | 13-Dec-16 00:09 |
| Re: It wasn't hard, it was funicular! | 747 | cladking | 13-Dec-16 00:36 |
| Re: Pyramid Construction | 785 | Steve Clayton | 12-Dec-16 20:24 |
| Re: Pyramid Construction | 820 | Steve Clayton | 12-Dec-16 19:20 |
| Re: Pyramid Construction | 697 | DocKnowles | 18-Dec-16 09:53 |
| Re: Pyramid Construction | 647 | Thanos5150 | 02-Mar-18 03:04 |
| Re: Pyramid Construction | 486 | Origyptian | 02-Mar-18 17:13 |
| Re: Pyramid Construction | 566 | Steve Clayton | 02-Mar-18 17:48 |
| Re: Pyramid Construction | 648 | Steve Clayton | 02-Mar-18 23:13 |
| Re: Pyramid Construction | 488 | Origyptian | 03-Mar-18 01:58 |
| Re: Pyramid Construction | 564 | Audrey | 03-Mar-18 03:47 |
| Re: Pyramid Construction | 552 | cladking | 03-Mar-18 04:20 |
| Re: Pyramid Construction | 618 | Audrey | 03-Mar-18 07:07 |
| Re: Pyramid Construction | 520 | cladking | 03-Mar-18 14:44 |
| Re: Pyramid Construction | 485 | Audrey | 04-Mar-18 21:38 |
| Re: Pyramid Construction | 495 | cladking | 04-Mar-18 23:10 |
| Re: Pyramid Construction | 477 | Audrey | 05-Mar-18 00:05 |
| Re: Pyramid Construction | 468 | cladking | 05-Mar-18 04:51 |
| Re: Pyramid Construction | 490 | Steve Clayton | 06-Mar-18 03:17 |
| Re: Pyramid Construction | 575 | Origyptian | 03-Mar-18 13:04 |
| Re: Pyramid Construction | 501 | Steve Clayton | 03-Mar-18 16:17 |
| Re: Pyramid Construction | 504 | Origyptian | 04-Mar-18 04:09 |
| Re: Pyramid Construction | 510 | Steve Clayton | 03-Mar-18 21:06 |
| Re: Pyramid Construction | 580 | Origyptian | 04-Mar-18 04:15 |
| Re: Pyramid Construction | 517 | Thanos5150 | 03-Mar-18 17:11 |
| Re: Pyramid Construction | 501 | Steve Clayton | 03-Mar-18 17:30 |
| Re: Pyramid Construction | 472 | cladking | 03-Mar-18 19:17 |
| Re: Pyramid Construction | 493 | Thanos5150 | 03-Mar-18 22:05 |
| Re: Pyramid Construction | 483 | Audrey | 03-Mar-18 18:36 |
| Re: Pyramid Construction | 473 | Steve Clayton | 03-Mar-18 20:17 |
| Re: Pyramid Construction | 488 | Audrey | 04-Mar-18 22:10 |
| Re: Pyramid Construction | 586 | Steve Clayton | 04-Mar-18 22:50 |
| Re: Pyramid Construction | 499 | cladking | 04-Mar-18 23:22 |
| Re: Pyramid Construction | 504 | Thanos5150 | 03-Mar-18 21:55 |
| Re: Pyramid Construction | 550 | Steve Clayton | 03-Mar-18 23:35 |
| Re: Pyramid Construction | 455 | Thanos5150 | 04-Mar-18 16:42 |
| Re: Pyramid Construction | 509 | Audrey | 04-Mar-18 21:47 |
| Re: Pyramid Construction | 513 | DUNE | 04-Mar-18 22:07 |
| Re: Pyramid Construction | 478 | Thanos5150 | 05-Mar-18 02:16 |
| Re: Pyramid Construction | 530 | Warwick | 05-Mar-18 16:41 |
| Re: Pyramid Construction | 521 | cladking | 05-Mar-18 05:02 |
| Re: Pyramid Construction | 554 | Steve Clayton | 06-Mar-18 02:02 |
| Re: Pyramid Construction | 520 | Warwick | 05-Mar-18 16:48 |
| Re: Pyramid Construction | 500 | Thanos5150 | 05-Mar-18 18:01 |
| Re: Pyramid Construction | 569 | Origyptian | 05-Mar-18 18:30 |
| Re: Pyramid Construction | 531 | Warwick | 06-Mar-18 00:41 |
| Re: Pyramid Construction | 494 | Origyptian | 06-Mar-18 04:34 |
| Re: Pyramid Construction | 529 | Warwick | 06-Mar-18 04:58 |
| Re: Pyramid Construction | 551 | Origyptian | 06-Mar-18 14:33 |
| Riposte | 665 | Warwick | 06-Mar-18 16:27 |
| Re: Riposte | 571 | Origyptian | 06-Mar-18 16:37 |
| Re: Riposte | 475 | Warwick | 06-Mar-18 16:54 |
| Re: Riposte | 561 | Origyptian | 06-Mar-18 17:15 |
| Re: Riposte | 502 | Warwick | 06-Mar-18 19:18 |
| Re: Riposte | 464 | Origyptian | 06-Mar-18 19:30 |
| coup de grace | 517 | Warwick | 06-Mar-18 20:06 |
| Re: Pyramid Construction | 517 | Steve Clayton | 04-Mar-18 17:37 |
| Re: Pyramid Construction | 469 | cladking | 04-Mar-18 17:58 |
| Re: Pyramid Construction | 532 | Steve Clayton | 04-Mar-18 18:51 |
| Re: Pyramid Construction | 487 | DUNE | 04-Mar-18 19:06 |
| Re: Pyramid Construction | 492 | Steve Clayton | 04-Mar-18 20:36 |
| Re: Pyramid Construction | 500 | cladking | 04-Mar-18 21:02 |
| Re: Pyramid Construction | 556 | Origyptian | 04-Mar-18 20:00 |
| Re: Pyramid Construction | 527 | Steve Clayton | 04-Mar-18 20:49 |
| Re: Pyramid Construction | 497 | Origyptian | 04-Mar-18 21:28 |
| Re: Pyramid Construction | 539 | Steve Clayton | 04-Mar-18 22:19 |
| Re: Pyramid Construction | 515 | Origyptian | 05-Mar-18 02:13 |
| Re: Pyramid Construction | 552 | cladking | 04-Mar-18 20:41 |
| Re: Pyramid Construction | 540 | Steve Clayton | 04-Mar-18 23:16 |
| Re: Pyramid Construction | 531 | Audrey | 04-Mar-18 23:53 |
| Re: Pyramid Construction | 489 | cladking | 05-Mar-18 02:20 |
| Re: Pyramid Construction | 540 | cladking | 05-Mar-18 02:17 |
| Re: Pyramid Construction | 527 | Steve Clayton | 05-Mar-18 19:19 |
| Re: Pyramid Construction | 543 | Origyptian | 05-Mar-18 19:38 |
| Re: Pyramid Construction | 489 | cladking | 05-Mar-18 20:15 |
| Re: Pyramid Construction | 497 | Steve Clayton | 06-Mar-18 16:14 |
| Re: Pyramid Construction | 642 | Steve Clayton | 06-Mar-18 19:02 |
| Re: Pyramid Construction | 483 | cladking | 06-Mar-18 19:58 |
| Re: Pyramid Construction | 514 | Steve Clayton | 06-Mar-18 21:43 |
| Re: Pyramid Construction | 460 | cladking | 06-Mar-18 22:03 |
| Re: Pyramid Construction | 502 | Steve Clayton | 06-Mar-18 23:07 |
| Re: Pyramid Construction | 536 | Corpuscles | 07-Mar-18 00:01 |
| Re: Pyramid Construction | 561 | Steve Clayton | 07-Mar-18 02:08 |
| Re: Pyramid Construction | 495 | cladking | 04-Mar-18 20:48 |
| Re: Pyramid Construction | 527 | warleb | 11-Mar-18 00:15 |
| Re: Pyramid Construction | 517 | Steve Clayton | 11-Mar-18 00:33 |
| Re: Pyramid Construction | 516 | warleb | 11-Mar-18 00:46 |
| Re: Pyramid Construction | 520 | warleb | 11-Mar-18 00:51 |
| Re: Pyramid Construction | 631 | Origyptian | 11-Mar-18 14:34 |
| Re: Pyramid Construction | 594 | Thanos5150 | 25-Mar-18 22:12 |
| Re: Pyramid Construction | 508 | Jon Ellison | 25-Mar-18 22:34 |
| Re: Pyramid Construction | 534 | Barbelo | 25-Mar-18 22:38 |
| Re: Pyramid Construction | 538 | Thanos5150 | 25-Mar-18 23:45 |
| Re: Pyramid Construction | 601 | Barbelo | 26-Mar-18 03:55 |
| Re: Pyramid Construction | 574 | Thanos5150 | 27-Mar-18 04:42 |
| Re: Pyramid Construction | 516 | Barbelo | 27-Mar-18 10:48 |
| Re: Pyramid Construction | 552 | Origyptian | 27-Mar-18 15:09 |
| Re: Pyramid Construction | 544 | Thanos5150 | 27-Mar-18 22:35 |
| Re: Pyramid Construction | 511 | Thanos5150 | 27-Mar-18 23:41 |
| Re: Pyramid Construction | 546 | cladking | 28-Mar-18 00:25 |
| Re: Pyramid Construction | 495 | Origyptian | 28-Mar-18 03:59 |
| Re: Pyramid Construction | 469 | Origyptian | 28-Mar-18 03:38 |
| Re: Pyramid Construction | 529 | Thanos5150 | 28-Mar-18 05:56 |
| Re: Pyramid Construction | 535 | Origyptian | 28-Mar-18 13:16 |
| Re: Pyramid Construction | 467 | Steve Clayton | 28-Mar-18 17:51 |
| Re: Pyramid Construction | 472 | Origyptian | 28-Mar-18 18:36 |
| Re: Dashur Ancient Harbor | 565 | Thunderbird | 28-Mar-18 20:36 |
| Re: Pyramid Construction | 584 | Thanos5150 | 28-Mar-18 20:41 |
| Re: Pyramid Construction | 555 | Origyptian | 28-Mar-18 21:53 |
| Re: Pyramid Construction | 517 | Thanos5150 | 29-Mar-18 00:22 |
| Re: Pyramid Construction | 509 | Origyptian | 29-Mar-18 05:01 |
| Re: Pyramid Construction | 536 | Thanos5150 | 29-Mar-18 16:52 |
| Re: Pyramid Construction | 608 | Origyptian | 30-Mar-18 14:05 |
| Re: Pyramid Construction | 599 | Thanos5150 | 30-Mar-18 16:15 |
| Re: Pyramid Construction | 455 | Eddie Larry | 30-Mar-18 17:12 |
| Re: Pyramid Construction | 484 | Origyptian | 30-Mar-18 17:42 |
| Re: Pyramid Construction | 492 | Eddie Larry | 30-Mar-18 17:47 |
| Re: Pyramid Construction | 552 | Thanos5150 | 31-Mar-18 00:46 |
| Re: Pyramid Construction | 538 | Thanos5150 | 31-Mar-18 00:01 |
| Where Are The Palaces? | 489 | Barbelo | 31-Mar-18 00:26 |
| Re: Where Are The Palaces? | 498 | Origyptian | 31-Mar-18 04:38 |
| Re: Pyramid Construction | 513 | Eddie Larry | 31-Mar-18 04:45 |
| Re: Pyramid Construction | 506 | Thanos5150 | 31-Mar-18 16:42 |
| Re: Pyramid Construction | 537 | Eddie Larry | 31-Mar-18 17:12 |
| Re: Pyramid Construction | 641 | Origyptian | 05-Apr-18 03:04 |
| Re: Pyramid Construction | 640 | Corpuscles | 05-Apr-18 06:00 |
| Re: Pyramid Construction | 490 | Origyptian | 05-Apr-18 15:55 |
| Re: Manetho...David Rohl.....both wrong : ) | 513 | Thunderbird | 05-Apr-18 18:52 |
| Re: Manetho...David Rohl.....both wrong : ) | 520 | Eddie Larry | 05-Apr-18 21:09 |
| Re: Pyramid Construction | 600 | Corpuscles | 05-Apr-18 22:50 |
| Re: Peer Review and the Cat who is never wrong : ) | 672 | Thunderbird | 06-Apr-18 04:50 |
| Re: Peer Review and the Cat who is never wrong : ) | 499 | Origyptian | 06-Apr-18 12:13 |
| Re: Peer Review and the Cat who is never wrong : ) | 475 | Eddie Larry | 06-Apr-18 16:39 |
| Re: Peer Review and the Cat who is never wrong : ) | 494 | Origyptian | 06-Apr-18 18:21 |
| Re: Peer Review and the Cat who is never wrong : ) | 519 | Eddie Larry | 06-Apr-18 19:01 |
| Re: Peer Review and the Cat who is never wrong : ) | 567 | Thunderbird | 06-Apr-18 19:12 |
| Archaeology vs Archaeology | 491 | Barbelo | 06-Apr-18 20:13 |
| Re: Peer Review and the Cat who is never wrong : ) | 491 | Eddie Larry | 06-Apr-18 21:15 |
| Re: Pyramid Construction | 574 | Steve Clayton | 02-Apr-18 23:49 |
| Re: Pyramid Construction | 550 | Thanos5150 | 03-Apr-18 17:26 |
| Re: Pyramid Construction | 520 | Steve Clayton | 05-Apr-18 00:39 |
| Constructors' Physique Assumption | 505 | Dr. Troglodyte | 03-Apr-18 19:08 |
| Re: Constructors' Physique Assumption | 529 | Origyptian | 04-Apr-18 01:54 |
| Re: Constructors' Physique Assumption | 520 | Dr. Troglodyte | 04-Apr-18 14:24 |
| Re: Constructors' Physique Assumption | 595 | Steve Clayton | 04-Apr-18 23:21 |
| Means & Methods Assumptions | 513 | Dr. Troglodyte | 05-Apr-18 15:42 |
| Re: Means & Methods Assumptions | 603 | Origyptian | 05-Apr-18 21:13 |
| Re: Means & Methods Assumptions | 501 | Dr. Troglodyte | 07-Apr-18 13:45 |
| Re: Means & Methods Assumptions | 480 | cladking | 07-Apr-18 14:01 |
| Re: Means & Methods Assumptions | 573 | Origyptian | 07-Apr-18 16:42 |
| Re: Means & Methods Assumptions | 479 | Dr. Troglodyte | 08-Apr-18 00:05 |
| Re: Means & Methods Assumptions | 487 | Origyptian | 06-Apr-18 19:34 |
| Re: Means & Methods Assumptions | 505 | Steve Clayton | 07-Apr-18 03:48 |
| Re: Means & Methods Assumptions | 560 | Origyptian | 07-Apr-18 05:53 |
| Re: Means & Methods Assumptions | 453 | Steve Clayton | 07-Apr-18 18:51 |
| Re: Means & Methods Assumptions | 481 | Thanos5150 | 07-Apr-18 21:36 |
| Re: Means & Methods Assumptions | 476 | Steve Clayton | 07-Apr-18 23:32 |
| Re: Means & Methods Assumptions | 486 | Thanos5150 | 08-Apr-18 02:50 |
| Re: Means & Methods Assumptions | 452 | Steve Clayton | 08-Apr-18 02:57 |
| Re: Means & Methods Assumptions | 522 | Dr. Troglodyte | 07-Apr-18 13:58 |
| Re: Means & Methods Assumptions | 446 | Steve Clayton | 07-Apr-18 18:07 |
| Re: Means & Methods Assumptions | 488 | Steve Clayton | 07-Apr-18 18:22 |
| Re: Means & Methods Assumptions | 508 | Origyptian | 07-Apr-18 19:15 |
| Re: Means & Methods Assumptions | 480 | Steve Clayton | 07-Apr-18 22:17 |
| Re: Means & Methods Assumptions | 439 | Jon Ellison | 08-Apr-18 00:04 |
| Re: Means & Methods Assumptions | 457 | Steve Clayton | 08-Apr-18 01:30 |
| Re: Means & Methods Assumptions | 507 | Origyptian | |