Mysteries : The Official GrahamHancock.com forums
For serious discussion of the controversies, approaches and enigmas surrounding the origins and development of the human species and of human civilization. (NB: for more 'out there' posts we point you in the direction of the '
Paranormal & Supernatural
' Message Board).
Thanos5150 Wrote:
-------------------------------------------------------
> This leaves the side of the blocks, the widest
> surface to drag it on the ground, which of course
> if put on a railed sled would exponentially reduce
> the drag coefficient. And better yet, put that
> sled on rollers.
And if not put on sleds then should we not expect to see clear evidence on each and every block their faces getting ground to crap from dragging rock on rock for as much as a 1/2 mile depending on which Giza quarry these were pulled from?
Here is a different thought for you all one which I think makes much more sense:
What is more likely: these blocks were quarried somewhere else and dragged to the pit? Or these blocks were quarried directly from this pit, set aside, and then put back on top later? 41 blocks can easily be quarried from the space with blocks to spare. Which of course means most of the work of lifting them out and lowering them was much more easily done using simple mechanical advantage. Put a fork in it cause this bitch is done.
History repeating itself: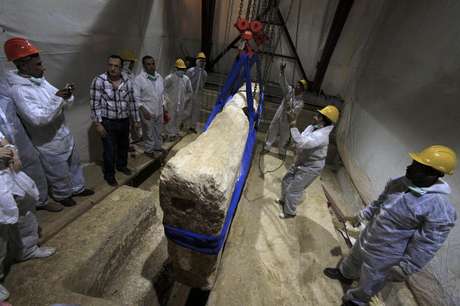 Edited 1 time(s). Last edit at 14-Sep-16 20:03 by Thanos5150.
Sorry, only registered users may post in this forum.