Mysteries : The Official GrahamHancock.com forums
For serious discussion of the controversies, approaches and enigmas surrounding the origins and development of the human species and of human civilization. (NB: for more 'out there' posts we point you in the direction of the '
Paranormal & Supernatural
' Message Board).
Origyptian Wrote:
-------------------------------------------------------
> Likewise, there is nothing in the OP that
> addresses the provenance of G1.
Which is on purpose as this is not the point.
> Most boat pits were found empty with no trace of housing any boat remains or of similar covering stones. There are very > conspicuous brown stains that suggest significant depositing of oxidized iron. Has any testing been done for residual
> materials in those empty pits?
Do you have a reference for "most of these boat pits"? I have seen documentation of only a few which some did in fact have remains of what appeared to be boat riggings. Also, a source for the "brown stains" please (Jenkins?).
> As stated by Jon Ellison, why disassemble the entire boat (into 13 layers of stacked wood) rather than keep it intact
> for the afterlife?
As to "why", they obviously had their reasons though they may be unclear to us today. Regardless, since the first boats found at Abydos, Dynastic boats are unique in that they are specifically designed to be taken apart for easy transport across the land and reassembly. At least one reference I have seen notes that one of the few Abydos boats superficially excavated was also at least partially disassembled when buried.
> As stated by DUNE, why not just hew a chamber into bedrock, load the chamber with the wood segments, then apply a
> single plug at the entrance? That would seem to have been a far simpler project and would have better ensured
> protection from moisture and atmosphere contamination.
And as I said, despite the dozens of boat graves found before and after none are made by tunneling a chamber into the bedrock so there is no reason to expect it to be done any differently. The Khufu boat is 143ft in length with single planks being up to 75ft long with a deck house about 12-15ft high and a prow about 30ft. I fail to see how making a chamber to accommodate such a boat "easier". First you have to cut a descending ramp at least 144ft long and 30+ft deep towards the end then cut a chamber over 144ft long and 30ft high. I see no difference in effort to cut one open trench and blocks to cover it. Which regardless, is neither here nor there as they did not do it this way since the very first boat graves whose boats were no slouches themselves pulling in around 60-80ft.
> Why are some boat pits rectangular while others are bowed? In my opinion, the traditional narrative of G1 doesn't
> adequately account for the enigmatic positions and shape of the 3 boat-shaped pits on the east side vs. the 2
> rectangular pits on the south side of G1, along with the inconsistent placement of the 2 queens' boat pits.
This is a valid question. I think it is possible the two southern pits were either not originally intended to be boat graves or served a dual purpose which the latter was to eventually serve double duty as a boat grave.
> Why did Khufu (and Khafre) need 5 boats?
Looking at earlier boat graves, it is not unusual for there to be multiple boat associated with one burial. What is unique to me is they are scattered on various sides of the pyramid when if for one pharoah history would suggest they would be together like so:
Those at Abydos are essentially to represent a "moored fleet". I do not think all of the G1 boat pits are contemporary with each other with some not part of the original plan but rather placed where possible after the fact.
> Why put a single pit parallel to the Causeway?
Case in point.
> Why isn't Khufu mentioned in any boat pit around G1? It's reasonable to wonder why Djedefre had his name inscribed no
> less than 18 times and not once felt the urge to mention his father in whose name he supposedly constructed the boat
> pit in the first place.
Reasonable, but this dates it at least to the time of Djedefre nonetheless. The Japanese did say, however, they did find a Khufu cartouche in the other boat pit.
> Are we to believe that the builders of G1 were such masters at megalithic construction, but yet elected to surround
> what is arguably their finest masterpiece with a wall sitting on a foundation comprised of left over rubble of
> limestone, granite, and basalt chips held together with cement? That wall is thought to have been covered with
> limestone plaster and gypsum to make it look like the Tura casings. This is not characteristic of the monolithic style > of the Old Kingdom, especially for a royal funerary monument.
Substandard, though characteristic of most of these types of walls of the period otherwise.
> Why bury the parts of a disassembled boat outside the "tomb" when the vast majority of tombs included the afterlife
> objects inside the tomb near the royal mummy?
This is how they always did it and after.
> Why are some boat pits lined with blocks while others are simply recesses into bedrock?
Could some of the blocks have since been plundered? They were found empty afterall.
> Why place the boat pits so close to G1 such that the southern wall needed to be built a full 5m closer to G1 on that
> wall compared to the distance of the wall on the north and east faces? Again, uncharacteristic of the more common
> precision symmetry of the Pyramid Age.
A valid point.
> Why is the southern boat pit on the east side so big -- 51.5m long, 7m wide at midpoint, and 8m deep? Are there any
> signs of column footings in the base of the pit? If not, it doesn't seem likely that it was once covered by such long
> beams of limestone over such a wide cavity.
This, as it appears you read, was noted by Egyptologists. I think this is a fair assessment to doubt if this was originally meant to be a boat pit.
> Regarding the provenance of the wood, it's not clear to me that the Dynastics didn't have access to those pits while
> those 20 ton beams were already in place (e.g., from more ancient times). The first boat pit has small "keystones" at
> one end which differ from the other larger roof beams. Those keystones obviously could have been the result of
> up what originally may have been a longer 20 ton beam in order to gain access to the pit, e.g., in order to repurpose
> a possibly already ancient pit. The breach created by removal of that first block may have created access large
> enough to fit a human and, therefore, all of the boat materials may have been brought through that small portal long
> after the pit was originally hewn.

Of course this was coming. The "keystones" are a curious feature but it should be obvious what you are suggesting is impossible hence why there is no other conclusion than the blocks were placed there in Dynastic times by the people who buried the boats. As said before, some of the planks are 75ft long with others being over 40ft. There is no way you are going to be able to move these pieces in just by removing one block. Also of note is the masterful way in which the boat was placed underneath the blocks requiring great care, effort, and time meaning they would have had to have torches set up for extended periods of time to be able to see which if so the bottoms of the blocks would have soot all over them but they do not.
> Is there a more logical explanation for the presence of such keystones?
Certainly one a lot more logical than they cut out one block to move the boat underneath all the other blocks that they couldn't fit through anyways just to put them back in that configuration. Why not just pull the one out and put it back?
> Regarding the 2nd boat pit, It obviously wasn't "hermetically" sealed since gaps existed that were large enough to
> allow insects to enter.
After nearly 5,000yrs is it that unusual to find gaps have formed large enough to allow in insects? Obviously the attempt was made to seal it.
> The wood was allegedly placed in those pits no later than the end of the 4th Dynasty, but I question the dating of the > wall, sub-patio, and local mastabas that are the basis of that 4th Dynasty provenance of those pits.
These other structures are not what dates the wood in and of itself but rather the cartouches and the boats themselves.
> Some of the wooden planks exhibit what looks like signs of having been used before being entombed.
So what? I hope they used it before they buried it. At least one of the Abydos boats also show signs of being used before burial as well.
> I have never denied the possibility that the Old Kingdom had the technology to locally quarry, shape, transport, and
> position such relatively crude limestone slabs.
Please. You have done exactly that ad nauseum which even now it is only a "possibility" to you. It is a fact, not a "possibility", with the only question being what did who do when not "if" the AE could do any of it at all.
And hardly that "crude":
You are looking at the rough edges and tops but ignoring the well cut faces. The crudeness was obviously not a product of lack of ability but rather lack of necessity.
> However, I see no logic in laying a series of beams over a "boat pit" when excavating a cavity into bedrock would be
> quicker, easier, and result in a far better seal to preserve the wood.
It is by no means "easier" or "quicker", if only the opposite, and regardless how it had always been done before and after. Once again, these are not isolated incidents: nowhere in the history of Dynastic boat burials has a boat ever been found buried inside of an underground chamber cut out of bedrock.
These boats were no doubt placed there in the OK which proves they were in fact capable of moving blocks upwards of 20 tons and by extension cut, quarry, and LIFT such blocks. The latter goes out to those maroons who have accepted the fact they did quarry and move these blocks though refuse to accept they "lifted" them. This is stupid. These blocks are cut on all 4 sides. They had to be lifted to accomplish this. They also had to be lifted to put them upon the means of transport, which for sake of argument let's say rollers. So, about 2ft. Hmmm. If they could get a block 2ft off the ground is it therefore possible they could say lift it 4-5ft? Say about the height of one of these: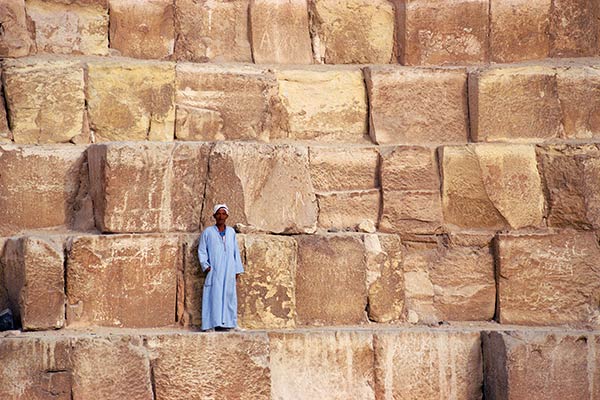 Not to mention the boat pit blocks are upwards of 20 tons yet these core block average 2.5 tons. So while unwittingly these jagamaroles admit the AE could lift dozens of 15-20 blocks at least a few feet off the ground to move them from the quarry to the boat pit, in the same breath they cry it is "impossible" they could lift a 2.5 ton block 4-5ft off the ground. And to those who believe the AE "adopted" this from an LC-how could they restore and repurpose all of this stone if they could not do these things in the first place? I have said this so many times yet it is amazingly ignored. When does the fringe end and common sense begin?
Anyways, I have talked at length regarding archaic Dynastic boat burials before. Regardless of what is found at Giza, which as an aside I do not believe Khufu's boat was made in Egypt, the practice of boat burials is part and parcel of the formation of the Dynastic state and paramount to understanding how it came to be which I have argued is the result of foreign influence. At the very beginnings of Dynastic Egypt, they buried these amazing massive boats at great expense and care for which we still do not understand why regardless of later Dynasty beliefs in Solar barges.
Why did they start doing this?
Even before the 1st boat burials are found, we find rock art
leading from the Red Sea to Abydos
(hint hint) depicting legions of seamen dragging these boats, some which appear to be of foreign origin, across the desert which I am certain there must be a connection between these boats and the boat burials.
Edited 5 time(s). Last edit at 07-Sep-16 04:25 by Thanos5150.
Sorry, only registered users may post in this forum.