Mysteries : The Official GrahamHancock.com forums
For serious discussion of the controversies, approaches and enigmas surrounding the origins and development of the human species and of human civilization. (NB: for more 'out there' posts we point you in the direction of the '
Paranormal & Supernatural
' Message Board).
Hello Dennis.
DUNE Wrote:
-------------------------------------------------------
> It does seem odd that they put themselves to all
> that trouble in cutting and shaping those massive
> blocks to form a roof that was already there, if
> only they just made one entrance and walked all
> the boat bits through that one entrance at the
> lower point via a slope.
Yet, in principle, this is how they did it for hundreds of years before and after. Apparently they never thought it was a good idea to build a long tunnel and underground chamber to bury the boat.
> Were the boat people the same as the G1 builders?
We need to keep in mind that burying boats is not unique to Giza dating back to the beginning of Dynastic Egypt, a practice that in part helped define the Dynastic period itself. Dozens of early dynastic boats have been found at Abydos, Helwan, and Saqqara.
Dynasty 0/1st Dynasty, Abydos:
Early Dynastic boat pits were dug out then elaborately lined and covered with mud brick: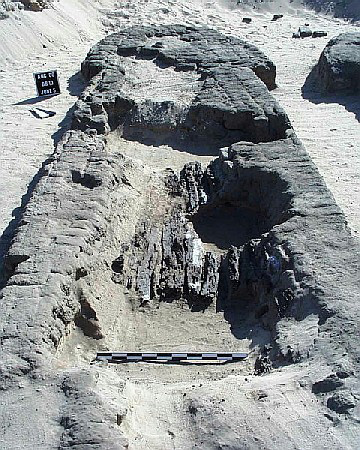 Just like AE culture and stoneworking technology at large, the boat pits found at Giza, and the boats themselves, obviously represent a progression of ability.
It should be noted that the southern boat pits partially lie under the southern enclosure wall.
Edited 1 time(s). Last edit at 05-Sep-16 21:11 by Thanos5150.
Sorry, only registered users may post in this forum.