Mysteries : The Official GrahamHancock.com forums
For serious discussion of the controversies, approaches and enigmas surrounding the origins and development of the human species and of human civilization. (NB: for more 'out there' posts we point you in the direction of the '
Paranormal & Supernatural
' Message Board).
According to those who believe the monuments of Giza and others in Egypt were made by a lost civilization tens of thousands of years ago, the reason why no evidence whatsoever of their existence can be found other than the stone monuments themselves is because they are so old that everything but the stone has disappeared.
To quote one typical proponent:
Quote

Stone artifacts have a life of tens if not hundreds of millions of years. Everything else would be totally deleted in a few tens of thousands of years.
Despite numerous posts of evidence, if it even needed to be done, proving irrefutably the exact opposite to be true, this mentality still exists. According to fresh thinking in support of an antediluvian lost civilization origin of AE stonework they repeatedly claim:
1) The AE were not capable of cutting and/or moving large blocks of stone.
2) The reason why we find no evidence of this LC is because they are so old that everything but the stone disappeared.
Which leads us to the conundrum of the Khufu solar boats. 35 boat pits were found at Giza with five surrounding G1.
In 1952 one of the pits was discovered completely covered by massive 15-20 ton limestone blocks that were
sealed with mortar
:
It should also be noted that 18 cartouches of Djedefre were found on the underside of these blocks in just one pit:
Inside was this:
Later restored:
Column inside Khufu's boat: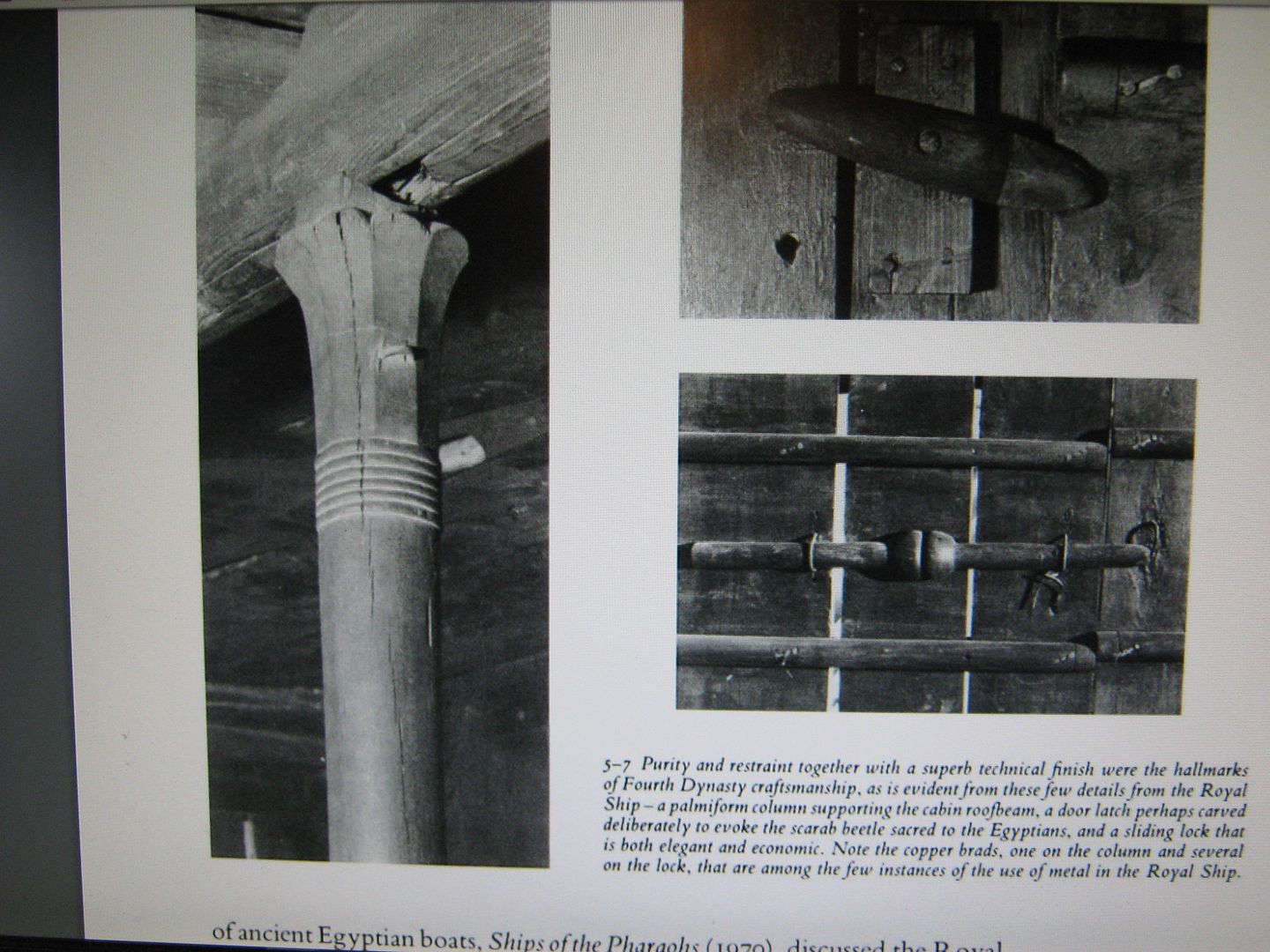 A second pit was discovered also covered over by massive blocks (south pit, since removed and set aside):
(Note the lifting/lowering notches on the side of the blocks)
Another boat(s) was found inside one of these pits which removal and restoration has only recently begun and as noted in another
thread
, a series of well preserved metal rings have just been found attached to the hull of newly removed peices:
So, as we are told the AE could not cut and move massive stones like the dozens of 15-20 blocks found covering just these few boat pits. But as we are also told, the reason there is no evidence of this LC is because it is so old everything has disappeared other than the stone monuments they left behind. But if true-how did these cedar wood boats with their period columns, period cartouches, and well preserved metal rings get inside these boat pits covered with dozens of 20 ton blocks sealed with mortar?
We are to believe then that the "primitive" AE moved away all these 20 ton blocks left by the LC and put these fantastic sophisticated boats made of imported cedar wood from Byblos (keep in mind the pits are also cut to fit the shape of the boats), drew cartouches on the bottom of the blocks, then put the blocks back perfectly and sealed them up with mortar? But if the AE could move these 20 ton megaliths and put them back then
what could they not do
?
But we are told the AE
could not
do such things therefore according to fresh thinking these boats
must
belong to the LC. Even the cartouches, as some have bewilderingly tried to argue, must belong somehow to the LC. Yet as we are also told only stone could survive for the required tens of thousands of years for all evidence of the LC to otherwise completely disappear yet for some inexplicable reason there these boats are hermetically sealed under dozens of megalithic blocks only the LC could supposedly cut and move. How can this be...? But if the boats don't belong to the LC and were put there by the AE, which also means they either cut the boat pits to fit the shape of the boat or shaped the boat to fit the pit, then therefore the AE were capable of cutting and moving dozens of 20 ton blocks. Hmm. Quite the conundrum is it not?
Edited 8 time(s). Last edit at 05-Sep-16 06:02 by Thanos5150.
Sorry, only registered users may post in this forum.