Mysteries : The Official GrahamHancock.com forums
For serious discussion of the controversies, approaches and enigmas surrounding the origins and development of the human species and of human civilization. (NB: for more 'out there' posts we point you in the direction of the '
Paranormal & Supernatural
' Message Board).
If we allow that the three large Giza pyramids were ground representations of the Orion belt stars (as Robert Bauval proposes), and the Sphinx pointed to the constellation of Leo, both in the era of 10,000 BC, then we're faced with two possibilities: That these alignments were placed in the era of 10,000 BC, or that someone in some later era had the capability of retrospectively calculating those alignments.
For me, the best supporting argument for the alignments rests with the cubit dimensions of the Great Pyramid, which are a match for the light-year dimensions of a spiraling birthplace of stars, called
Barnard's Loop
, that centers on Orion's belt stars. Because the light emitted by Barnard's Loop is very faint, the structure is virtually invisible to the naked eye, however the Dogon attest its existence. When imaged by timelapse photography, the Loop gives the appearance of the wheel of a chariot in which Orion the Hunter stands. The Dogon accurately characterize it as the Chariot of Orion.
- Laird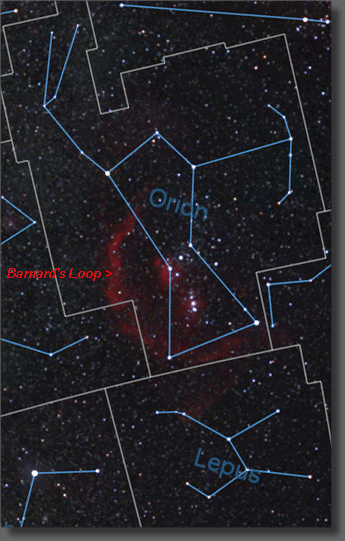 Edited 1 time(s). Last edit at 14-Jul-16 18:38 by Laird Scranton.
Sorry, only registered users may post in this forum.