Mysteries : The Official GrahamHancock.com forums
For serious discussion of the controversies, approaches and enigmas surrounding the origins and development of the human species and of human civilization. (NB: for more 'out there' posts we point you in the direction of the '
Paranormal & Supernatural
' Message Board).
Hi Lee.
I am of the opinion that they were built in the days that our history books tell us, give or take a couple of hundred years.
So you may be wondering why i am posting here as you are asking for opinions on the opposite .
I think why there is this conflict in the acceptance of what the orthodox story of when these pyramids were built, mainly stems from the Giza necropolis and its layout, i, and many others, have gone down the road of trying to understand this special layout at Giza, and see evidence of a unified plan via its geometry , and in my case using a unit of measure that we are told was not being used by those Egyptians of those days.
So that's why people like me cant bring the two together, the measurements and what they seem to show are in direct conflict with what the history books tell us about what they new, so from my perspective the pyramids were built in that epoch but then the anecdotal measuring evidence points to my premise that they were locked into a plan that would span at least the life of three or four kings, from whence did this plan come from, well there lies the Big mystery.
Graham Hancock has done a great deal of work in answering that question,
Take a look at this diagram as an example of what can be found in so far as encoded information that says whoever designed Giza new a lot more than the actual guys who put the stones up.
One of the most telling measured lines at Giza is the Apex to Apex distance between G1 and G2, petrie has it as 19168.4" for its Center to Center , now that's fine , but as we know each pyramid has four separate sides which gives four separate slopes, now my calculations puts the apex position at odds with the ground center if one was to drop a plum line down from the apex it would not touch the floor center,so to cut a long story short and spare you all the calculations , my Apex to Apex measure came out as 19174.1"
Which turns out to be 15.75 Arcseconds based on Earths Equatorial circumference , then there is its connection to all those square root ratios that total 12.25,
John Michelle mentions this 1225 number in his "Dimensions of Paradise", page 174
This is Not a coincidence.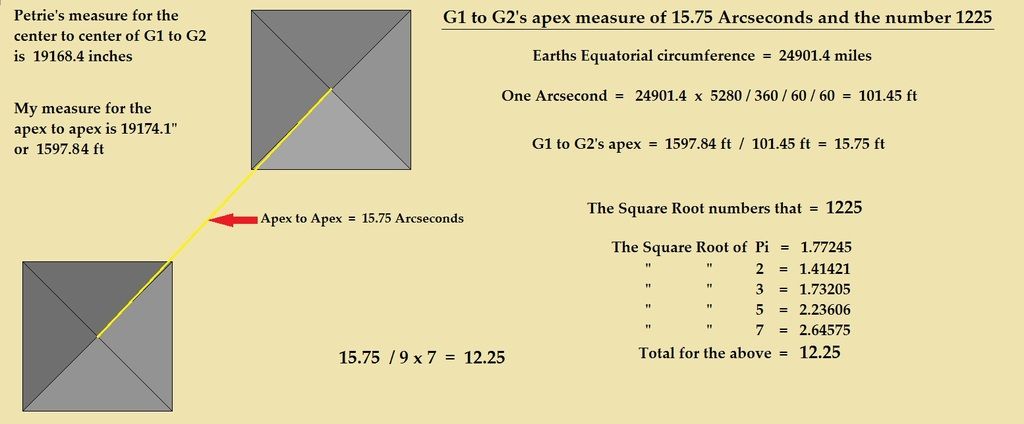 Will we ever find evidence for this master plan, i would be looking for an underground chamber with an exact scaled down model of the Giza necropolis before it was built.
DPP
Sorry, only registered users may post in this forum.