Mysteries : The Official GrahamHancock.com forums
For serious discussion of the controversies, approaches and enigmas surrounding the origins and development of the human species and of human civilization. (NB: for more 'out there' posts we point you in the direction of the '
Paranormal & Supernatural
' Message Board).
Jon Ellison Wrote:
-------------------------------------------------------
> Origyptian Wrote:
>
> >
> > Do you know of any other examples of such long
> > poles anywhere in ancient Egypt?
>
> 120 feet, very large boat mast???
>
> I looked at that, but in 3D, how do the poles
> clear the overhang?
> Do you know the facade face angle?
> Is the rectangular aperture for a pole support
> strut?
>
>
I assume the facade is angled back so that any vertical pole would clear the top ledge, but I don't have that data.
And to be clear, you posted a photo of Philae, not Edfu. Philae has shorter facades, one is 66' and the other is 43' and has only one hole above each recess. On the other hand, Edfu's facade is 118' tall and has 2 square holes above each of the vertical angled recesses. The modern (1849) drawing posted by Thanos shows flag poles that are in excess of 150'.
Also, while Philae's firs pylon shows symmetrical recesses on either side of the entral doorway, the second pylon's vertical recesses are of different heights and elevations, at least according to the current version we see there today: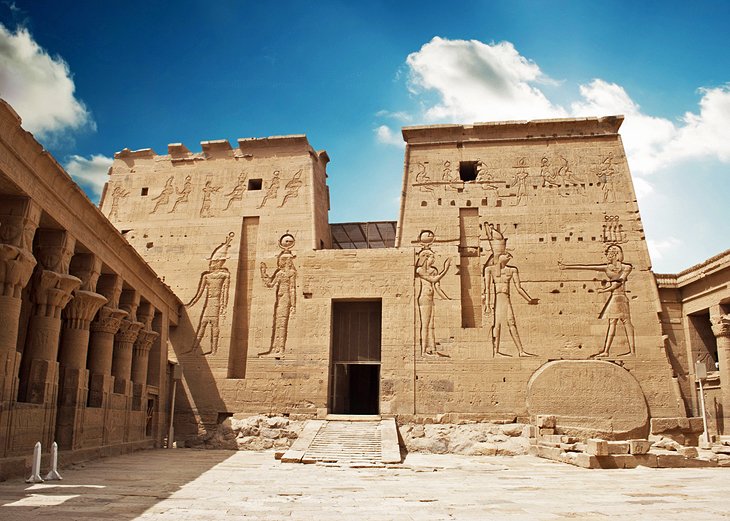 Also note that Edfu and Philae have similar, but not identical (or symmetrical), vertical "grid" of smaller holes lateral to those larger square holes on their facades.
______________________________________________________________
How can any of us ever know, when all we can do is think?
Sorry, only registered users may post in this forum.