Mysteries : The Official GrahamHancock.com forums
For serious discussion of the controversies, approaches and enigmas surrounding the origins and development of the human species and of human civilization. (NB: for more 'out there' posts we point you in the direction of the '
Paranormal & Supernatural
' Message Board).
Origyptian Wrote:
-------------------------------------------------------
> Thanos5150 Wrote:
> --------------------------------------------------
> -----
> > Origyptian Wrote:
> >
> --------------------------------------------------
>
> > -----
> > > Elongated heads,
> >
> > And how is it you think the elongated head line
> is
> > related to monumental construction in Egypt if
> you
> > believe they were builts tens of thousands if
> not
> > millions of years ago?
> I don't understand the question.
These skeletons are found in the period they are ascribed to part and parcel of the cultural context of the period whether that be 3,400BC or 1,400BC. Unless you are suggesting now these monuments were built in these periods, if not then how do they relate to your tens of thousands to millions of years old LC? Are you suggesting they never died out?
> What evidence do
> you have that excludes the possibility of an
> 'elongated head line' x-years back?
What is "x-years exactly"? Before you say something even more foolish about what it is I exclude or not, for a start:
Morocco find
dating to 300,0000ya:
And yet no evidence of them building pyramids or anything else for that matter. Hmmm.
> Or "giants"
> for that matter?
Lol.
How about this for starters:
Quoting Origyptian regarding giants but a few weeks ago:
Quote

This is the dilemma. What's the "evidence"? Is there any physical evidence, or are we depending on individual narratives from the past that include no physical evidence that can be scrutinized today? I've seen no verified bones, or other direct physical evidence (perhaps other than large doorways, inscriptions that portray different proportional sizes of humans, photos with questionable authenticity, etc.), that speak to such giants.
Or:
"Other than a few showboat grandstanders trying to grab their 15 minutes of fame, where is there any evidence that speaks to real science [regarding giants] in the first place?

In other words, if the subject had not become a "show", what else would there be that lends itself to a "real scientific approach"?"
Or:
I'm still trying to figure out what's left that makes it a "very interesting subject" after removing all the "hoaxers and gullible conspiracy theorists".
But now you offer:
"What evidence do you have that excludes the possibility[...][of] giants for that matter?"
Make up your mind. Funny though how the "no evidence whatsoever thing" only means something when it supports your own POV.
Like you said when you were trying to argue against it-how about
no
evidence? Like how there is no evidence of an LC building pyrmaids tens of thousands to millions of years ago. Or that these builders were a different species of hominin or different sub-species of human.
> Some people consider these to be pretty humongous
> doorways:
I see. I did not think you were reffering to New Kingdom constructions. So now you are suggesting the temple of Horus at Edfu, an example that you cite, instead of being built in the ptolemaic period was instead built by giants tens of thousands if not millions of years ago because of the big doorway, these same giants which but mere weeks ago you said did not exist because there was no evidence of their existence?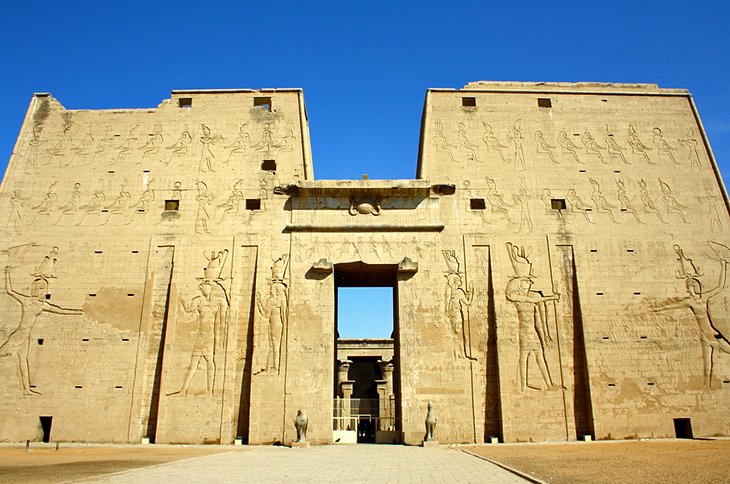 And lookie there-they even carved pictures of the giants on the walls.
You are wasting my time. Good luck with that.
Edited 3 time(s). Last edit at 01-Aug-17 02:10 by Thanos5150.
Sorry, only registered users may post in this forum.