Mysteries : The Official GrahamHancock.com forums
For serious discussion of the controversies, approaches and enigmas surrounding the origins and development of the human species and of human civilization. (NB: for more 'out there' posts we point you in the direction of the '
Paranormal & Supernatural
' Message Board).
R Avry Wilson Wrote:
-------------------------------------------------------
> There may well be remaining skin covering the
> fontanel, as this was a preliminary observation on
> my part.
Unfortunately you did not make another before posting.
> However, please refer back to the Google images
> search (just above). The shape of the 'fetus' seen
> in the OP is common, not indicative of an
> elongated skull.
You picture a down shot of a fetal skull that looks to be about 5-6 months:
Front view of a near identical fetal skull:
Ironically, what we see by comparing these skulls is not only is the skull below not "common", but quite clearly
uncommon
as in not even close to being the same:
More "primary observations" on your part I assume.
> Just to be clear, are you suggesting 'elongated
> skull people' are an existing separate human form,
> born that way?
Your attitude is perplexing. You know what I am "suggesting" Avry which even if you somehow forgot I also cite in the OP:
Ancient Long-Headed Skull from Korea was Naturally Formed
Research paper:
Bio-Anthropological Studies on Human Skeletons from the 6th Century Tomb of Ancient Silla Kingdom in South Korea
.
Something I already linked to you before.
Presumed skull of Akhenaten:
The skull of his grandson Tutankhamun:
The latter Dr. Madiha Khattab and his team concluded (emphasis mine):
Quote

Tut's elongated skull was a normal anthropological variation, not a result of disease or congenital abnormality.
NY Times
And of course not a product of head binding either meaning, yes, they were born this way. Further supported by the famous relief of Akhenaten and Nefertiti which also shows their infant children with unusually elongated skulls as well:
Nefertiti by the way:
Elongated, namely extremely dolichocephalic skulls, are commonplace amongst AE nobility which date back to late predynastic times. An Old Kingdom copper statue of Pepi I (or Menere):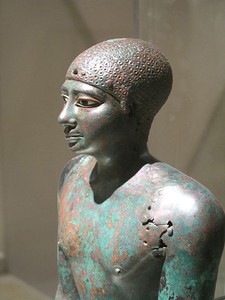 A topic for another day.
Regardless, it goes without saying there are elongated skulls that are a product of artificial cranial deformation, but there are also many that are not.
AVRY CITES:
[www.peruthisweek.com]
racas-skulls-are-not-from-alien-beings-102258

[badarchaeology.wordpress.com]
e-paracas-skulls-aliens-an-unknown-hominid-species
-or-cranial-deformation/
To review these, they are two debunker links which the first, a blog, titled:
"Calm down, the Paracas skulls are not from alien beings"
, that beyond the passing uncritical regurgitated statement "Scientists and archaeologists generally believe that the skulls' strange appearance is the result of intentional deformation practiced by the Paracas culture.", has nothing to do with the skulls being artificial or not. Also, according to the author:
Quote

To be fair, I don't have any special academic credentials that make me an expert in archaeology or genetics. But I'm not arguing that the data is flawed— we haven't seen the full data, and I'm not qualified to speak on that— but I am arguing that a number of features of the announcement should warn us not to take Foerster's announcement at face value.
The other debunker piece is rambling focusing on the fringe element of the subject though also makes the uncritical blanket statement:
Quote

Many of the high status burials of the Paracas Necropolis Culture have deformed skulls, which are usually believed to be deliberately induced using boards and weights.
And interestingly at the end there is an update which tries to cite craniosynostosis as a natural cause of some of the deformation so apparently even this author is looking for other explanations beyond artificial deformation.
> etc etc.
So, to recap: first you claim with authority this is not a fetus based on the experience of "parenthood" then backtrack when it is pointed out to you the fontanelle may in fact (if not likely) be covered with mummified skin, a result you missed as you say of being caused by only taking a "preliminary observation", which ironically does not require a "secondary observation" to see at the very least the large flap of skin hanging off the side of the skull which may have been one's first clue.
Then you claim the skull is common of fetuses, though you just said it was not a fetus, yet when we do in fact compare the OP skull to the examples you cite it is obvious they are in fact nothing alike and is in reality "uncommon".
Lastly, you cite a no name blog and a debunker link which on the surface seem to contradict claims of natural elongation, if only because you cite them, but when one actually takes the time to read them they in fact do not with the first not even being the point of the article.
"Ect, ect" indeed Avry.
Edited 8 time(s). Last edit at 20-Jul-16 18:46 by Thanos5150.
Sorry, only registered users may post in this forum.