Mysteries : The Official GrahamHancock.com forums
For serious discussion of the controversies, approaches and enigmas surrounding the origins and development of the human species and of human civilization. (NB: for more 'out there' posts we point you in the direction of the '
Paranormal & Supernatural
' Message Board).
Thanos5150 Wrote:
-------------------------------------------------------
>
> In your experience, to have over 400 samples say
> the same thing between two tests taken 10yrs
> apart, not to mention other RCD tests done which
> all fall in the same range-how much of this
> matters as a whole to the credibility of these
> tests? Meaning, what is the likelihood of all the
> tests always being wrong the same way no matter
> who is doing it or when?
Sorry to butt in (kindly ignore if you prefer), but if I recall correctly, many of the samples were not from ancient masonry but were loose-lying objects like dried plants, etc., many or all of which certainly could be remnants from more recent adaption cultures that attempted to remove any trace of the previous culture. Regarding whether they might all be off, it's a matter of the assumptions made and the way the samples were (or were not) treated. For example, if the studies assumed the construction was at least
close
to the traditional timeline, then such restrictions can be mathematically incorporated into the calibration curve, outlier algorithms, and statistical constraints, all of which would incorporate a bias into the data.
While the '95 study acknowledged that the earlier Cayce study consistently yielded dates up to 200 years earlier, the '95 authors never addressed any explanation of that systematic discrepancy. Could such a discrepancy simply be based on slightly differing assumptions in the algorithms applied to the data?
And there's a good chance we'll never know why half the data points were held "in reserve" in the '95 analysis. Perhaps those charcoal clumps were too small...and represented a different, and far older, batch of mortar, perhaps from a much earlier culture.
> Is there something that could be done, or wasn't
> done, to these samples that would make them
> 20,000yrs old instead of 5,000?
First, there is a possibility that the original construction didn't use any mortar at all. If that's the case, then for all we know, those things could easily be
at least
20k old, and no C14 test of mortar would be able to reveal that.
Meanwhile, modern carbon contamination could certainly cause that kind of error in ancient mortar. If most of the mortar we see in the core today was applied by a 5th or 4th millennium BC adaption culture, then modern contamination could make it look more like 4th or 3rd millennium BC depending on the degree of contaminant and this would be reasonably consistent across different studies.
Likewise, if half of the C14 in a sample is due to "modern" contamination (ie, during the post casing interval of, say, the past 700 years), that amount of C14 contaminant could throw off an original mortar date that's 11,000 old by 60% (to 5,000 years old) due to the rectangular hyperbolic decay curve of C14. Such a contaminant only needs to be about 25% of the total carbon in the sample and yet the higher concentration of C14 introduced to the sample would skew the date by approximately 60%.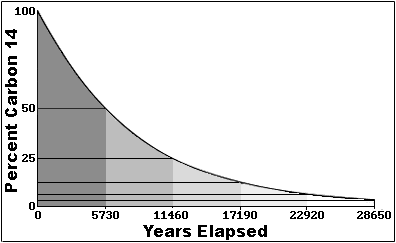 ______________________________________________________________
How can any of us ever know, when all we can do is think?
Edited 2 time(s). Last edit at 18-Jun-16 17:14 by Origyptian.
Sorry, only registered users may post in this forum.