Mysteries : The Official GrahamHancock.com forums
For serious discussion of the controversies, approaches and enigmas surrounding the origins and development of the human species and of human civilization. (NB: for more 'out there' posts we point you in the direction of the '
Paranormal & Supernatural
' Message Board).
Jon Ellison Wrote:
-------------------------------------------------------
> Martin Stower Wrote:
> -------------------------------------------------------
> > Jon Ellison Wrote:
> > -------------------------------------------------------
> > > It does for a single sample. Don't confuse a
> > > single sample with the statistical analyses of the
> > > whole project.
> >
> > No, it doesn't. Detecting outliers checks data
> > quality:
> >
> >
http://www.itl.nist.gov/div898/handbook/eda/section3/eda35h.htm
>
> Read part 2 of the first section..
> Another scenario wherein only two samples were
> taken one of which was our outlier.
> Or another where 1000 samples were taken.
> Or another in which there was absolutly no pre
> conception of the age of the subject.
Why would I read it? The statistics don't matter, remember?
> We see a summit casing in disrepair. We have no
> idea how long it has been in that condition.
Of course we do. We know roughly when most of the casing was torn off. Isn't that the event most obviously implicated? I think so.
> OK the upper section.. I'm not playing word
> games.
Yes, you are. Have you never heard of a language game?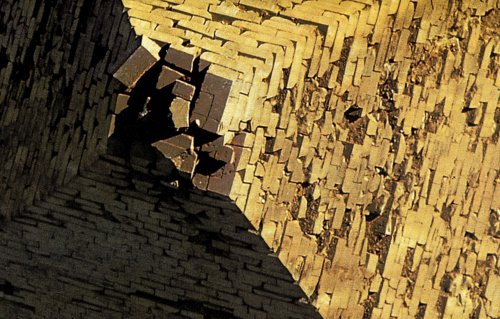 > > What I find remarkable is how crisply defined some
> > of the blocks remain, at the edges in particular.
> > This does not look like erosion by wind or rain.
>
> > What do you think did it? Termites?
>
> It is in considerable disrepair. One could argue
> in need of repair. One method would be to pour
> plaster slop into the cracks. which would
> obviously seep into the core. Which after total
> casing removal could be sampled by slop sampling
> RC dating teams. which would account for the
> higher dates being older, and the presence of
> large areas of what appears to be casting.
Do you not have a theory for Khafre's pyramid? Is it not as old as Khufu's? It certainly presented very similar problems to its builders.
If your assumptions are the same in each case, then surely you must assume that the casing of Khafre's also was ancient and in disrepair in the Old Kingdom—and repaired then, by slapping "slop" on it. Where are the signs of this? I can't see them.
> I don't have any 4000 year old photo's with which
> to compare.
> I'm considering a possible scenario.
> The realistic framework is .
> Based on the absence of 4000 year old photos.
> The p'mid is much older.
> The p'mid was in disrepair 4000 years ago. Say 50%
> of disrepair we see today.
> The pyramid was repaired 4000 years ago ..(or
> more).
> The pyramid was repaired top down.
> Which accounts for the sample date trending and
> the appearance of casting.
No comment.
> Forget the IF.. I'll say will.
> The application of plaster repair slop on
> something similar to G2 summit (upper extant
> casing).
> Will result in repair slop finding it's way down
> into the outer core.
> Not exactly watertight is it ?
I can scarcely believe you've never used the old Polyfilla in your life. I mean old style, when you had to mix it up yourself. Make it too thin and runny (which is what you need for your trickle down theory) and it's no damn' good as filler. They were scarcely in a position to put the pyramid in a rotating positioner, so what's stopping the stuff just running down the face of the pyramid? Then we'd see what runoff looks like—and doubtless great pools of the stuff at the bottom. Any evidence of them?
> > If this was their procedure, why do we see no sign
> > of it on G2? You know, the one you're holding
> > up as an example of the need for it? Or at the
> > Bent Pyramid, your example of actual repairs?
>
> Because it is beneath the extant casing.
> Outer core.
So, repairs to make good the exterior surface are not on the surface? Are you sure you meant to say this?
Unlike in the case of the Bent Pyramid, where they are.
> Or another possibility..
> G2 did not require repair at that time.
But Jon, why would it not? Are you saying that this pyramid is much younger than Khufu's? How many eras of pyramid building are you positing? Khafre's is nearly as big as Khufu's and would have presented much the same problems to its builders. Economy would suggest that it belongs to much the same era—and so, at any given time, was just as old and eroded as Khufu's.
> Or another.
> Different repair strategy.
Like replacing the casing entirely?
> He probably did repair replace small sections as
> we see on the Bent. The pouring of slop
> (cement/concrete today) is a method of binding
> loose disarranged masonry. It's even used to
> repair steel ships.
Interesting. Ships could be made of concrete. They have been:
http://www.dailymail.co.uk/news/article-2263324/Worlds-largest-ship-CEMENT-crushed-pieces-China-didnt-sink.html
> A cathedral repair carried out today is done by
> skilled masons who's priority is in maintaining
> the ancient construction integrity and practices
> of the building for the purposes of preservation
> of ancient technique as well as the structure
> itself.
> If history and heritage were not a priority,
> poured concrete would provide at least a short
> term repair.
> As was done, (inappropriately by todays
> standards), in the past, Stonehenge, Sphinx,
> Colosseum to name but few.
Poured concrete needs retaining. No rotating positioner for a pyramid, so no relying on gravity to do it, while the Swiss-cheese pyramid would make the whole procedure problematic. Put the pyramid in a big mould?
> > Care to specify the composition of this magic
> > "slop"?
>
> Whatever the composition of the samples is.
But Jon, the samples are charcoal. Are you saying that the "slop" is charcoal?
I have to ask at this point, does anyone (if anyone) still reading this find that Jon's elaborations make his position more (and not less) plausible?
Further comment deferred until I feel the impulse.
M.
Sorry, only registered users may post in this forum.