Mysteries : The Official GrahamHancock.com forums
For serious discussion of the controversies, approaches and enigmas surrounding the origins and development of the human species and of human civilization. (NB: for more 'out there' posts we point you in the direction of the '
Paranormal & Supernatural
' Message Board).
Jon Ellison Wrote:
-------------------------------------------------------
> It does for a single sample. Don't confuse a
> single sample with the statistical analyses of the
> whole project.
No, it doesn't. Detecting outliers checks data quality:
http://www.itl.nist.gov/div898/handbook/eda/section3/eda35h.htm
> The summit is still there .. Or it was last time I
> looked. Furthermore if I were an OK pharaoh I'd
> consider it somewhat of an eyesore.
You are not an Old Kingdom Egyptian and we are not in the Old Kingdom. We are not seeing the pyramid as it was in the Old Kingdom. Does this simple fact escape you? We are seeing the pyramid as it is more than a millennium after the casing was attacked.
And for your information, the summit is not still there: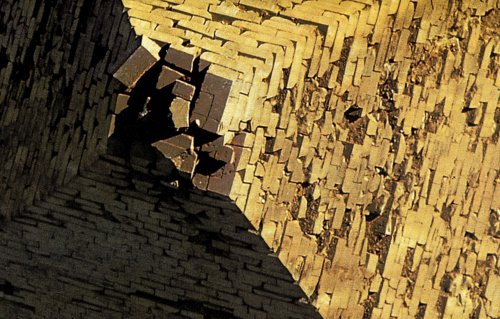 What I find remarkable is how crisply defined some of the blocks remain, at the edges in particular. This does not look like erosion by wind or rain. What do you think did it? Termites?
> That's the issue .. When was it new??
Given your failure to distinguish between (a) how the pyramid of Khafre looks today and (b) how it looked 4,000 years ago, I doubt you have anything useful to say on the question. You are not considering it in any realistic framework.
> Fact is that if the casing were in a semi ruinous
> state (similar to the summit of G2 today) and
> repair slop were poured into the cracks, it would
> find its way onto the first core layer. Which is
> the outer layer today. Which is then sampled and
> RC dated.
If, if, if, if, if, if, if.
Need I remind you again that this is fantasy?
If this was their procedure, why do we see no sign of it on G2? You know, the one you're holding up as an example of the need for it? Or at the Bent Pyramid, your example of actual repairs?
For your information, when the exterior stones of a medieval cathedral are badly eroded, they don't "repair" them, they replace them. Same for pyramids. Faced with your (entirely) conjectural super-ancient pyramid with badly eroded casing stones, a sane mason would replace them—not try to "repair" them or pour "slop" over them.
Care to specify the composition of this magic "slop"?
> During construction the casing was placed first,
> followed by the core.
You know this for a fact? Care to provide some evidence for it?
> It's throwing repair slop around with abandon,
> plastering over the cracks. Some of it is going to
> sink in deep.
. . . and somehow
all
of the charcoal samples were from this
some
of it. A hint here maybe on the composition of the "slop": it has to have those bits of charcoal in it to fulfil its explanatory function.
> Remove the casing.. (which eventually happened)
> and you have in places what appear to be pre-cast
> blocks.
> (Hence the pre cast block debate) Which I assume
> you do not adhere to and neither do I..
All we need now is the composition of "slop" and evidence that the blocks are made of it.
> I doubt it .. the OK didn't have pressure
> injection. No, just throwing it into cracks,
> joints and crevices will do fine.
> If fact you have a hell of a job keeping it out.
> Where else would they have taken plaster slop
> samples from other than plaster slop.?
You're sure you're not confusing the pyramid with a Swiss cheese?
> It flies .. It flies Well.. Aerobatic.
A flying Swiss cheese and a sloppy theory.
M.
Edited 1 time(s). Last edit at 15-Jun-16 00:15 by Martin Stower.
Sorry, only registered users may post in this forum.