Mysteries : The Official GrahamHancock.com forums
For serious discussion of the controversies, approaches and enigmas surrounding the origins and development of the human species and of human civilization. (NB: for more 'out there' posts we point you in the direction of the '
Paranormal & Supernatural
' Message Board).
Jon Ellison Wrote:
-------------------------------------------------------
> Hi Dune.
> You're Quite right, obviously the cartouche was
> painted after the application of the plaster wash
> and even more obviously the plaster wash was
> applied post block installation.
> I tend toward the white wash being ancient and
> applied soon after block installation. At or
> around the same time as the adjacent block filler.
> Same as the filler material, just less viscous,
> watered down.
> Both the wash and block filler material appear to
> show a gloss finish with specular highlights under
> direct flash illumination.
> Tura limestone is Matt white.
>
> It's also interesting that only the cartouche
> block is almost totally wash covered in its
> entirety. (There's an unpainted section at the
> bottom left). The blocks either side only being
> partially white washed.
>
>
Yea its all a bit odd.
Thought i would post what petrie said about the Plaster being used in these relieving chambers.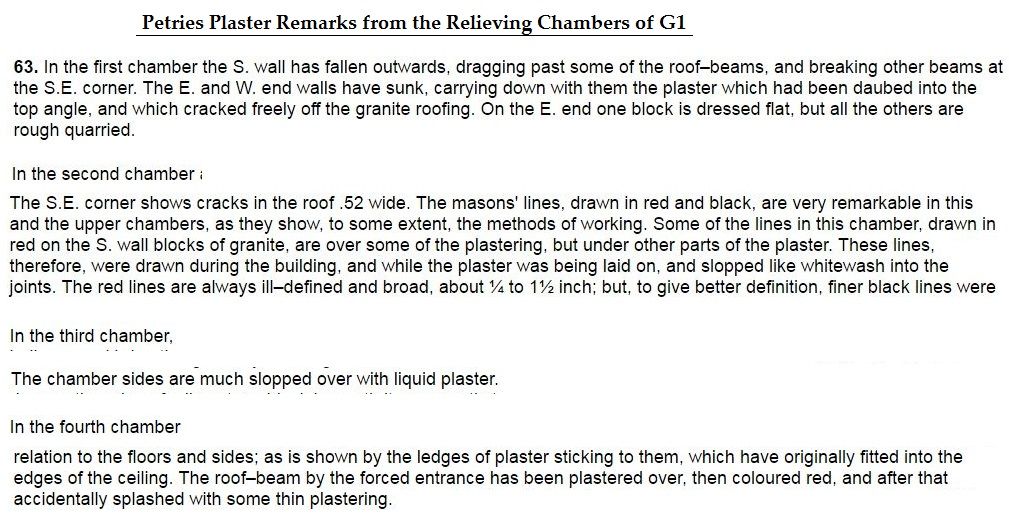 DPP
Sorry, only registered users may post in this forum.