Mysteries : The Official GrahamHancock.com forums
For serious discussion of the controversies, approaches and enigmas surrounding the origins and development of the human species and of human civilization. (NB: for more 'out there' posts we point you in the direction of the '
Paranormal & Supernatural
' Message Board).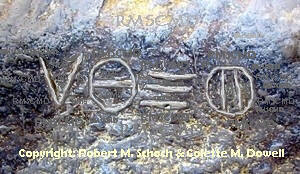 The first letter from the left (Latin V) is the ancient Greek upsilon letter. Seen here in different cities-states/areas, Phokis, Aegina, Aeotolia, etc.
The second letter from the left is the modern Greek theta letter. See below.
In the previous lists of ancient alphabets it is not shown, but in Garducci's book it is included in the ancient Beoetian alphabet.
The third letter is the modern Greek Ksi letter see above. As one can see in the first alphabet list it was used in ancient Ionic Dodecapolis colonies. Notice how on the Giza carving, the bottom horizontal line there is a chip. It seems that the carver might have thought for a moment to carve the vertical line so as to depict it the usual ancient Greek way, but he changed his mind.
The fourth - last letter looks like the Greek phi letter but it has two vertical lines instead of one. I think the reason for this is to incorporate the iota letter. This way they use two symbols for 3 alphabetic letters PhIKs.
Edited 4 time(s). Last edit at 05-Jun-16 01:12 by Spiros.
Sorry, only registered users may post in this forum.