Mysteries : The Official GrahamHancock.com forums
For serious discussion of the controversies, approaches and enigmas surrounding the origins and development of the human species and of human civilization. (NB: for more 'out there' posts we point you in the direction of the '
Paranormal & Supernatural
' Message Board).
Sirfiroth Wrote:
-------------------------------------------------------
> Hi Dennis
>
> Interesting, so what is the source or basis for
> the cubit of 20.618521 inches?
>
> Regards,
> Jacob
Well it can only be taken as one possible configuration amongst the many different cubits found to date.
Don't forget Petries says the length of Giza is no more than 1732 cubits, in fact i believe his figure was slightly under
So if i hold on to my inch distance of 35712.33" / 1732 = 20.619128"
But then if i stick to my suggested 84 ratio then we can get closer to the 1732 as 84 x 20.61905 = 1732.0002
Then that would make my rectangle length to read as some 35712.2", then that would mean i would have to increase my width measure to some 29226.48" to maintain my suggestion of the encoded 1555200 number.
So what is it to be, Petries 1731.97 or 1732, or 1732.05, or 1732.1 , and then choose a cubit that fits those parameters, but then what was Petries cubit ?
I do like the 20.61905 figure because multiplied by 3 eleven times = 36526+
Keeping these square of three finding in this one thread.
Keeping these square root of 3 finds togther,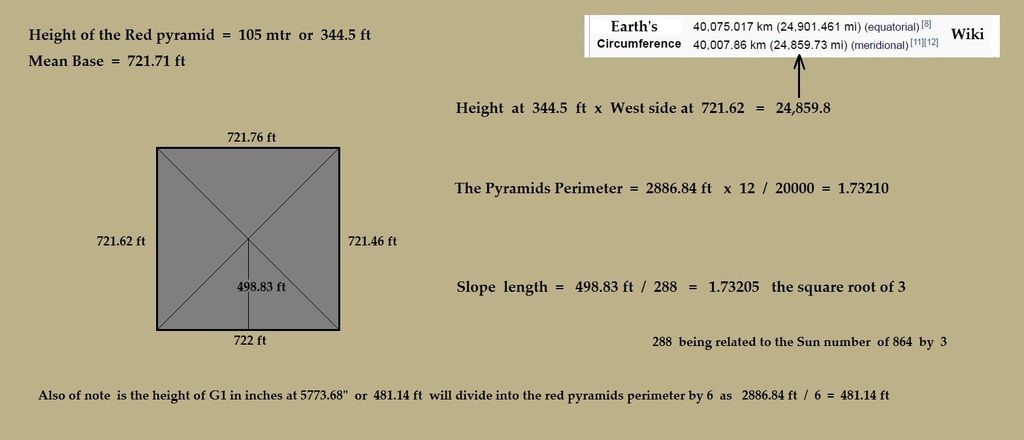 DPP
Edited 5 time(s). Last edit at 23-Jun-16 15:24 by DUNE.
Sorry, only registered users may post in this forum.