Mysteries : The Official GrahamHancock.com forums
For serious discussion of the controversies, approaches and enigmas surrounding the origins and development of the human species and of human civilization. (NB: for more 'out there' posts we point you in the direction of the '
Paranormal & Supernatural
' Message Board).
Hi Jon & Jacob.
To answer Jacob first,
You asked me, "Why do you think the √3 is or was important to the Pyramid Builders?"
First i would make a distinguishment between "The Builders" and the "Designers" and the reason why i am making this point is because what i am finding in the way of encoded information via my inch conversion seems to point to an outside source for the plan of Giza, and One of the reason why the square root of three was used is because a universal ratio would always keep its numerical value no matter how or when in our 3 dimensional universe its found, thereby offering a way of transmitting information into the future, and clearly its been redundantly built into Giza's Geometry.
Hi Jon
You ask,
"Can you clarify possibly diagrammatically what you mean by "overlaid clock".. "time related points"
Well my clock is the circle that circumscribes that equilateral triangle and its three points mark out the times 12 , 4 & 8.
You also ask
"Are you saying that the triangles, the time, and 360 degrees, are all directly and inextricably related."
Basically yes , as you can see by how the pyramids are as you say inextricably linked to specific times on that clock, which is only formed by the equilateral triangle being set horizontally at the outset.
And one then can only assume that time is a major part of what is being encoded , as the speed of light can be found via those base measurements, so speed of light equates to Time Travel, and as we know going to the future is easy if one can attain the speed of light, but going to the past is a complete different matter, ie wormhole stuff.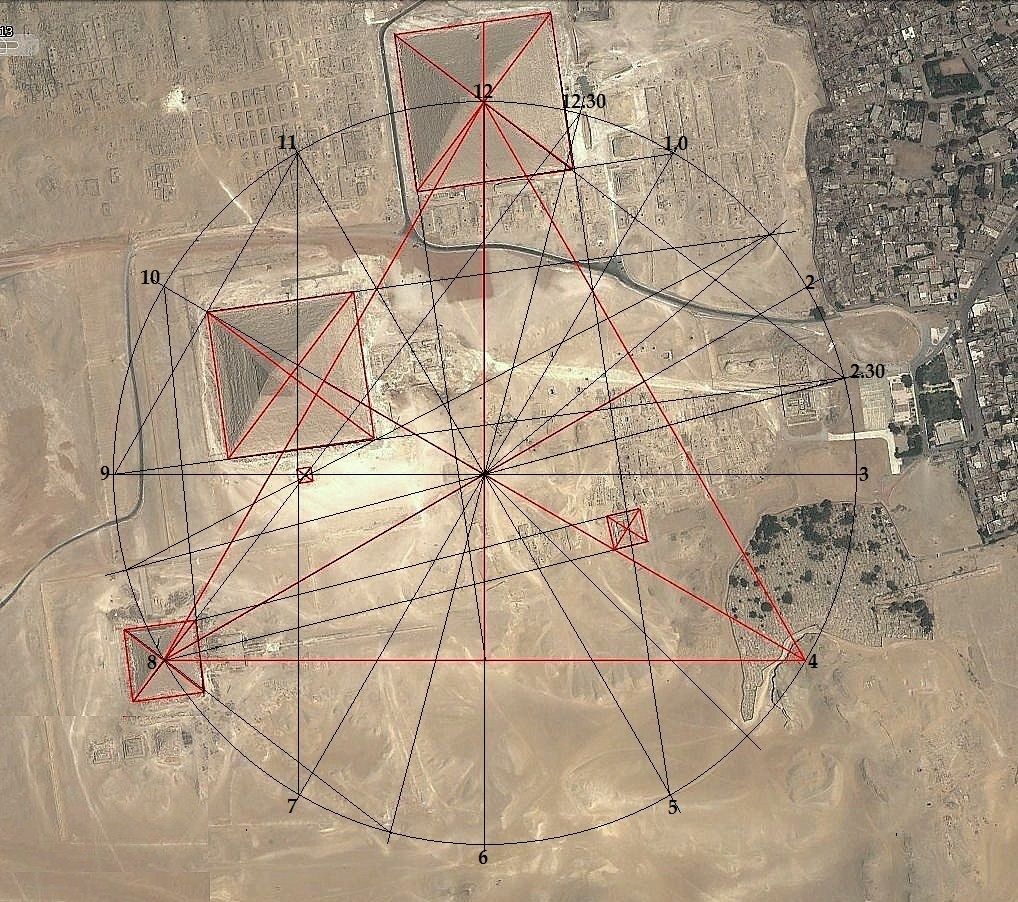 DPP
Edited 3 time(s). Last edit at 30-May-16 07:19 by DUNE.
Sorry, only registered users may post in this forum.