Mysteries : The Official GrahamHancock.com forums
For serious discussion of the controversies, approaches and enigmas surrounding the origins and development of the human species and of human civilization. (NB: for more 'out there' posts we point you in the direction of the '
Paranormal & Supernatural
' Message Board).
Harte Wrote:
-------------------------------------------------------
> There is nothing BUT doubt left.
>
> Again, shouldn't you have to show Egyptians used
> measurements like miles, inches, feet and meters
> before you proclaim their uses in the GP
> The AEs left measuring sticks you know, and we
> already know the origin of the mile, the inch, the
> foot and the meter.
> Here's a hint - they didn't come from Egypt.
>
> Harte
Because i cannot show hard evidence for one of their measuring rods that is equivalent to our modern inch, that does not mean there wasn't one, it may be that particular measuring rod has not been found yet.
When it comes to producing evidence for how they cut and drilled granite , we are given examples of a man sitting crossed legged with a bow and a stick and a lump of rock stuck on top sawing back and throw .
But then when we see actual evidence of these granite holes it becomes patently obvious that the silly bow method could not have done it, no matter how long he sat there pulling back and throw , one obvious real piece of evidence that refutes the bow method is its back and throw action that would leave a smooth cut all the way down the core bit and wall of the hole, but many holes and core bits exhibit helical striations from top to bottom , no bow action could leave those kind of marks.
So when you ask me to produce evidence that shows they worked with a unit equivalent to the inch i would asked those that say those holes were drilled out by some guy pulling back and throw on a stick with a lump of rock on top prove to me that is how they did it.
The reason why im pointing this out is because to this day we cant produce the tools that those ancient guys used to do that kind of work , so if we cant find those tools should i use your thinking and say the Egyptians did not drill those holes, on the basis that no evidence can be produced to prove they did do it.
The Karnak Hole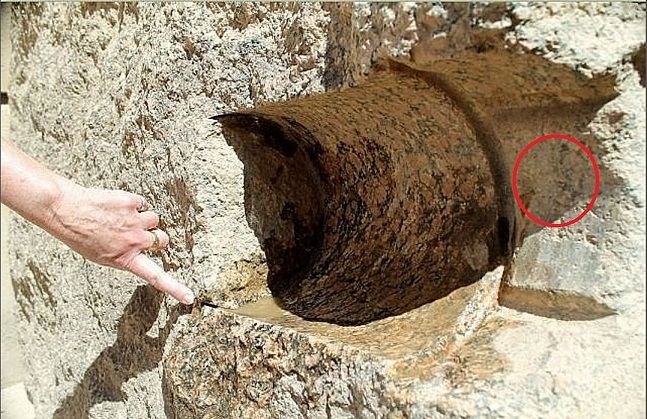 Feel free to send more of your Hints
DPP
Sorry, only registered users may post in this forum.