Mysteries : The Official GrahamHancock.com forums
For serious discussion of the controversies, approaches and enigmas surrounding the origins and development of the human species and of human civilization. (NB: for more 'out there' posts we point you in the direction of the '
Paranormal & Supernatural
' Message Board).
My time traveler , well this subject has been slowly moving from science fiction to one of possibility in the future, techknowledgy is advancing at ever greater speeds, and what with the advent of Ai coming online within the next 20 years then that pace of that advancement will go stratospheric, you then would soon reach a point where anything becomes possible
as your Ai would design anything you ask of it, so its just a matter of time till that day comes.
Now there is always a first time , in that how could they test if their new time machine worked, and if your guy or guys were sent on a journey to the past how could they demonstrate it was a success given the possibility of not being able to return due to a hard wired universal rule that you would not be allowed to kill your grandfather, it may be that if you go back in time you then create a new timeline .
If that was the case and you were stuck in that time, then you would have to have had a pre-prepared plan for that eventuality that would still allow you to send a message back to your future that showed them that you had made it.
So how could you send a message into the future that demonstrated that the guys of that time period could not have achieved it without outside out of time influence.
So what do you do, well your local inhabitants have elevated you and the crew to Gods, you then give them the plans for a project that will provide evidence to your future designers, and that project was Giza, you find out what was there measuring system and use it in your plan , and as i said they would have made sure that when it was converted back into their future unit it would give information that was totally unknowable to that time period.
One aspect of Giza is its complex geometry that redundantly gives Earth commensurate information , (only by the conversion to inches) but the Kicker , or the smoking gun if you like in all of the encoding, is the speed of light figure that can be found by multiplying the perimeters of the three pyramids and dividing by the square root of three ratio, see the diagram.
So that speed of light encoding and all the other complex geometric correlations would have been seen as confirmation that they made it and that the experiment was a success , and as i said the only advanced country that would be the first to achieve time travel would be the US, and who are still using the inch and foot.
So the information that they were attempting to communicate to the future was two fold , 1 was the out of time knowledge , 2nd , was Hey we made it, now measure Giza,
So as i said there is always a first time, and is there not a certain phrase found in the very words of those Egyptians .
They called it Zep Tepi , The First Time, now i wonder what they really meant by The First Time.
Also from my other thread ,The Super Geometric Plan.
One might deduce from this diagram that the placing of the pyramids are in sync with the times of a clock, ie time related , ie alluding to time travel, there is no doubt in my mind Giza is a unified construct , and that the kings of that time period agreed to go along with the master plan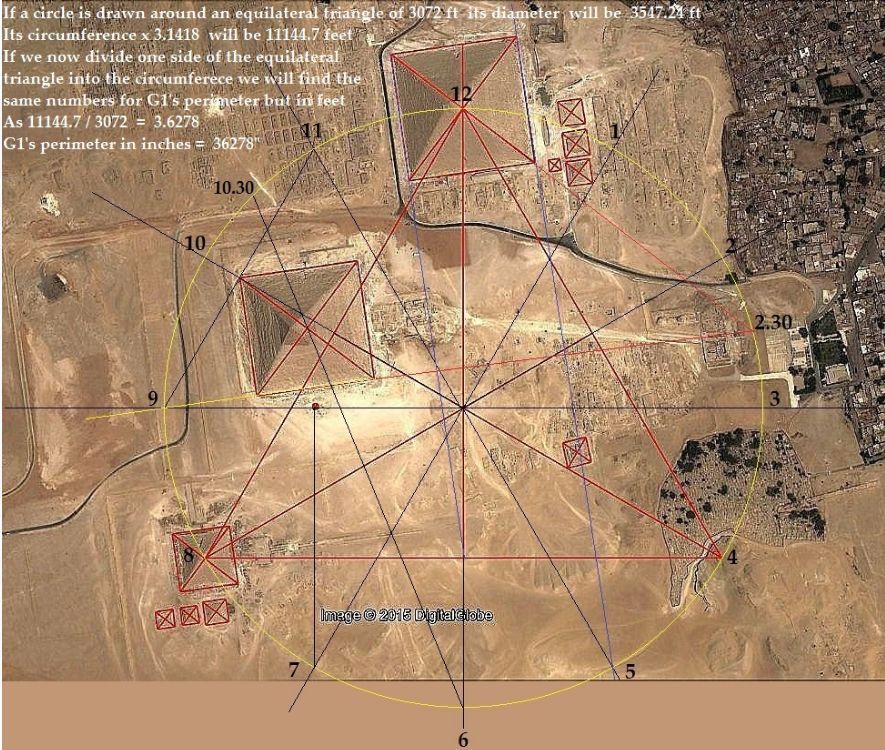 DPP
Edited 4 time(s). Last edit at 19-May-16 13:10 by DUNE.
Sorry, only registered users may post in this forum.