Mysteries : The Official GrahamHancock.com forums
For serious discussion of the controversies, approaches and enigmas surrounding the origins and development of the human species and of human civilization. (NB: for more 'out there' posts we point you in the direction of the '
Paranormal & Supernatural
' Message Board).
Some time ago now i was asked if i could collate all my posts into some sort of understandable sequence of coincidences that would add up and be seen as anecdotal plausible evidence for my hypothesis that Giza has its origins in a preconceived geometric plan, using numbers in various different values of a unit of measure that seems to be identical to the modern British inch and foot, many of the results shown in my diagrams reveal numbers that should only be taken symbolically , the prime example of what i mean is the height of the great pyramid.
I believe the height was 5773.68" and x 0.0003 = 1.73210 , now one could only understand this figure as the square root ratio of three, and its this inch use that i say is being intentionally used as a method to encode these significant numbers, others are just linear hard measurements from A to B points.
But these next diagrams will show how the designers redundantly built and encoded the square root of three into the Giza plan, as for why they felt so inclined and driven to do so is still a complete mystery to me, its quite possible that by encoding square root ratios and other Earth commensurate numbers would allow the encoded information to travel through time without loss of data, and the very fact that this information can only be found by using the modern inch may be another indication that the information is for our time, therefore it implies there may be a very important message for us to decypher .
The Square Root of Three Findings,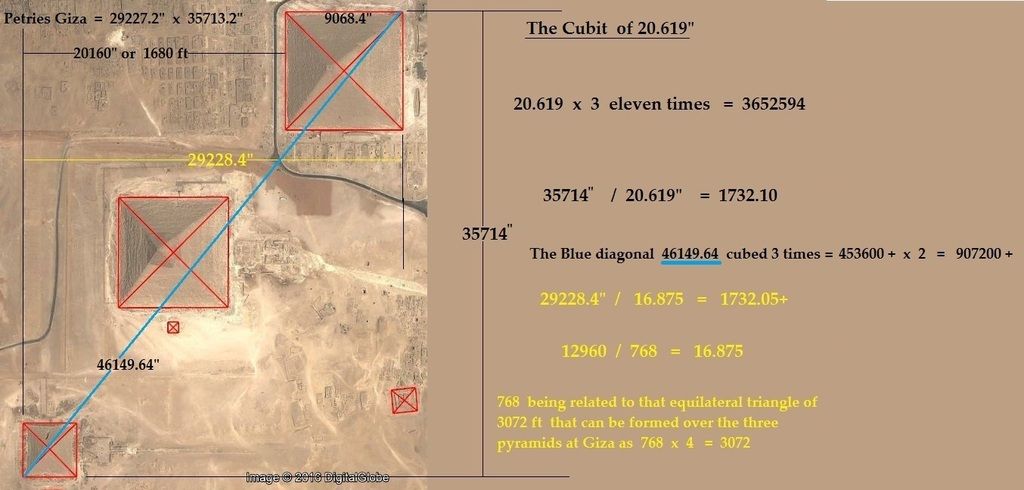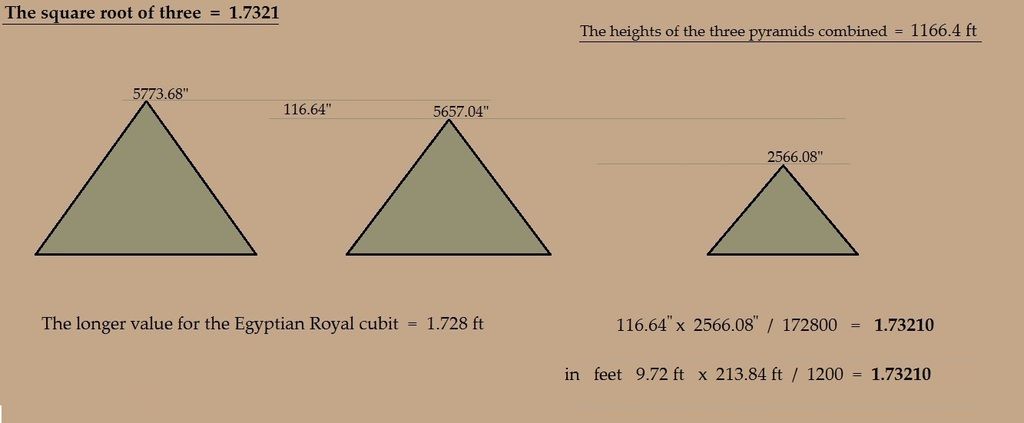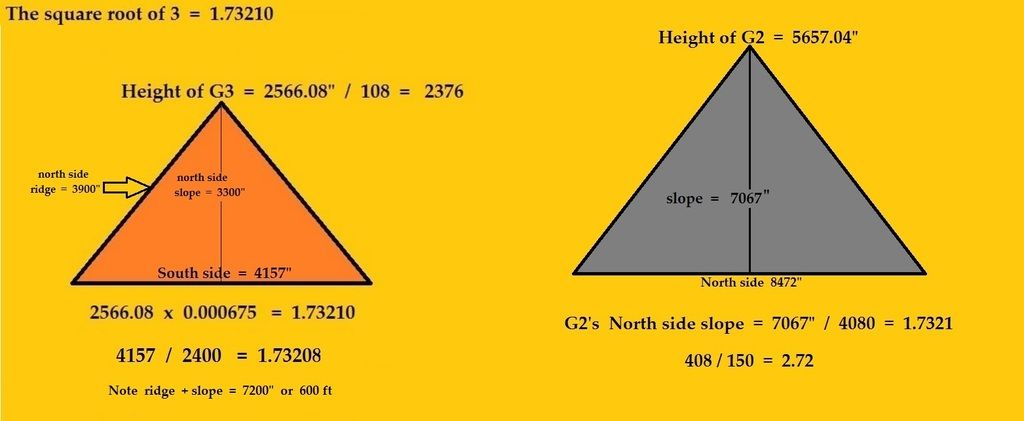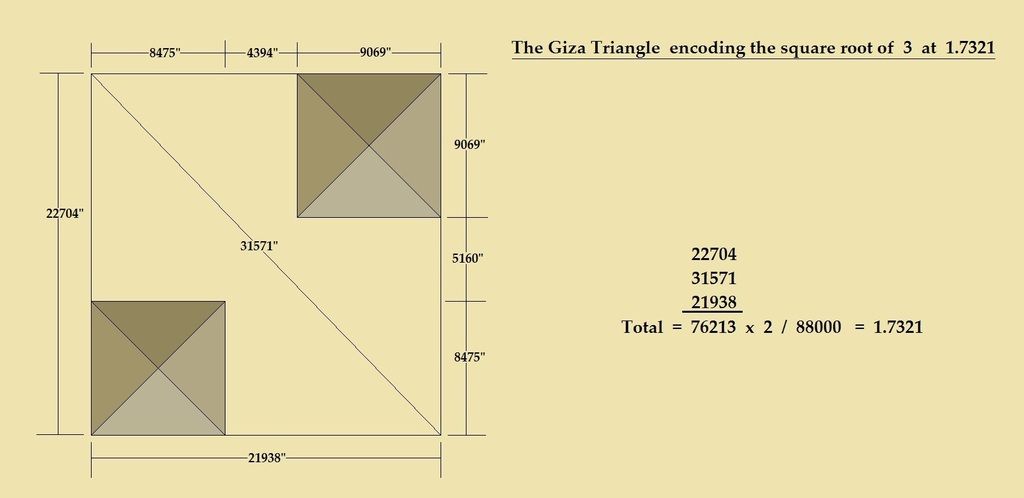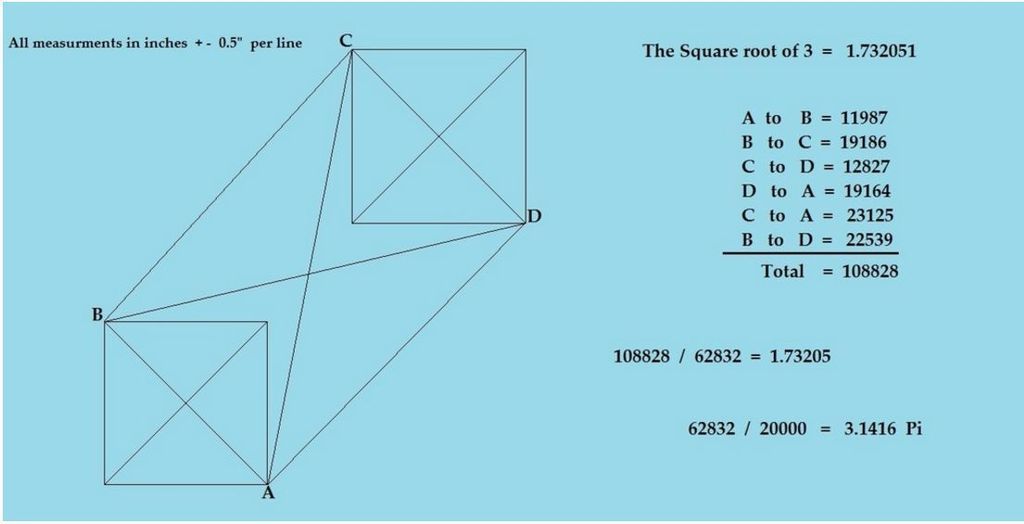 This diagram below is in my opinion probably the most important and significant of all my previous drawings ive done over the last 15 years, the reason being is because it reveals the exact figure for the speed of light by multiplying the three perimeters of the pyramids and then dividing by that square root of three ratio 1.7321.
Again this is further anecdotal evidence that there must have been an outside source that provided this information for it to be built into the plan, ive just realized that the colours that i used for this diagram are fitting for what these pyramids and the final sum actually represent.
Take the Black background, one could see that as the blackness of space, then you have the burning Orange of the pyramids that could be seen as the Stars in space, and finaly the speed of light in space.


Im sure there are more square root of three encoding's at Giza but i think the above examples would now be seen more than just coincidences , (for most ),
DPP
Edited 6 time(s). Last edit at 19-May-16 19:47 by DUNE.
Sorry, only registered users may post in this forum.