Mysteries : The Official GrahamHancock.com forums
For serious discussion of the controversies, approaches and enigmas surrounding the origins and development of the human species and of human civilization. (NB: for more 'out there' posts we point you in the direction of the '
Paranormal & Supernatural
' Message Board).
eli stills Wrote:
-------------------------------------------------------
> Actually including the comparisons with the
> Genesis account greatly increases the available
> audience and even more so if the conclusions can
> be considered controversial. Please know that I am
> not being critical of your work in making that
> statement as I believe it is an interesting topic
> which you present well and fairly, So I wish you
> the largest possible audience.
A part of a larger whole, but thank you. I have only started in the last few months so who knows when or if ever I will finish.
> Unfortunately
> regarding the controversy thus far as you yourself
> conclude what you have demonstrated is that the
> various flood myths possibly had a common source
> of origin. Furthermore it is not unreasonable to
> expect that the written record of a singular
> historical account would become diversified
> through multiple generations of oral transmission
> and evolving cultural beliefs prior to its taking
> on multiple written formulas.
Indeed.
> Unfortunately none of this is controversial from a
> Christian perspective because the biblical
> document records that the descendants of the
> survivors went on to establish multiple nations
> one of which indeed was the birthplace of
> Abraham.
The reason there should be no controversy is because the earliest flood myths, which originate in the "birthplace of Abraham", have nothing to do with Yahweh or anything related to Him if only to the contrary. At the time the oldest versions are found, historically speaking, there is no such thing as a "Yahweh" or even a "Hebrew". The oldest reference to Yahweh are a few Egyptian New Kingdom inscriptions found in Nubia dating to c. 1,400-1,300BC which refer to "Shasu of Yhw".
The Name Yahweh in Egyptian Hieroglyphic Texts
. Abraham according to Jewish tradition was born in 1,813BC which by that time the site of the city of Ur had been inhabited continuously since at least 5,500BC and by 3,000BC had grown to become a major metropolis covering over 37 acres. By the time Abraham was born Ur had already been one of the largest cities of the ancient world for over 1,000yrs which included its own "Tower of Babel":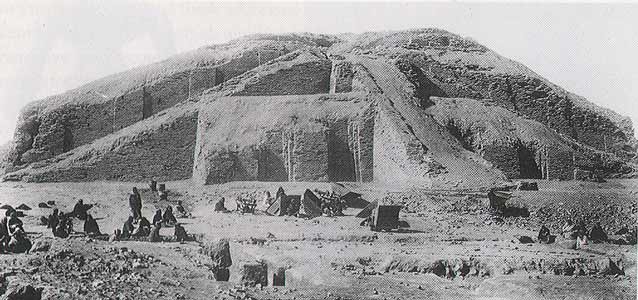 And Ur was but one of many such major urban centers with equally long if not longer accepted histories. The city of Uruk (the Biblical Erech), a major influence on the ancient world including predynastic Egypt, had built its first ziggurat by at least 3,000BC with its foundations dating several hundred years older. I hate to use Wikipedia as a source but this is a decent write up for
URUK.
This was the world long before Abraham of which literally tens of thousands of cuneiform tablets have been found in various locations throughout Mesopotamia dated to before his birth including various versions of the flood myth which there is no Yahweh nor a concept of such a thing.
I have no interest in a theological discussion, but to believe in such things one must accept there is a reality to history that for thousands of years prior does not accommodate such beliefs as they simply do not exist most notably among Abraham's very own people.
> As a believer in the God of Abraham I would like
> to point out that it appears that you and others
> are failing to address the distinction that
> according to Hebrew tradition Moses got the flood
> story from the God who had caused it.
There is no point in "addressing" it because, for one, it is a distinction that only exists by way of faith in the first place, but also given the Mesopotamian tales which the Biblical account is derived have nothing to do with the God of the Bible it is a moot point regardless.
> And as far
> as the influence of Abraham's homeland the
> Israelite's who escaped Egypt knew nothing of
> the Babylonian Myths.
If this were the case, which there is no reason to believe it was unless they forgot, then this would only mean the Hebrew myths were in fact as I suggest derived from even
later
Babylonian originals.
> However I do recognize that this is just a part of
> a greater work and I hope that you deal with when
> the Books of the Torah are thought to have been
> written and by whom in the larger work.
I could, but this is not what this book is about in the least.
> What it means to the faithful is that there was an
> actual catastrophic flood with few survivors who
> later went on to diversify into different cultures
> and nations.
Consider me one of the "faithful" then, but for me I accept the Mesopotamian originals as closest to actual events having nothing to do with the God of the Bible.
> Thanks for sharing your work Thanos. :-)
Thank you.
Edited 1 time(s). Last edit at 02-May-16 04:01 by Thanos5150.
Sorry, only registered users may post in this forum.