Mysteries : The Official GrahamHancock.com forums
For serious discussion of the controversies, approaches and enigmas surrounding the origins and development of the human species and of human civilization. (NB: for more 'out there' posts we point you in the direction of the '
Paranormal & Supernatural
' Message Board).
Anomalies wrote:
That's incredible!!
That's the way virtually all of the cosmological words play out in relation to the Egyptian hieroglyphic language. The symbols of each specifically tell you what the word was intended to mean. Better yet, certain words include an unpronounced trailing glyph, whose symbolic meaning is defined by the word. From those, we can lay out glyph definitions based on the language itself.
With perfect hindsight, an easy entry-point would have been an Egyptian word for "week", written with only two glyphs - the sun glyph (circle with central dot), meaning "day" and an upside-down U, the Egyptian number 10. Together they read, "ten days", which is the definition of the ancient Egyptian week.
When we move to early Chinese hieroglyphic writing, the word for "week" is written with their sun glyph (originally the same as the Egyptian) and the number 10, also referring to an ancient ten-day week. With that one word for comparison, we can argue commonality in form, usage and symbolism for the two languages.
- Laird
Note: The image below credits a book called The
Plan of the Ancient Cosmologies
, which was ultimately published as
The Cosmological Origins of Myth and Symbol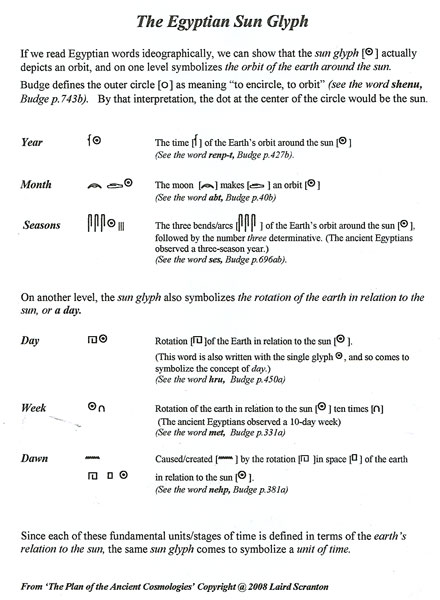 Edited 2 time(s). Last edit at 07-Apr-16 17:41 by Laird Scranton.
Sorry, only registered users may post in this forum.