Mysteries : The Official GrahamHancock.com forums
For serious discussion of the controversies, approaches and enigmas surrounding the origins and development of the human species and of human civilization. (NB: for more 'out there' posts we point you in the direction of the '
Paranormal & Supernatural
' Message Board).
Martin Stower Wrote:
-------------------------------------------------------
> From the list of figures:
>
Quote

5. Weathered block with figure of Cheops in
> relief from his funerary temple.
> 6 a, b. Relief with inscription and figures of
> Cheops from his funerary temple.
> 7. Fragments of relief found in the excavation of
> the Cheops causeway or in the neighbourhood of the
> Queens' pyramids which may have come from the
> walls of the court of the king's
> temple.
The mortuary temple is noted as "completely destroyed except for basalt pavement" yet somehow they are certain these few fragments came from the mortuary temple walls? The rest of the fragments as you note were found in the area of the subsidiary pyramids and debris from the causeway. I have yet to see anything from here or Lisht that definitively shows these fragments ever belonged to any temple and if so that it was original equipment of the temple itself. I do concede, however, they very well may be at the very least part of the causeway as per Herodotus's description, but what does that say about Khufu's temple that unlike the rest of the megalithic temples at Giza that is is somehow "completely destroyed except for basalt pavement"? It tells me that it was clearly nothing like this:
Or this:
Or this:
The fact Khufu's mortuary temple is completely gone, except for the foundation, not to mention his valley temple is buried under a modern mud-brick town, tells me it was nothing like the megalithic temples of Giza being more akin to his father's lackluster chapels, which in that regard I would certainly expect to see reliefs on them, just like his father, as this is exactly what the AE did. And yet the builders of the megalithic temples clearly did not. Again, we are led by context.
I would be curious if we could tell from these relief fragments how large these blocks actually were.
> > > The reused blocks at Lisht are (I would think)
> a
> > > clue as to why no more have been found in
> situ.
> >
> > Of course, if true. But this only account for
> > Khufu's temples, not Khafre and Menkaure which
> is
> > clearly not the case.
>
> The granite architrave with Khafre's name on it?
Where was it found again? How do we know it was ever part of the the Valley temple?
> And the blocks found are likely to be the tip of
> the iceberg.
>
> Porter and Moss give a tolerably good list of the
> Khafre examples:
>
> [[url=http://gizapyramids.org/static/pdf%20library/
> porter-moss_III_giza.pdf]http://gizapyramids.org/s
> tatic/pdf%20library/porter-moss_III_giza.pdf[/url][
>
>
> —with the notable exception of the example
> mentioned above. For whatever reason,
> Goedicke's work of 1971 did not reach this
> revised edition of 1974.
Yes, many statues and fragments of statues, some with inscriptions of their own. Which only makes the absence of inscription on his own temples even more stark by comparison. No doubt this site was important to him yet despite the fact he could sign his name on his statues he could not take the time to sign his temples? Or his pyramid for that matter.
> My ambitions at one point extended to providing a
> full, illustrated survey of these, but other
> matters supervened.
That's unfortunate as I would expect it to be excellent.
> I know nothing of the kind. Area of that
> sarcophagus, as a fraction of the surface area of
> (the granite lining of) the valley temple?
> A
> massive difference in the amount of work required.
Though they could have, why would it be expected to "cover the walls" in relief? And if that were too much, surely a few rows of hieroglyphs here and there would be in order or if not then they could just as easily be placed on the columns like so (Sahure):
There are many granite blocks found at Niuserre's complex with hieroglyphs:
Granite is no excuse for there not to be something on the walls of the valley temple which, again, are absent from the other Giza limestone temples as well.
> The inscribed granite blocks of Sahure are
> comparable with, if anything, the known Khafre
> examples,
Like what? You mean that one architrave that may or may not belong to one or none of Khafre's "funerary temples"? Where are their examples of such on the temple walls or columns we see there today?
> whereas the palmiform granite columns
> appear to be an innovation—and why should they
> not be?
Why would we expect a completely unknown column style to suddenly appear fully formed at the beginning of the 5th Dynasty? Good question, but they were not-the interior of Khufu's solar barge: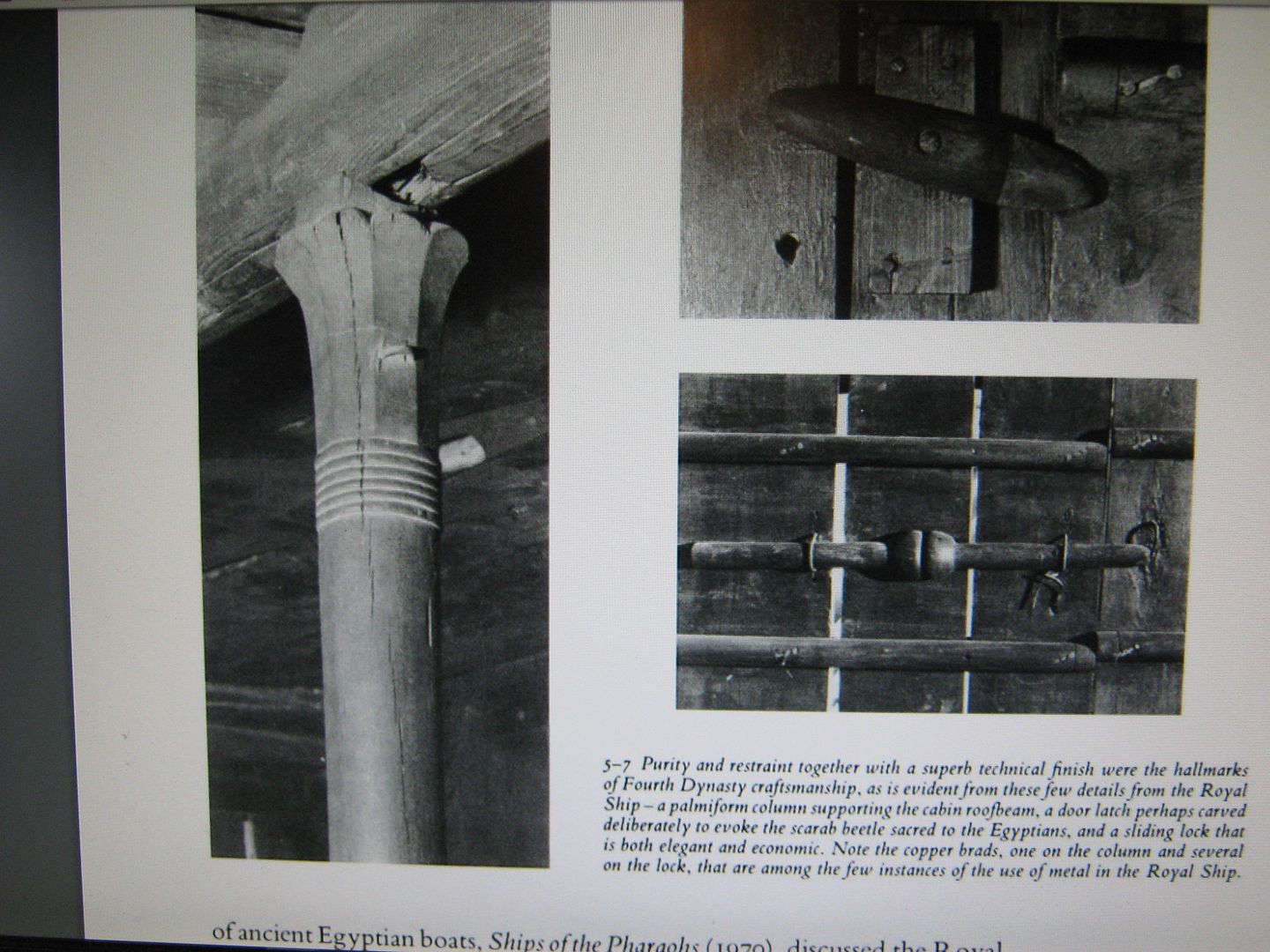 Khufu was well aware of this style of column yet none are to be found in any of the Giza temples though he favored the style in his own barge. At Saqqara we see the precursor of the palmiform column style yet it leap frogs the 4th Dynasty only to be found a fully developed industry at the beginning of the 5th, barely 10yrs after Menkaure's death. Again, there is a disconnect between what came before the great pyramids and what came after.
> Compared even with Menkaure, Sahure had
> saved massively on the labour required for the
> pyramid itself. Not only is his pyramid smaller,
> but (unlike Khafre and Menkaure) he did not expend
> (other people's) labour on giving it granite
> casing blocks.
So you are saying the reason why the Giza temples are lacking inscriptions to dedicate the monuments to the very kings who built them is because as compared to Sahure they ran out of labor to do so...? The pharaohs as a rule did not supposedly die before the pyramid was completed so there should have been many years to inscribe them as they pleased. And regardless, even when it is assumed they might have died before completion, isn't some of the work on G3, including the shoddy mortuary temple, believed by Egyptologists to have been the work of his predecessor in an effort to complete it? But they just couldn't get around to taking the time to put Menkaure's name on it, the most important part if that was actually his tomb?? Can't say that makes much sense. Nor does it make sense that Khafre had all that time to make all those statues, put his name on them, and place them all around the wonderful temple he built just for that purpose yet somehow did not have the labor to write his name on any of the walls as is customary.
> Khafre seems in any case to have preferred
> sculpture in the round.
Which explains what regarding him forgetting to put his name on his monuments?
> Other than?
Sorry, not following you.
> I doubt the sculptor was granted discretion in the
> matter.
Obviously he would be put to the task.
> Quoting myself: "Reisner's excavations of
> Menkaure's complex revealed a lot, including
> edicts relating to its status as a pyramid town
> and the remains of the final offering fires."
> Really? See above.
You do realize there are more temples at Giza which were not "completely destroyed other than the basalt floor" or buried under a modern town we can look at in situ and make this determination? You fixate on these Khufu fragments yet ignore what we actually know were part of these temples which we can still see today with our own eyes. And if we look at Sneferu's temples, the Khufu fragments, and the temples directly after Menkaure we know exactly what to expect from the temples of Khafre and Menkaure yet such dedication is curiously missing. And the blocks used for the temples attributed to them are also unusually enormous by comparison. No, something is not right here.
> > I'd like to see the Goedicke source, but that
> > would be "a" temple and not "the" temple.
>
> Which Goedicke source? What he wrote, or what he
> cited?
Either or. I want to see the block and know where and in what context it was found.
> The closer I look, the less of a disconnect I
> see.
I do not doubt you would.
> "Implies" in what sense? Not deductively. If
> I follow, this is being offered as an
>
explanation
of the visible differences. If
> so, what is this different function and how does
> it explain what we see?
Very good question. I hope someday we will find the answer. I was mulling the idea
HERE.
> I consider myself free to see what I think the
> evidence is showing me.
And yet it shows me something completely different.
> I agree with Pete in considering the word
> "proof" inappropriate in this context—and
> this is scarcely a full statement of the case.
>
> Multiple statues of Khafre (and no one else) found
> in the vicinity of the temple, and niches
> apparently for statues within the temple,
Khafre's affinity for these temples is by no means definitive in establishing provenance of the monuments themselves, nor their original function, particularly when they are devoid of customary inscription. It is interesting, however, that we would find so much of Khafre and Menkaure in this regard yet nothing of like kind for Khufu.
> do tend
> to add up to tell a story. Certainly I would wish
> to be sure of the status of what we see here:
>
> [[url=http://www.mercuryrapids.co.uk/Egypt%20web%20
> page/bigpics/DSCF0042.JPG]http://www.mercuryrapids
> .co.uk/Egypt%20web%20page/bigpics/DSCF0042.JPG[/ur
> l]]
>
>
ht
> tp://doub.com/Nichole/Egypt/DCP02346.JPG
>
> —as so often what we see in these cases is
> reconstruction, but I doubt that what we see here
> is entirely groundless reconstruction and I do not
> see that we can reasonably discount the statues as
> irrelevant to the question being asked. To do so
> would take us into the realms of an arbitrary
> "adoption" theory and that to me is merely a
> form of evasion.
An old photo of the floor in a more original state.
The floor is made of alabaster, which is unusual for this application, and abuts the granite which abuts the limestone meaning this floor is not what the granite sits on and does appear to be a later addition. The question is when was it added? I am not sure what your thoughts are about such a "restoration", but if not done in the OK questions I would ask is would they be so faithful to this design to recreate the niches knowing they were for statues they likely had no idea were buried nearby? The shape of the statue that would fit the niche was common throughout AE history, even before the 4th Dynasty, yet I cannot find any other examples where they cut niches in the floor to set the statues. If other examples of this practice cannot be found before or after I think this is an important consideration as to what their purpose might have really been as if they were made specifically for statues this should be standard practice just like the shape of the statues themselves.
I would be interested to know what is under it that the granite and limestone blocks sit on. The original floor perhaps?
The Sphinx temple has similar kind of floor niches able to be seen in their original state:
Quote

Here we can see clearly the very strange pits in front of each of the columns in the courtyard. They are far too large to be statue bases of standing statues, and Ricke thinks that they were the bases of seated statues. However, no statue fragments were found in the excavation of the Sphinx Temple, although in the adjoining Valley Temple and in the Funerary Temple of Chephren at the foot of the Pyramid of Chephren, such fragments were plentiful. The doors to the temple were too narrow either to admit large statues of to allow them to be carried off. So what is the answer to this enigma? What were the statues, how did they get in there, and how did they get out?
source
It makes one wonder if there were ever any statues there at all.
So the question is then were these niches original meant for statues or was the floor and/or cutouts a later addition. From what I guestimate by that guy's foot in one of your photos they appear very uniform at roughly 2'x 4'. A statue of Khafre:
Right shape. I think it is possible the Valley temple floor niches were made for statues, but I do not believe the floor is original equipment. I also find it curious that some later dynasties would remove all the statues and unceremoniously dump them nearby only to otherwise leave the interior relatively "as-is". This has to mean something. It also makes little sense to me to make the niche to set the statue into it when there is no difference if it just sat flush on the floor.
> > Again, why is this relevant? This is graffiti,
> not
> > a royal funerary inscription.
>
> Really? What does it say?
It tells you what it says:
"Bastet beloved living forever".
The other entrance presumably, which there may be another inscription, was dedicated to Hathor. Hardly funerary dedication for Khafre and these could have literally been written at any time during AE history.
> Relevance is, this is the one image I could find
> of the inscriptions reported. It is not the only
> inscription reported (as above).
I have yet to find any other in situ temple inscriptions except for the otherwise complete absence of.
Edited 3 time(s). Last edit at 12-Feb-16 16:30 by Thanos5150.
Sorry, only registered users may post in this forum.