Mysteries : The Official GrahamHancock.com forums
For serious discussion of the controversies, approaches and enigmas surrounding the origins and development of the human species and of human civilization. (NB: for more 'out there' posts we point you in the direction of the '
Paranormal & Supernatural
' Message Board).
Martin Stower Wrote:
-------------------------------------------------------
> Some were found in situ. Reisner,
A History of
> the Giza Necropolis
(II), figures 5, 6 and
> possibly 7.
These are supposedly from the causeway, not the temples?
> The reused blocks at Lisht are (I would think) a
> clue as to why no more have been found in situ.
Of course, if true. But this only account for Khufu's temples, not Khafre and Menkaure which is clearly not the case.
> Goedicke is notably cautious in identifying the
> origins of the blocks.
As he should be.
> As for the temples of Khafre and Menkaure, granite
> is obviously less amenable than limestone to the
> carving of reliefs
You know this is not an argument. They had no problem engraving hieroglyphs and relief over granite sarcophagi (4th Dynasty, Abu Roash):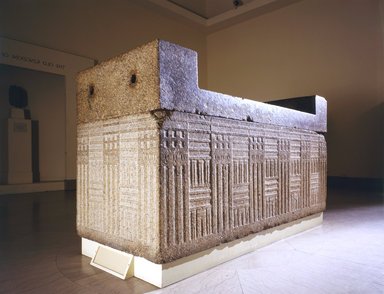 Sahure certainly didn't get the memo writing and relief on granite was "too hard":
Granite is no excuse, which says nothing of the general granite working skills of the period we are all more than familiar with, and regardless, though meaningless, all of the other temples at Giza are limestone.
> and Menkaure's were completed
> in only a cursory manner,
Not the megalithic component which was no doubt there prior of which Menkaure's roughshod addition is more typical of what is found at Dashur, not Giza. And I'm sure a sculptor could have found the time to bust out a dedication or two for their beloved pharaoh and god. As I said, the Red pyramid mortuary chapel was also built in a "cursory manner" yet they had no problem finding time to add reliefs.
> which would account for
> only minimal inscriptions from Khafre's being
> known (including his cartouche on a reused granite
> block, identified by Goedicke as an architrave
> from the funerary temple).
No, it would not as we can clearly see nearly all of the granite is still in the Valley temple yet there is nothing.
I'd like to see the Goedicke source, but that would be "a" temple and not "the" temple.
> As for the rest, yes, there are differences, but
> not differences which depart entirely from the
> normal arrangements of a pyramid complex.
To quote myself:
Whether one disagrees with this or not I do not think one can be honest with themselves and not see the stark disconnect between the temples at Giza and those directly before and after and chalk it up to mere whim on the part of Khufu and co.
The pictures I show in my previous post make it perfectly clear the differences are quite a bit more than "design". And where did this "normal" originate from? If one is of the mind the limestone Giza temples were built prior to the temples of Dashur and obviously later, the answer is clear. But even if one is not of such an opinion, the size and scope of the Giza temples, incorporating blocks weighing as much as 400 tons, are proof in and of themselves of a uniquely different mentality of the builders which implies a different function.
> Khufu
> did not do things exactly as his father did and
> neither were the Giza pharaohs (and their
> architects) absolutely uniform in their
> productions. I see no greater problem here than I
> do in the case of cathedrals being different.
Again, though certainly worth noting, "design" is least of the issue. I think you understand the point I am making so you are free to see what it is you want to see regardless.
> [url=http://www.almendron.com/artehistoria/arte/cu
> lturas/egyptian-art-in-age-of-the-pyramids/catalog
> ue-fourth-dynasty/5/]http://www.almendron.com/arte
> historia/arte/culturas/egyptian-art-in-age-of-the-
> pyramids/catalogue-fourth-dynasty/5/[/url]
Why is this relevant? There are other statues of Khafre as well found near the temples. Surely you do not consider a statue proof of provenance of the builder of the monument nor its function.
> [url=http://alanfildes.com/plogger/index.php?level
> =picture&id=1026]http://alanfildes.com/plogger/ind
> ex.php?level=picture&id=1026[/url]
Again, why is this relevant? This is graffiti, not a royal funerary inscription.
Edited 3 time(s). Last edit at 11-Feb-16 17:45 by Thanos5150.
Sorry, only registered users may post in this forum.