Mysteries : The Official GrahamHancock.com forums
For serious discussion of the controversies, approaches and enigmas surrounding the origins and development of the human species and of human civilization. (NB: for more 'out there' posts we point you in the direction of the '
Paranormal & Supernatural
' Message Board).
cladking Wrote:
-------------------------------------------------------
> There is no support for the paradigm so you must
> first believe that the great pyramids are tombs
> dragged up ramps by superstitious and changeless
> people before you study it.
>
Sam, nobody considers that the AEs were a "changeless" people. The evolution of burial customs from pit graves, to mastabas, to step pyramids, to true pyramids is testament to this.
> No forensic evidence exists that any great pyramid
> is a tomb and tests have never been done.
How does one conduct "forensic" tests in an environment which has been contaminated by countless people which could ever determine the original purpose of the stone box Egyptologists refer to as a sarcophagus?
> Basic science has never been done and released.
See above.
> There are no stone draggers.
The AEs depicted themselves dragging stone. Here is an image of stone being dragged by Egyptian stone draggers (with the aid of ropes and a sled) from the tomb of Djehutihotep: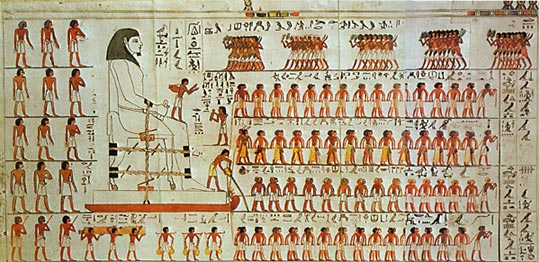 > Any one of these facts is sufficient to cast doubt
> on modern beliefs but in aggregate they show that
> we are necessarily wrong.
So, if one follows your argument then there is still "doubt" but the idea that "we are necessarily wrong" is contested.
:)
Edited 1 time(s). Last edit at 08-Feb-16 17:48 by eyeofhorus33.
Sorry, only registered users may post in this forum.