Mysteries : The Official GrahamHancock.com forums
For serious discussion of the controversies, approaches and enigmas surrounding the origins and development of the human species and of human civilization. (NB: for more 'out there' posts we point you in the direction of the '
Paranormal & Supernatural
' Message Board).
Harte Wrote:
-------------------------------------------------------
> Or, alternately, you could provide some statements
> from Firestone regarding the "flash freezing" of
> mammoths and how it fits into his theory about a
> Younger Dryas Impact.
Apparently, as I said before, Firestone et al haven't studied the Siberian or Alaskan mammoths. So why would I ask him?
> Your scenario cannot cause freezing in any form,
> unless you believe tektites form by flash freezing
> rocks together into a mass of glass.
Again, it is not
MY
scenario, it is from Firestone et al, who present it as a result of an impact. And they do say "
the downward stream of air hit the ground and radiated out from the blast site in all directions, flash freezing within seconds everything it touched."
> What happened. Mr. Freeze drop by?
What is that supposed to mean?
> There was no tropical vegetation.
> The only vegetation found was native to the
> Siberian steppes, and grows there even today.
That is not correct. There was willow, larch, alder & birch, these do not grow in the tundra above the tree line. As far as tropical, I did not say tropical and don't know where you get that from.
> E. W. Pfizenmayer 1901, B. A. Tikhomirov,
> Botanical Institute, Russian Academy of Sciences.
Quote
Pfizenmayer
Our investigations confirmed his [Eduard Toll] opinion. They proved that the animal had been preserved in the same way as Adams's mammoth, according to Toll, had been. In both cases the bodies had been enbedded in fissures of the diluvial [flood] inland ice. Then when the temperature fell the mud disappeared and the ice in which they were fast frozen had kept them, complete with their soft parts, in a state a preservation through the ages.
> More?
> Memoires de L'Academie imperials des Sciences de
> St. Petersbouro, VII Serie, Tome XLII, No. 13.,
> Wissenschaftliche Resultate der Von der
> Kaiserlichen Akademie der Wissenschaften sur
> Erforschung des Janalandes und der Neusibirischen
> Inseln in den Jahren 1885 und 1886 Ausgesandten
> expedition. ["Scientific Results of the Imperial
> Academy of Sciences of the Investigation of
> Janaland and the New Siberian Islands from the
> Expeditions Launched in 1885 and 1886" -- ed.]
> Abtheilung III: Die fossilen Eislager und ihre
> Beziehungen su den Mammuthleichen, by Baron
Eduard
> v. Toll
(St. Peterabourg: Commissionnaires de
> I'Academie Imperiale des sciences, 1895)
How original, a cut & paste from Wiki which I'm sure you haven't read. I'll take your Wiki reference from 1886 and trump it with an archaeologist from the mid 1900's.........
Quote
Frank Hibben
Although the formation of the deposits of muck is not clear, there is ample evidence that at least parts of this material were deposited under catastrophic conditions. Mammal remains are for the most part dismembered and disarticulated, even though some fragments yet retain, in their frozen state, portions of ligaments, skin, hair, and flesh. Twisted and torn trees are piled in splintered masses...At least four considerable layers of volcanic ash may be traced in these deposits, although they are extremely warped and distorted...
You are probably not aware that the "muck" refers to the sediment in Alaska & Siberia in which mammoths have been found, frozen.
Being 'flash frozen' is not the cause of death. The frozen preserved mammoths were found in mud (muck), they had suffocated. Afterwards they were quickly frozen, as your Pfizenmayer said. There are also the pile of bones that wash up on shore, evidence of a catastrophe. The big picture tells of a catastrophe killing not only mammoths but also horse, bison, reindeer, rhino and other mammals that roamed with the mammoth. If this catastrophe was caused by an impact the amount of carbon isotope in the atmosphere would be altered affecting C14 dating, as Firestone and others have stressed. In fact there are C14 "plateaus" occurring about 4 times throughout the period of the mammoths demise - 11,000 to 40,000 ya.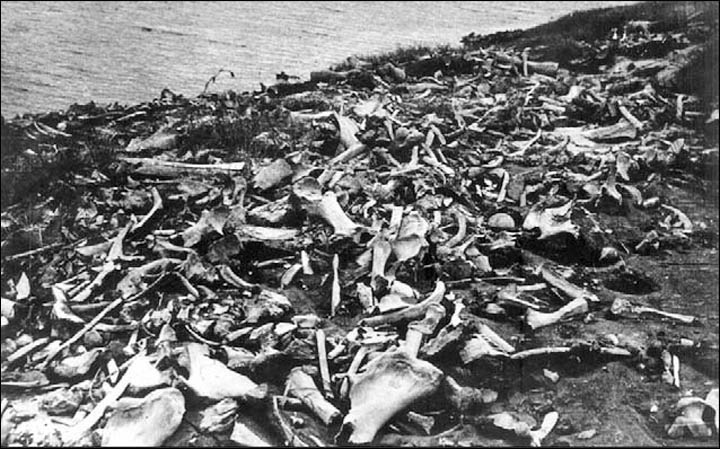 along with forests which do not grow now
It looks like you take the highlights of what you've heard that is anti-alt, be they factual or not, and focus on those without researching the particulars. This seems to have given you a most inaccurate picture of the alt version and the mainstream version.
He who knows all the answers has not been asked all the questions - Confucius
Sorry, only registered users may post in this forum.