Mysteries : The Official GrahamHancock.com forums
For serious discussion of the controversies, approaches and enigmas surrounding the origins and development of the human species and of human civilization. (NB: for more 'out there' posts we point you in the direction of the '
Paranormal & Supernatural
' Message Board).
Hello Open mind; you wrote:
"I've been trying to find more about the plugs in the ascending passage, GP...I'm lead to believe that the ascending passage and plugs were designed on purpose to be removable. And were in fact removed and replace on many occasions along the life of the pyramids functional life."
Addressing the practicality of 'removing and replacing' the "Granite Plugs", please consider the following image from Lehner's
The Complete Pyramids
, page 40. This sketch of "Al-Mamun's Breach" and "Robbers' tunnel" has been modified to indicate the approximate location (
Red X and Arrow
) of the viewpoint from which the next two images, as published from John and Morton Edgar's early 20th-century explorations, were taken.
In the image below, what remains of the topmost Granite Plug (GP) [some two feet missing, per Petrie] is visible just to the left of the climber,
in situ
within the Ascending Passage (AP).
The second image shows John Edgar crouching inside of the AP. Note how tightly nested the middle stone is relative to the roof of the passageway.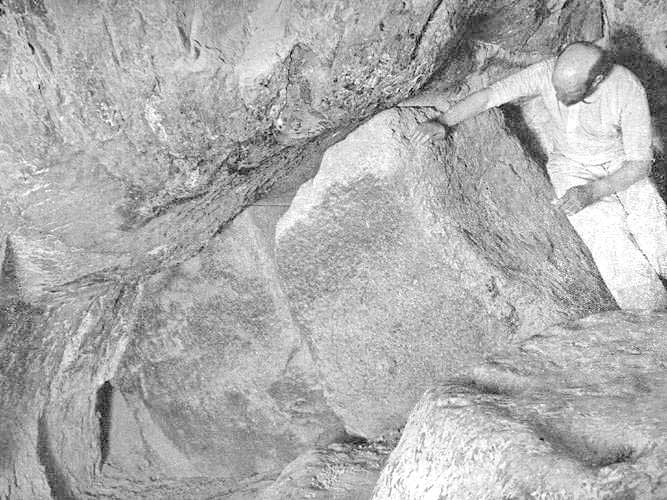 Given that prior to the excavated Tunnel and the collapse of the
"prismatic stone"
[see Tompkins, page 9], there was no visible, working, access to the nearly 7 ton Granite Plugs except for an approximately 100 foot sloping shaft (from one report, also filled with an unknown number of limestone plugs) [Tompkins, page 10], some 3 feet wide by 4 feet high. The possibility of traversing within the confinement of this space and moving anything of consequence is, at best, problematic.
Dr. Troglodyte

"Quis custodiet ipsos custodes?" - Decimus Junius Juvenalis
Η άγνοια είναι η μητέρα του μύθου και του μυστηρίου.

"Numero, Pondere et Mensura"
Sorry, only registered users may post in this forum.