Mysteries : The Official GrahamHancock.com forums
For serious discussion of the controversies, approaches and enigmas surrounding the origins and development of the human species and of human civilization. (NB: for more 'out there' posts we point you in the direction of the '
Paranormal & Supernatural
' Message Board).
Thanos5150 Wrote:
-------------------------------------------------------
> Oyyy. No where am I "arguing" they are spiral
> ramps.
In fact, I do not even say the word
> ramp
. Cladking says: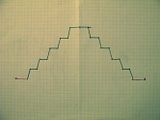 > "This is exactly what the gravimetric scan says
> the pyramid looked like underneath the finishing
> work;"
>
> Which is this:
> They are not "exactly the same" and does not show
> a stepped pyramid as Cladking imagines it does.
Perhaps I took a little too much liberty with the language. As a user of "confused language" I'm just as entitled as anyone else. At least I didn't say "the ancients were so primitive they mustta pulled stones straight up the side".
What I probably should have said is that if G1 is a five step pyramid then the scan could be expected to look exactly like Dr Bui's scan. The error was intentional. I'm battling 150 years of "they mustta used ramps" here. It's been said so many times that people see ramps in their dreams and they don't care that they are debunked.
> At
> best I would say it is "inconclusive".
Yes, of course, there are other possible interpretationsd of the data. I'm not really even ruling out spiral ramps altogether. But I can say without fear of contradiction that this scan does not appear to show spiral ramps; there is a very low probability this scan shows spiral ramps and ramps are debunked anyway.
> Thanos says:
>
Quote

To be honest I do not care if the internal
> structure is a stepped pyramid. I have presented
> evidence that suggests these pyramids were built
> around a core such as is seen today at Meidum and
> some of the satellite pyramids at Giza. I believe
> this actually qualifies as a "hypothesis". It is
> possible a stepped pyramid was built up around
> this and then built up again for the final outer
> core. Regardless, The problem is simple in that
> you are claiming the scan is an "exact match" for
> a stepped pyramid but it is not. It is merely your
> interpretation of it. Is this not a fair
> statement?
Simply stated there is evidence all the pyramids were stepped and logically they are stepped because there is no alternative whatsoever for lifting stone. This is how the great pyramids and other great structures were built. Modern people have ramps etched into their consciousness and their DNA. There were no ramps because there could have been no ramps. They mustta not used ramps and used another means. You are looking at this other means right here and it even consistent with your own theory so where's the problem? Indeed pulling stones straight up the side seems to be consistent with most other theories other than Egyptological beliefs. Pulling stones up is far far easier than building ramps and dragging them on ramps. Pulling stones up is evidenced everywhere including in the parallel lines in the scan.
Why do people fight this except that they have to give up their absurd and romantic notion of noble but stumbled footed bumpkins made strong through superstition heaving and straining against the ropes and against gravity and against time itself.
Man fears the pyramid, time fears man.
Sorry, only registered users may post in this forum.