Mysteries : The Official GrahamHancock.com forums
For serious discussion of the controversies, approaches and enigmas surrounding the origins and development of the human species and of human civilization. (NB: for more 'out there' posts we point you in the direction of the '
Paranormal & Supernatural
' Message Board).
Origyptian Wrote:
-------------------------------------------------------
> As part of his argument that they were spiral
> ramps, Thanos invokes the mainstream opinion,
Oyyy. Nowhere am I "arguing" they are spiral ramps.
In fact, I do not even say the word ramp
. Cladking says: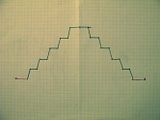 "This is exactly what the gravimetric scan says the pyramid looked like underneath the finishing work;"
Which is this:
They are not "exactly the same" and does not show a stepped pyramid as Cladking imagines it does. At best I would say it is "inconclusive". It is not any more complicated than that, a point I have made several times now, and yet look at what follows. In fact I am not even arguing against the idea at least part of the core may be stepped.
Thanos says:
Quote

To be honest I do not care if the internal structure is a stepped pyramid. I have presented evidence that suggests these pyramids were built around a core such as is seen today at Meidum and some of the satellite pyramids at Giza. I believe this actually qualifies as a "hypothesis". It is possible a stepped pyramid was built up around this and then built up again for the final outer core. Regardless, The problem is simple in that you are claiming the scan is an "exact match" for a stepped pyramid but it is not. It is merely your interpretation of it. Is this not a fair statement?
[snip]
Edited 1 time(s). Last edit at 04-Nov-15 18:22 by Thanos5150.
Sorry, only registered users may post in this forum.