Mysteries : The Official GrahamHancock.com forums
For serious discussion of the controversies, approaches and enigmas surrounding the origins and development of the human species and of human civilization. (NB: for more 'out there' posts we point you in the direction of the '
Paranormal & Supernatural
' Message Board).
Hey, these are five steps, too!!!
This is exactly what the gravimetric scan says the pyramid looked like underneath the finishing work;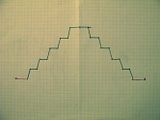 I'm pretty sensitive to this image and it's exactly what was posted earlier in this thread as well.
Man fears the pyramid, time fears man.
Edited 2 time(s). Last edit at 03-Nov-15 15:45 by cladking.
Sorry, only registered users may post in this forum.