Mysteries : The Official GrahamHancock.com forums
For serious discussion of the controversies, approaches and enigmas surrounding the origins and development of the human species and of human civilization. (NB: for more 'out there' posts we point you in the direction of the '
Paranormal & Supernatural
' Message Board).
Hi Corp.
Corpuscles Wrote:
-------------------------------------------------------
> Hi Thanos
>
> Thanks for the interesting reply etc.
You have interesting thoughts.
> For obvious reasons it is ironic (and perhaps
> could be seen as somewhat hypocritical ) that I
> find it difficult to believe that ALL OF these
> many stele / obelisks were made 4century AD. ie
> Late Roman era but a Christian Ethiopian king?
> Nah! I think if some/many were made by copycats?
Yeah, that is why I say "supposedly". Kush has a long history with Egypt so I always found it odd they would pick up building pyramids and obelisks so late in the game. Seems to be a bit of a disconnect there.
> In context with the pics you presented in the
> "lost at sea" Menkaure 'coffer' thread
> (particularly the square corner protrusions) and
> this obsession scattered globally with false
> doorways. Seems to me more oomph!!!to your
> 'reminiscing of a lost past' theory.
Lol. You have a keen eye friend. I was going to note that too; the fluted cornice is the same as found in Egypt as well, but didn't want to derail the conversation. Whether all of these examples from different cultures have some greater historical meaning is tough to say at times and I try not to use similar iconography too loosely to make connections that otherwise do not exist, but regardless, at the least it is easy to see epoch after epoch how connected these people were. These are not derived from "independent invention" but rather
diffusion
.
> But maybe it
> was just a variation of perhaps very ancient
> 'belief' the deceased having a house to live in in
> afterlife.
Whether later people understood its significance anymore or just thought it looked cool, personally I think it has real roots in real events and places long before.
> Geez! I would be frustrated trying to
> open those bloody windows and doors... as in real
> life sometimes LOL ;-)
Lol.
> Darius seems to me to have been an extremely
> interesting king. Just wondering since you are
> well travelled have you seen this palace
> personally? If so, does it have a feeling of being
> a functional residence? Do the Iranian people or
> professional experts have much data on Darius and
> do you know of any good books/resources on the
> subject?
Unfortunately the only Islamic nation I have been to so far is Egypt which is the most Westerner friendly. But even that was pretty sketchy at times. I would love to go to Persepolis and Baalbek among others but I am afraid I am exactly the type they do not want to be there particularly these days. If I didn't travel with my wife I would go anyways. I was planning to go to Turkey the last few years to see Gobekli Tepe among others, but with what's been going on there in Syria I don't see it happening anytime soon. I am more the traveller type, not the tourist so not really into getting into tours but if I want to go to these places it may come to that. Not sure where to go next. I'm leaning towards Portugal, Spain, and France for my next soiree. Get my megalithomania groove on.
> Sorry over the years I have mistakenly? presumed
> you were suggesting that region as being the
> re-start point of "civilized culture" post
> catastrophe?
No, most definitely but there is more to it than just the Mesopotamian contingent, we just don't talk about it here much for some reason, namely the seafaring megalithic culture of the Mediterranean. I believe this culture was around pre and post c. 6,000BC (catastrophe) with the Mesopotamian contingent being a post catastrophe splinter group who for curious reasons I believe had a radically different ideology and developed much differently. Another thread for someday I suppose.
> Yes we briefly discussed in the infamous "order"
> thread. I was not game to comment then (partly due
> to inferior knowledge) but will now suggest that
> the 'cyclopean style' as you call it, screams to
> me of construction at a time when there was much
> regular/prolonged or expected seismic activity or
> upheaval on the planet. The genius manner of
> fitting allows for movement and resettle, but
> distributes force vectors as to not easily cause
> collapse.
Yeah, this is definitely the consensus of why they built this way. So why would the Valley temple use it but the interiors of the pyramids not?
> Yes this granite work is called "lining" but I
> cautiously an inexpertly suggest it was stand
> alone original then later enclosed?
Where exactly are you referring to?
> Albeit I
> realise at Giza there is other signs of inferior
> attempts to dress monolithic limestone with
> granite.
The Valley Temple looks pretty awesome to me.
> ... one last re another reply post... there is
> brilliance all over the world but some of the
> precision Peru/Bolivia etc as per some of Lover's
> pics are of utter astounding technology and speak
> of mass production of modular construction
> techniques of huge scale. Sure those darned
> Serapeum boxes and manner of transport scream high
> tech but the Puma Punku stuff is intricate and
> highly designed not just precision 90deg finishes
> so to me more or most impressive.
The modular construction aspect I would certainly agree. The end product of the stone work, not so much. I see no difference.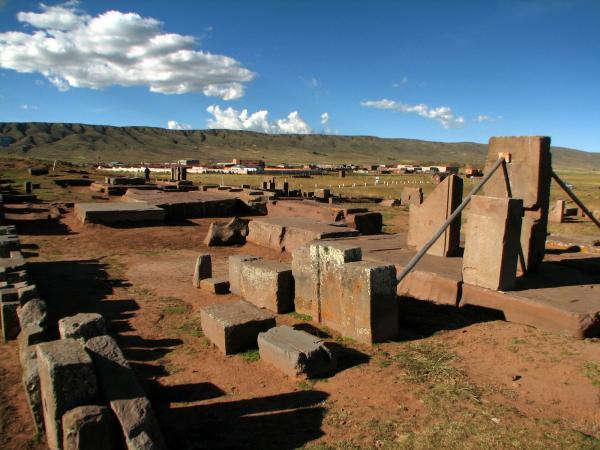 The thing about Puma Punku is that unless you go there it is hard to get a grasp of the scale of these blocks just from pictures. If you look at the picture above you see the blocks running along the center are huge. Massive actually, some of the largest I have ever seen anywhere in the world. Fat and long.
By comparison the blocks that get the most attention like these:
Are comparatively "small". Doesn't make them any less amazing because the point is really the precision and not the size, but I think some might have the impression the blocks with all the fine cuts are enormous which isn't the necessarily the case. Actually the opposite. I am not saying all are smaller, the Sun gates and some of the blocks are in fact quite large obviously, but the modular blocks in particular and some of the other more popular examples of advanced stone work are actually pretty manageable. If I had to guess I would say most of these modular blocks are close to half the overall size of the average G1 core block.
> Few thoughts from a dumb amateur hobbyist
Bah.
Edited 1 time(s). Last edit at 30-Oct-15 23:23 by Thanos5150.
Sorry, only registered users may post in this forum.