Mysteries : The Official GrahamHancock.com forums
For serious discussion of the controversies, approaches and enigmas surrounding the origins and development of the human species and of human civilization. (NB: for more 'out there' posts we point you in the direction of the '
Paranormal & Supernatural
' Message Board).
Hi Corp.
Corpuscles Wrote:
-------------------------------------------------------
> I am surprised you didn't comment on that famous
> 'blind doorways theme' you often refer to in Eygpt
> ,coffins and buildings?
The obelisks, or "stele", were supposedly made around the 4th century AD. The general Nubian region has a long history and close connections with the ancient AE dating back thousands of years to predynastic times. The AE believed the gods originated from the land of Punt which may likely have been somewhere along the coast of the Red Sea near modern day Ethiopia. The Kingdom of Kush of Biblical fame dates back to at least c. 2,500BC. In the 1st millennium BC in particular, the Nubians emulated AE culture and even built over 200 pyramids:
Point is, it would not be surprising to find this motif on the obelisks of Axum.
But in relevance to this topic, the gateways of Tiahuanaco are quite interesting: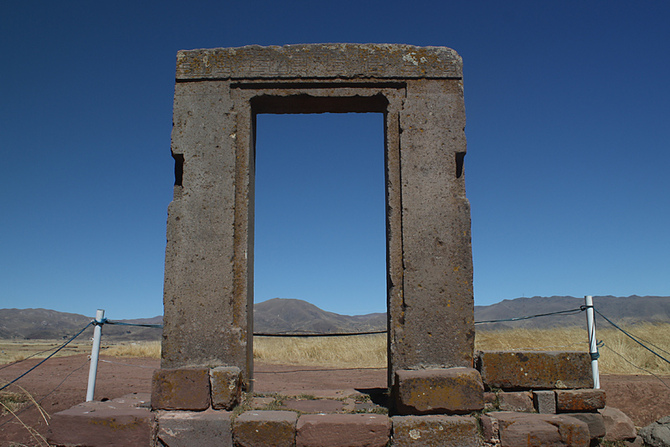 They remind me of the what is found at the Palace of Darius at Persepolis in Persia, modern day Iran:
> Must have been global travellers? With allies or
> trading partners? Might not have been originally
> from Mesopotamia?
I do not believe the cyclopean masonry culture seen in Egypt and elsewhere were originally from Mesopotamia.
An interesting thought I would point out while it's on my brain is it is curious to me the the builders of the granite Valley Temple facing would construct in the cyclopean style:
Yet not repeat the method inside the interiors of any of the pyramids. Doesn't make much sense.
> ... they sure could pound rocks.... LOL!
Popeye ninja rock pounding midgets.
Edited 1 time(s). Last edit at 30-Oct-15 19:24 by Thanos5150.
Sorry, only registered users may post in this forum.