Mysteries : The Official GrahamHancock.com forums
For serious discussion of the controversies, approaches and enigmas surrounding the origins and development of the human species and of human civilization. (NB: for more 'out there' posts we point you in the direction of the '
Paranormal & Supernatural
' Message Board).
Manu Wrote:
-------------------------------------------------------
> I didn't write race, I wrote genetic traits which
> are demonstrably sub-claded and demonstrably
> distinct between those two populations. That's the
> bar over or under of which your theory survives or
> dies on Thanos.
The point I am making is that the genetics may not say "Uruk" regardless of whether or not they were actually from Uruk. Uruk cultural influence spread over a wide geographical area, most notably Susa in Elam. Though distinct in some ways it otherwise borrowed heavily from Uruk culture none more so that the period during the 4th millenium. This is why though AE Uruk influence is clear, it too is different in subtle ways which I why I leave it in general as "Mesopotamian". Uruk? Elam? Elsewhere? We can't say for sure at this point.
> I do not understand your definition of
> administrative state. No dictatorial state would
> sent and sponsor an off-shoot to another nation
> and not impose all of its might and culture.
> Think of this a a scientific model. Make it bold
> and see if it holds...that's much better than a
> wishy washy grey zone proposal.
Mesopotamian city-states were part monarchy and democracy with distinct social classes. While the king had the final say it was not a dictatorship and was a society governed by laws. But again, regardless, why must they have been state sponsored? There is no evidence of it and its not required regardless. "Administration" is simply the managing of an organization or groups functions. Project managers if you will. State sponsorship not required.
Regardless, I don't need to "make" anything other than what I see from the evidence. Unlike some I am not trying to sell a bill of goods here in hopes of getting people to "believe me" regardless of the truth. I do not see it as "bold", but rather a relatively small group who had become familiar with the area over time through trade not bound to any state interests who decided to stay and be kings.
> You are in so many words basically reconstructing
> a pre-dynastic history model in which Uruk sent a
> military campaign over to the Delta and they
> battled the local folks, won, and built the White
> Walls with all the know-how from medical to
> writing to engineering to money, to agriculture,
> the entire shabang...and sent taxes home to the
> two-river mother city.
Nowhere have I said anything of the kind. You have created this scenario completely out of your own imagination.
> Contrast this with a peaceful
> settlement/migration-immigration move (the kind
> the Trump Wall wants to cut off) with
> intermingling population and some, not all,
> Meso-tech transfer from which the White Wall
> culture emerged.
Burials and palettes among others show it was not completely peaceful. AS I have already said this does not mean war, invasion, or the like, but to make an omelette sometimes you need to break a few eggs.
> This is the more likely scenario
> if Lower Egypt pre-dyn royalties do not carry
> Uruki/Anatoli genes.
As discussed we know that morphologically the Elite skeletons discovred by Petrie are not native compared to known local populations. DNA testing is swell and all, but forensics have their own tale to tell which says those people were not from around there.
> In upper Egypt, on the other hand, you have a
> totally different culture concentration and this
> culture, the Horus culture,
> ends up ransacking the
> White Wall culture and the subsequent royal
> lineages should have no trace of this genetic
> make-up, in this model.
Horus is Lower Egypt (north) i.e. your "White Wall culture". Set is Upper Egypt (south). Memphis was the capitol of the north, Thinis the south. After unification Memphis was made the capitol of Egypt over Thinis. The populations of both north and south were largely no different than the Egyptians we see today though interspersed within these cultures for various reasons at various times were Nubians.
Ankhhaf, vizier under Khafre:
Seated scribe, 4th/5th Dynasty:
Rahotep and Nofret 4th Dynasty under Sneferu (though I argue this actually dates to the 5th Dynasty:
The Mastabas of Meidum- A New Perspective
):
Mastaba of Meresankh III under Khafre 4th Dynasty:
Detail Hetepheres II on right:
Tomb of Seti I, 19th Dynasty: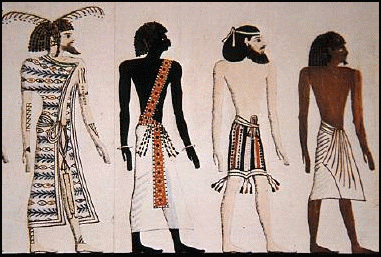 See a pattern developing here? I wouldn't get too hung up on what genetics would say or not say until they actually have something to say as the archaeology tells us a very interesting tale as it is.
> By the way...good job! You are by far he closest
> to a real scientist on this entire forum from what
> I can see. You weigh evidence well...that's a rare
> skill even among scientists.
I'm just a squirrel looking for a nut.
Edited 1 time(s). Last edit at 24-Nov-16 17:32 by Thanos5150.
Sorry, only registered users may post in this forum.