Mysteries : The Official GrahamHancock.com forums
For serious discussion of the controversies, approaches and enigmas surrounding the origins and development of the human species and of human civilization. (NB: for more 'out there' posts we point you in the direction of the '
Paranormal & Supernatural
' Message Board).
Manu Wrote:
-------------------------------------------------------
> Few pro's, con's, and predictions...
>
>
> 1) The Meso-Master Race theory predicts that
> pre-dynastic and early dynastic royal tombs
> contain human remains with genetic Y-Chromosone
> haplotypes unique to the Uruk Expansion which
> began around 3700 B.C.....G2a3b1, J2b and T
I shudder at the term "Master Race" being attached to this as this is partly what removed it from favor in the first place. How about "Meso-Elite" instead. Anyhoo, very possible but at the very least some flavor of Near Eastern/Anatolian. I think that Elam also has a part to play in all this. It should be noted that some of the early elite skeletal remains Petrie found were quite robust with large dilochocephalic (elongated) skulls bordering on unusual beyond just comparison to local populations. This is no doubt part of this story of which elongated skulls are part and parcel of Mesopotamian culture dating back at least 9,000yrs which was also an integral part of AE royal culture for over 2,000yrs. Strange but very interesting. A story for another time.
> 2) Why not the wheel? Probably for the same reason
> why wheels are inferior to slides and sledges in
> the arctic circle.
No doubt which the favored mode of transportation was water which they built vast networks of canals. Regardless, they knew full well of the wheel in various forms so they could have easily used it if they wanted to and no doubt did.
Dynasty 0/1: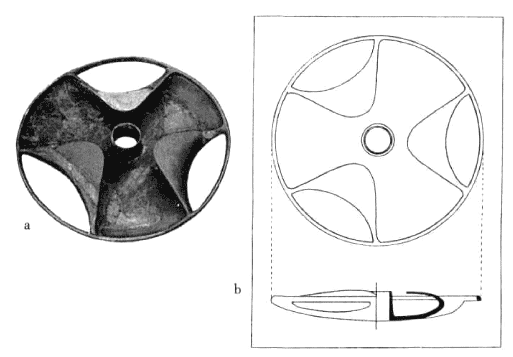 5th Dynasty tomb of Kaemhesit (axeled wheels at bottom of ladder):
> 3) Why no cuneiform writing?
The oldest writing in Mesopotamia, predating Egypt, is not "cuneiform" but pictographic often written on tokens:
Little different than what is found a few centuries later in Egypt. Again, Dynasty 0 tomb U-J at Umm el Qu'ab: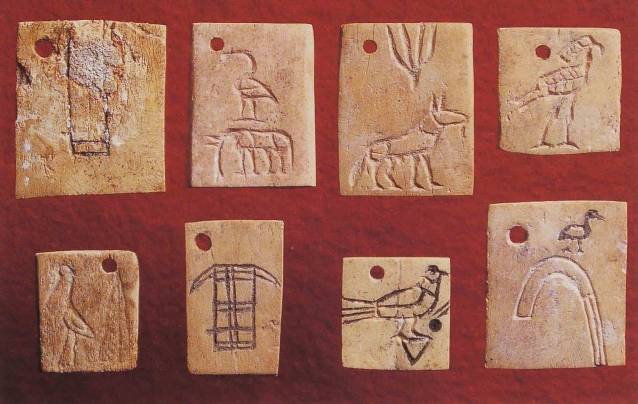 The purpose of both for record keeping. While cuneiform and hieroglyphs evolved separately the foundation for both was rooted in the Mesopotamian system which is what the first Meso-Elites would have brought with them, not cuneiform, which they would have used pictographs that made sense to the local populations. Interesting to note Indus Valley civilization of the same period also used a system of pictographic tokens:
> 4) The treatment of ailments...next to no recorded
> knowledge from Sumer whence so much else was
> recorded....ample evidence by contrast from
> dynastic Egypt with possibly much earlier
> roots...Ebers Papyrus, Smith Papyrus
You are mistaken. The exact opposite is true actually as written records of Mesopotamian medicine goes back to at least 3,000BC and are some of the first non accounting texts found. Numerous medical documents have been found in the 3rd millennium alone. Here is one example from the Ur III period c. 2400BC:
photo source
> 5) Cranial morphology. This is where it gets more
> interesting....a split (no pun) between upper and
> lower Egypt. Suggests Upper is African, Lower is
> ethically dfferent
I don't think it is as simple as that. As noted above the remains Petrie found in Upper Egypt were clearly not "African", i.e. "Nubian", and no doubt many of previous cultures prior to the Dynastic period were of Near East descent by way of the Levant. Egypt was a melting pot for thousands of years prior and through Dynastic times.
> Also, Upper shows evidence of conquest by force
> (Scorpon, Hierakonpolis, pottery) while lower
> shows evidence of cultural conquest. This suggests
> that D.R.T. was peaceful though trade and mingling
> at the Delta.
If the battles were first fought in Upper Egypt there may have been no need to fight in in Lower Egypt. The battle had already been won.
> Ergo, Early Dynastic Egypt is the
> result of the African branch centered around
> Hierakonpolis conquering the Mesopotamian branch
> in lower Egypt and absorbing the culture,
> technology, and icons. Yet the conqueror kings
> were of African origin which predicts no Uruk
> genes in Egypt's royal blood lines. That means
> Uruki were not masters, but became slaves.
The opposite of how I see it going down.
> 6) Brand new findings which extend endogenous
> state formation back..e.g. the brewery (3600 B.C.)
> which proves a high level of state already in
> existence at a time presumably prior to a
> Meso-expansion.
Again, beer brewing originates in Mesopotamia thousands of years before it is found in Egypt.
> 7) On the "sudden appearances" Ramda Hussein
>
Quote

"Asked about the mysteriously sudden
> inspiration and ability to construct the pyramids,
> Hussein gave a solid and practical answer. "As
> archaeologists, we're not just looking at an
> object," he said. "We're looking at the
> process that creates that object… It took at
> least 900 years for [Egypt] to move to a state…
> Tombs started as shallow pits, then all of a
> sudden, they have a superstructure above that,
> then all of a sudden they have 6 [levels of
> structure], then they have 8… When you have
> [evidence of the entire] process leading up, you
> don't have to wonder who made it.""
What else would you expect him to say? Not exactly what is actually found though is it?
> 8) Yes I saw that exchange on DII. That looks like
> an insurgence and cultural backlash which, again
> had to be squelshed. Djoser still struggled with
> the tail end of it...Famine Stela
>
> 9) I am beginning to look at the Serekh in a
> different light...it could be a conquest
> symbol...Horus cult over White Temple
> Culture....very much like this symbology
> 10) The 800 pound gorilla here...why isn't every
> ancient civilization--->pyramids advocate and
> their aunt jumping on the Meso-Theory you have
> rekindled here? This is vastly more plausible than
> Nazca, Atlantis, Indonesia, Aliens, etc
> etc.....where is Graham Hancock on this?
All roads lead though Mesopotamia, even the roads to "lost civilizations".
> I don't
> get it. Everyone is screaming for pre-ancient tech
> and here you have a civilization which built
> pyramids and temples and married into Delta folks.
> It doesn't get easier than that!
Yup. And it does not end there.
> A puff of air into your sail
Ouadi Ameyra
>
> Memphis = White Wall long before Narmer!
Yes, this is interesting though I take it with provisions. The truth of the matter is that we really have no idea who ruled when during this time so putting such absolute chronology on these finds I think is premature.
> Oldest example of your Serekh so far if you
> discount Qustul L24.
I do discount it, but the serekh shown here is attributed to Djer, the presumed 3rd Pharaoh of the 1st Dynasty, of which there are many examples of serekhs prior to this time.
Edited 2 time(s). Last edit at 22-Nov-16 18:50 by Thanos5150.
Sorry, only registered users may post in this forum.