Mysteries : The Official GrahamHancock.com forums
For serious discussion of the controversies, approaches and enigmas surrounding the origins and development of the human species and of human civilization. (NB: for more 'out there' posts we point you in the direction of the '
Paranormal & Supernatural
' Message Board).
Manu Wrote:
-------------------------------------------------------
> Ok, so you are proposing that the early icons of
> royal power, i.e. monumental palaces, large size
> enclosed/walled funerary shrines and boat pits,
> and the symbolic projection of this power (crests)
> along with the know-how to build these was not
> just an import from which dynastic Egypt hatched,
> it was the actual result of a de novo
> colonization/invasion from a Mesopotamian city
> state in the few centuries prior to
> Narmer/Scorpion, who then ended up usurping the
> foreign usurpers. The early AE we know is a
> cultural mix of adopted exogenous and endogenous
> themes.
Yup. I would clarify though that I believe this "uprising" occurred during the 2nd Dynasty. Hate to keep bringing up old chestnuts, but
Troubles with the 2nd Dynasty.
is an integral component of this theory. I also go further to suggest that Saqqara signaled a "revival" of foreign influence.
This general idea, the "Dynastic Race Theory", was first proposed by Petrie and later championed by Walter B Emery. Most recently, David Rohl has written about it. Petrie thought it was an "invasion", Emery more of an "administration". Most modern Egyptologists, for the wrong reasons I believe, have dismissed the DRT citing namely because they do not see evidence of this "invasion", yet despite this the evidence of a direct Mesopotamian influence is still there. I side more with Emery, but I do not believe this occurred without blood shed. While the Naqada ritually dismembered their dead before this time, at the Hierakonpolis cemetery we see as well something quite different. Though interestingly carefully buried after the fact, many subjects were brutally murdered by bashing in their skulls with a mace as well as scalping. Yes, scalping. With such brutal displays as this I do not think it took much to subjugate the "native" peoples.
Though more humane apparently, I would note this practice, again 1st found in Mesopotamia, only grew where by the 1st Dynasty hundreds of subjects were being murdered to be buried near their ruler. This abruptly ends in the 2nd Dynasty which I think may be one of the keys as to understanding why there was a "revolt" which ultimately led to the dark age of the 2nd Dynasty. Killing hundreds of people just to be buried next to the king is not cool.
I digress....Emery was of the mind this administrative culture was a progenitor to both Egypt and Sumer (Not Mesopotamia mind you), which in context I suggest would have been the Ubaid. Civilization is attributed to the Sumerians, but the reality is all of the foundations were already well formed by the Ubaid long before the Sumerians even got there c. 3800BC. Cities, temple/priest form of governance, multi-story buildings including mud-brick, palace facade architecture, stepped platforms, large scale public works and agriculture. It was all there. The Sumerians did not create civilization, they absorbed it and kicked it into overdrive. The Ubaid didn't just "dissappear" though so I think there might be something to Emery's suggestion which is why I never say "Sumerians" but rather "Mesopotamian" as other than some direct parallels to Uruk I do not think we can say definitely which Mesopotamians the Dynastic Elite were. This is a rabbit hole that keeps going so I'll leave it at that.
Speaking of stepped platforms, referred to by Emery as a "pyramid", Mastaba 3808 at Saqqara, King Anedjib (Enezib) 1st Dynasty c. 2900BC: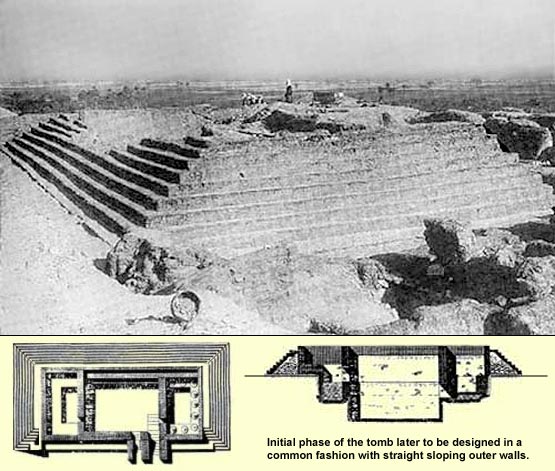 Built with mud-brick and faced with fine mud plaster, the backside and interior have features displaying characteristic Mesopotamian palace facade architecture. Interesting, no?
On a side note, while I'm at it, 1st Dynasty Mastaba 3038 at Saqqara with massive cut and dressed stone portcullis doors:
Some were made of granite weighing up to 15 tons. According to Emery most of the largest 1st Dynasty mastabas used a portcullis system of 3 regularly spaced doors. As i said before, the early Dynastic period was much more sophisticated than people realize, or in the case of some, care to admit.
> Competing with this is the import versus
> colonization model and competing with both of
> these is that all this came from within, which you
> have excluded to your own satisfaction.
I have. I think at the very least the evidence, some direct, some context, is overwhelming that this occurred by way of something more substantial than just osmosis through trade.
> The next step is to make predictions and define
> what would falsify this...neither an easy task.
I have looked long and hard to find reasons why I am wrong but have yet to find it if only the opposite.
> I think this is a great working model Thanos. I
> love it.
It makes a lot of sense, explains a lot, and is at least one "alternative theory" there is actual
positive
evidence to support it instead of just talking out one's ass. If you catch my drift.
> Let me ask you this. Are you surprised by the lack
> of any aspects of Uruk science or culture which
>
failed
to make it into early dynastic Egypt
> which you would have expected to be transferred?
I'd of course wish there was something more definitive, though I think what is there, much not discussed here, is pretty substantial to make the case regardless. But to explain why this may be missing I think there are several explanations which what comes to mind first is the occupation of Egypt by numerous other foreign powers like the Hyksos, Greeks, Romans, ect. They did not force the AE to adopt their culture, but rather it was the other way around which I think this is what happened in the pre-Dynastic period even more so.
> I
> can actually think of one very obvious example
> even though I may have an explanation why it was
> not transferred.
Let's have it then.
Edited 2 time(s). Last edit at 21-Nov-16 03:27 by Thanos5150.
Sorry, only registered users may post in this forum.