Mysteries : The Official GrahamHancock.com forums
For serious discussion of the controversies, approaches and enigmas surrounding the origins and development of the human species and of human civilization. (NB: for more 'out there' posts we point you in the direction of the '
Paranormal & Supernatural
' Message Board).
As has been discussed in previous threads, from predynastic times the Egyptians memorialized a Mesopotamian style "palace facade" building. Since at least
Dynasty 0
, this building(s), in conjunction with the Horus falcon often sitting above it, as a rule were associated with kingship and was an integral component of the ruler's crest. As with writing in Egypt in general, the serekh was first a crude depiction which quickly evolved into a more detailed representation:
1st Dynasty Pharaoh Djet
The Mesopotamian palace facade motif was not limited to the serekh, but was part and parcel of many AE structures as can be seen throughout early Dynastic history up until the 3rd Dynasty which beyond this period falls out of vogue for unknown reasons as the favored stylistic construction meme. After this time, it becomes relegated almost exclusively to the interiors of tombs as a symbolic homage of reliefs and/or paintings.
In the Old Kingdom, as has been discussed among other threads
HERE
, what appears to be a particular palace facade building is depicted on many sarcophagi of the period like these; the 4th Dynasty sarcophagus of Khufuankh:
4th Dynasty (?) Abu Roash:
There are many such examples of this building(s) found on sarcophagi as well as depicted on tomb walls:
5th Dynasty Pyramid of Unas: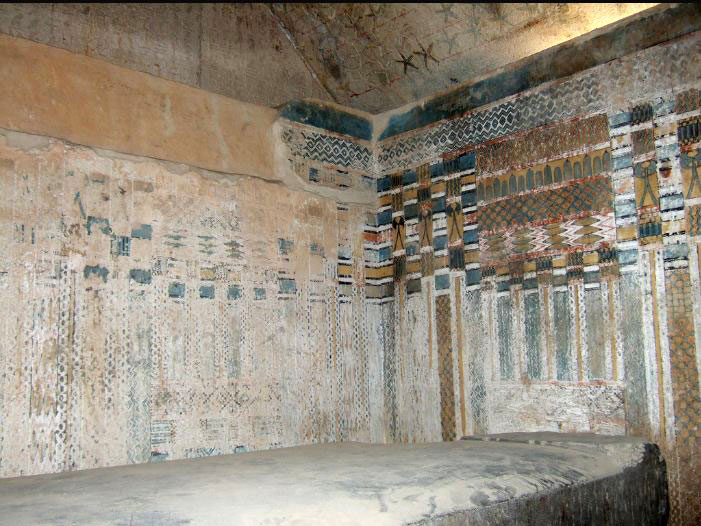 6th Dynasty, Reign of Pepi I:
What is clear is from the beginnings of the formation of Dynastic Egypt, this Mesopotamian style building(s) not only signified kingship being nearly synonymous with the formation of the Dynastic state itself, but was also equally important to the people as a symbol of ideological significance. AE burial customs did not require the occupant to physically have all of the items they would need in the afterlife which if needed an acceptable substitution was to represent the object pictorially, which in the case of this building was seemingly of great importance in the afterlife.
While nearly all of these examples seem to differ to some degree on the details of the structure(s), on balance they are similar enough, as a rule largely displaying at least some identical common features, to imply to me, particularly given the building's undeniably paramount importance, it is a representation of a
particular building likely dating in some incarnation to before the 1st Dynasty
. A building I have suggested is Mesopotamian in origin; a symbol of an influence that was responsible for the formation of the Dynastic state itself. This building, or at least one distinctly like it, has yet been discovered in Egypt which raises the possibility this building may have not been located in Egypt at all, but rather Mesopotamia.
(Larger image, scroll down on right)
Above is a modern impression of a cylinder seal found at Tell Billa in Northern Mesopotamia which the cylinder is dated to the late Uruk Period c. 3,400-3,100BC. It depicts a Mesopotamian style ship coming into port where the prominent feature is a Mesopotamian palace facade building. Though this was found in northern Mesopotamia, there is a similar seal that was found at Uruk which is more likely where this scene is depicting. Tell Billa has no port or evidence of large buildings. Uruk was the largest urban center of the period which was situated at a major river artery. If not Uruk then possibly Ur which at the time was a sea port. Both cities it should be noted date to the Ubaid period before the arrival of the Sumerians. Regardless, while obviously not a direct representation of what is seen in Egypt, there are two key features which should leave little doubt of the connection between the two:
As you can see above the two center panels, as in the Egyptian representations, we see the "stick figures" (crossed axes or sometimes depicted as a "looped" object) and the vertical line border at the top of the building.
(As an aside note the "djed pillar" type spires flanking each side). Compare again:
The "stick figures" (crossed-axes) are in nearly all the Egyptian representations of this building and the vertical line border is seen in one form or another in many as well. Use the zoom feature from this link to see both the "stick-figures" (crossed-axes) and vertical line border in detail:
4th Dynasty Limestone Sarcophagus
(Update:The "crossed axes" I have later positively identified as being tied lotus flowers).
While the general emulating of the palace facade style is one thing, typical of much of the palace facade work seen in early Dynastic Egypt, the crossed-axe and top vertical line border are very specific motifs that in conjunction are beyond independent invention or casual reproduction. Here is uniquivable proof of a direct and specific connection between the Egyptian and Mesopotamian palace facade buildings beyond just casual exposure through trade.
The Naqada who travelled to Mesopotamia before the formation of the Dynastic state would have been shell-shocked by what they saw. Massive cities, temples, and buildings, fortification walls a mile long-again and again for hundreds of miles along the Euphrates. Most of the Sumerian cities like Uruk, Ur, Eridu ect, all have their foundations with the Ubaid culture which settled Mesopotamia and the Levant as early as 5,500BC; a foundation which would not too long after include mud brick walls built in the palace facade style and stepped platforms. The ziggurat of Uruk c. 3,200-3,000BC has a large foundation which dates to the Ubaid period at least 4,000BC. Uruk was founded by the Ubaid as early as 5,000BC. When the ziggurat was completed it was topped with a massive structure known as the "White Temple".
Truly an impressive site in any age let alone to the pre-dynastic Naqada, yet what should be acknowledged again is that these cities in one form or another date back over 1,000yrs before the formation of the Dynastic state-before even the Naqada asserting themselves in AE history. Though there is a lot more to be added to the story of Mesopotamian influence on the formation of the Dynastic state, it should be understood when the landscape of civilization at this time is taken into consideration it is impossible to ignore such connections which in all likelyhood may be more extensive than currently accepted by modern Egyptologists. Greater connections not unnoticed by earlier scholars the likes of Petrie and Walter B Emery.
To the point; what was this building? Surely the AE must have mentioned it somewhere. What was it for and where was it located? Is Horus, directly connected to the royal building of the serekh, symbolic of Mesopotamian influence as well? So many questions....
Lee Anderson
Edited 15 time(s). Last edit at 26-Aug-19 02:25 by Thanos5150.
Sorry, only registered users may post in this forum.