Global Village : The Official GrahamHancock.com forums
For good-natured and mutually-respectful discussions of politics and current affairs. Soap-boxing and the promotion of extremist causes motivated by hate will not be tolerated by our moderators.
Race Jackson Wrote:
-------------------------------------------------------
> Aine Wrote:
> --------------------------------------------------
> -----
> >
Quote

Mandatory 5 year contraceptive implants
> for
> > all females in the US who receive more than
> half
> > their income from social services would cause
> more
> > gradual decline in population.
> >
> > Most people receiving assistance are children
> and
> > the elderly. So your plan is dumb. They don't
> need
> > birth control. I'm sure you think that the bulk
> of
> > those receiving assistance are minorities, and
> > your proposal smacks of sexism and racism. You
> > just want whites to be able to have children.
> Make
> > America White Again!
>
> On the contrary - most people receiving assistance
> are white. Your "I'm sure you think" is part of
> your problem - you make assumptions about what
> others think.
Yeah, they're white, followed closely by Latinos. And yet, it's going to be blacks and Latinos who bear the brunt of your eugenics experiment, especially if Republicans are in charge. Because that's the history of this country.
The last time I checked, neither children nor the elderly needed mandatory 5 year bans on childbearing.
Here's an interesting infographic regarding this issue, Clinton voters vs. Trump voters.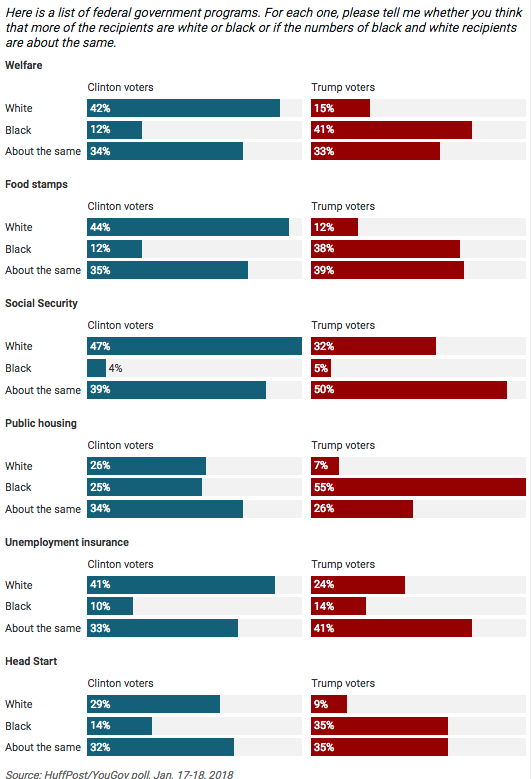 Be honest here. Most people when they hear the term "welfare queen" automatically think of a black woman with 10 kids. Ronald Reagan made sure that's what people though of.
Stupidity is knowing the truth, seeing the truth but still believing the lies. And that is more infectious than any other disease. ~ Richard Feynman
Sorry, only registered users may post in this forum.