Global Village : The Official GrahamHancock.com forums
For good-natured and mutually-respectful discussions of politics and current affairs. Soap-boxing and the promotion of extremist causes motivated by hate will not be tolerated by our moderators.
Archaic Wrote:
-------------------------------------------------------
> She has BACTERIAL pneumonia for which she has been
> prescribed antibiotics. You know the first thing
> you do when you have a highly contagious bacterial
> infection?
>
>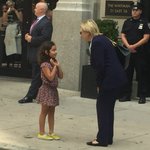 Not to mention, in that photo she is leaving Chelsea's apartment, home of
Hillary's newborn grandson
, which is obviously the first place you go when you have pneumonia, a disease so deadly it "
accounts for 15% of all deaths of children under 5 years old, killing 920 136 children in 2015.
"
Edited 4 time(s). Last edit at 12-Sep-16 14:17 by lukehancock.
Sorry, only registered users may post in this forum.