Mysteries : The Official GrahamHancock.com forums
For serious discussion of the controversies, approaches and enigmas surrounding the origins and development of the human species and of human civilization. (NB: for more 'out there' posts we point you in the direction of the '
Paranormal & Supernatural
' Message Board).
Hi Thanos ,
Thanos5150 wrote:
>
>> > Perhaps, G1 and G2 were constructed contemporaneously.
>
> I agree in principle and have suggested these were national
> projects and not those of individual pharaohs for individual
> pharaohs. I would extend this further to Dahshur and Meidum. I
> have suggested all of these great pyramids once had stand alone
> core structures that were later converted to pyramids with G1
> being the 1st to undergo this process.
I applaud and agree with the national projects concept.
The reasoning as you indicated in OP is the levelling of the site but also the staggering overall site
plan whether one subscribes to OCT or CT or not.
>
>> Granite no less. Which to me ties it all in with the same
> culture who faced the Valley temple and built with cyclopean
> masonry.
>
Thanos you seem to place the Granite mob after the temple mob or change in culture.
I place the original granite mob as the most ancient, building other cyclopean structures in Eygpt and around the
world as highlighted in your other Cyclopean stone thread and Casimirs "Ancient Civilization" thread.
I think much later , copy cats of less ability appropriated granite and started some renovations
They found the going far too tough, could not replace and completely finish the already stolen
cladding of G3 but tried to pretty the place up a bit.
Here I have a question? Anyone?
Can anyone suggest a reson for the seeming layers some neatly cladded some rounded rock in the core original of
Meidum ?
>> Meidum:
>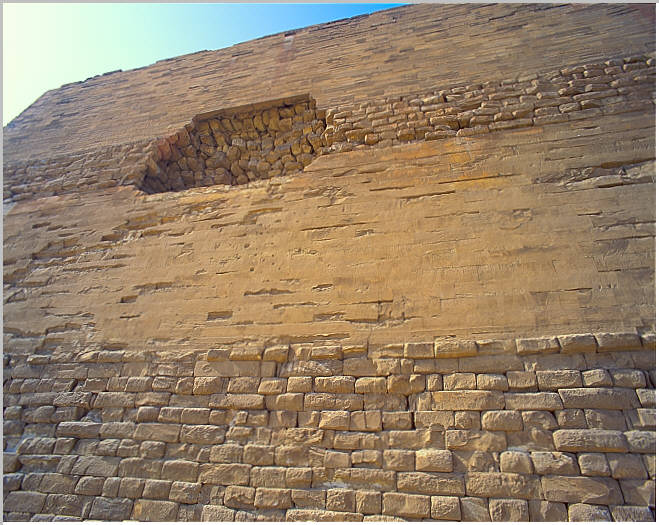 Tragically whoever and whenever built the major pyramids , the region was then appropriated by much less sophisticated later
nutters, who thought it was all about burying dead folk after ripping out their innards and brain.. so they could live forever!
Cheers
EDIT: My earlier posted speculation didn't even make rational sense to me on review so I removed it. Sorry for any inconvenience caused.
Post Edited (17-Jun-15 10:03)
--------------------------------------------------------------------------------------------------------

" I'm laughing at myself, it's so easy to come up with a theory when no evidence is required." - Audrey
Sorry, you can't reply to this topic. It has been closed.