Mysteries : The Official GrahamHancock.com forums
For serious discussion of the controversies, approaches and enigmas surrounding the origins and development of the human species and of human civilization. (NB: for more 'out there' posts we point you in the direction of the '
Paranormal & Supernatural
' Message Board).
Jon Ellison wrote:
> Hi Corp..
>
> They don't look like rough blanks to me ..
> In fact they look highly and precisely finished.
They totally look like finished blanks that could either be used how they are, which is common for this period, or recarved/shaped later namely fluting or creating entasis. What the end pieces look like to me are mounting points for a lathe which regardless would be cut off later if desired for the pedestal and cap. Look at many columns and you will see a little nub left over from these end pieces often rounded to match the pedestal or capital.
No different than the
finished
Roman temple columns at Mons Porphyrites:
A chopped off end piece from Mons Claudinus: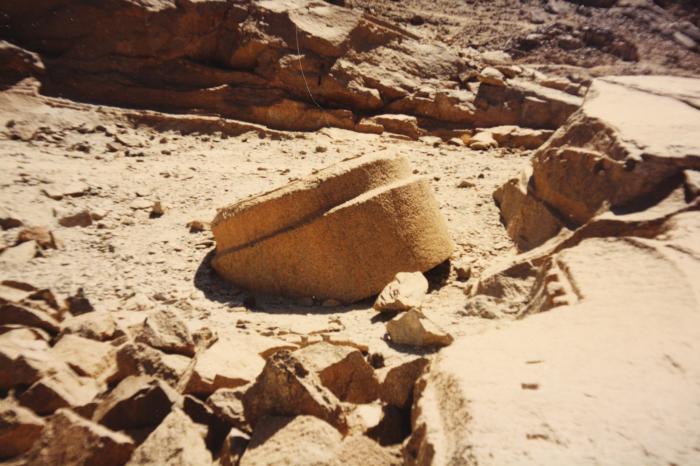 Note the block to the front right of it with the "toothed" cut marks and beveled edge.
Wedge marks for splitting block:
An interesting piece from MC:
Looks like a wall socket for a giant's iPod.
> They all look to be at the same stage of completion . No work
> in progress.
And we can tell this from pictures on the internet of the most popular columns to picture?
> They look nothing like any Dynastic, Roman or Greek column that
> I have ever seen.
Pfft. Seriously? There are numerous examples of columns that look exactly like this. Its not the column that makes the "column" it the pedestal and the capitol (the top cap). They were all made this way so what is seen there is exactly what you would expect. The only variation, which suggests they are blanks, is the trim areas on some of the ends which I picture one above that's been cut off. I even showed you a picture of a capital and pedestal lying there at the quarry!?! And to answer your question about what defines a column, it's the style of the capitol.
> The Romans were pretty adept at stealing finished egyptian
> masonry and carting it off to Rome.
Up to 400 tons in one shot, right? Sure 60 ton columns in 100AD wouldn't have been that big of a deal for them.
> As were just about every other Empire and country that has
> existed since then.
>
> Carved granite on an industrial scale was not possible up until
> the 19th century.
> It's well documented. (Aberdeen Scotland)
> (Remember Ronald Rae)
What does "industrial scale" mean? These columns weren't fired of an assembly line; they were made to order over months. And what about the 6th century AD Great Wall of China. Noticed you were mum on that. 25ft tall wall 14 miles long with cut and dressed granite blocks and slabs. How many tens of thousands of granite blocks would that be? Sounds like "industrial scale" to me. And before you say "well those are blocks not 60 ton columns" -so what? How many man hours of block cutting would equal one columns? Zero difference.
> The issue here is not whether granite/masonry was moved to
> Rome, it clearly was...
> It is whether or not these columns were carved by Romans in
> Egypt.
Which there is absolutely nothing to suggest they did not and everything to suggest they did. The Romans were master stone masons of every single other kind of stone but granite was impervious to their technology? Come on man. If 6th century Chinese slaves could cut and dress 14 miles of granite blocks I'm sure the Romans could knock out a few dozen columns.
> The columns have been identified as Roman because they are
> clearly not dynastic Egyptian. Orthodoxy seeing no other
> possibility other than Rome.
> On inspection they do not appear to be Roman either.
Complete and utter bull___ Jon. Ignorant rhetoric nonsense. They are identified as Roman because they clearly are Roman and everything surrounding them is Roman-there is nothing but "Roman".
> I've never seen anything like them. I would be genuinely
> interested if any other examples could be found elsewhere.
Uh-huh. I guess that is my cue to do the work for you. But examples of what? Plain single piece columns?
I suppose these don't count:
Here some more then I guess:
Post Edited (16-Jun-15 06:47)
Sorry, you can't reply to this topic. It has been closed.