Mysteries : The Official GrahamHancock.com forums
For serious discussion of the controversies, approaches and enigmas surrounding the origins and development of the human species and of human civilization. (NB: for more 'out there' posts we point you in the direction of the '
Paranormal & Supernatural
' Message Board).
Hi Ori
Origyptian wrote:
>> When I look at a doorway like the following from the Qertassi
> quarry (1st century A.D. Roman quarry in Egypt), I see an
> original, older facade that has been cut back into a recess in
> order to create a doorway in relief. This suggests that the
> doorway (and surrounding niches) may be the result of
> repurposing a much older structure...
>
It most likely is exactly that. I base that on the style , condition, the recess.
There is some slight room for doubt.
But help me try and understand what you are trying to say?
Back to the start. This was built in Rome by Romans. It has lots and lots of stone
including massive granite columns!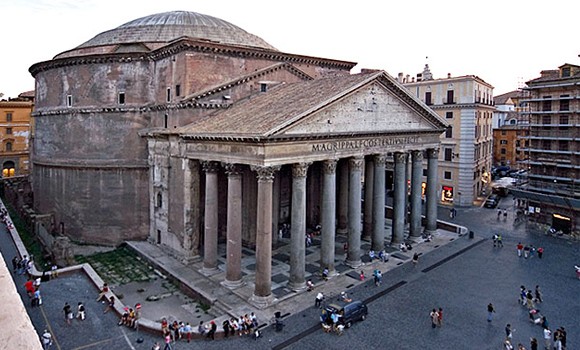 Are you suggesting the Romans appropriated , stole, relocated , reused all of them?
That is a massive amount of stone to pinch ... from who?... they were far more organised than most we have reliable records for!
Even those stupid AE if you believe orthodox Egyptologists.
What about all the other stone ?
The floor did they scab that up from some Jewish temple and relay it?
Ori earlier you replied to me and said:
Quote

Thanks, Corpuscles, I've seen many videos showing how a guy in a pickup truck pulls up to a large granite block in the woods and splits it clean in half with a dozen steel wedges.
I'm simply looking for the physical evidence that the Romans did the same thing in 1st millennium B.C.
At this point, I'm not claiming they couldn't do it, I just haven't seen the evidence yet.
They either quarried stone or they did not.
If they did not then they transported it.That effort alone would suggest they weren't hopeless numbnuts.
Were they capable of building breath taking buildings and engineering marvels but
had to pinch columns and in fact all their stone?
Are you suggesting granite is a special case?
Splitting stone is the same practice.
Granite is more difficult but one does not have to drill it (as I think implied by Jon earlier)
it needs to be chiselled in several aligned grooves, then feather/ wedged /split.
Now if they can build a structure like the Pantheon and dozens of other structures still standing are you saying they were incapable
of splitting granite?
What is this evidence you seek? What would satisfy you?
I am really SERIOUSLY curious.
An ancient book? ... nah could be a forgery!
A trip in a special DeLorean with Michael J Fox?.. nah must have been hallucinating!
etc etc
WHAT?
Please reply.....it has bugged me for a while... as most of the hard evidence for anything ancient is long gone
lost or in a museum, or in a secret private collection, or reused, destroyed and so on!
Cheers
Sorry, you can't reply to this topic. It has been closed.