Mysteries : The Official GrahamHancock.com forums
For serious discussion of the controversies, approaches and enigmas surrounding the origins and development of the human species and of human civilization. (NB: for more 'out there' posts we point you in the direction of the '
Paranormal & Supernatural
' Message Board).
Hi Crorp.
Corpuscles Wrote:
-------------------------------------------------------
> Regarding this "archaeological context and
> evidence", is it not true that most of this does
> relate to heiroglyphs and in particular cartouches
> that are assigned to OK (or in particular 4th D?)
> ALSO other things like the potshards and jewelry
> other things are arbitrarily assigned to a
> dynasty?
I think too much emphasis is placed on "dynasties" rather than "periods". Its not as if one day I am in the 4th Dynasty and the next the 5th and things are somehow magically different therefore I can positively delineate between the two on an archeological basis. Personally I think lumping it together as "Early Dynastic", "Old Kingdom" and the like is more apt because it is within this period that is found a great enough distinction to consider the whole as a group in time regardless of what pharaoh ruled when or how long.
To your points, it's not always as "arbitrary" one might think for the simple reason there comes a time, before or after, where something either does not exist or fades away and is no longer seen in the archeological record. It's not just the cartouches, but the totality of what is found right along side these cartouches which creates context which when these artifacts are compared to periods directly before and after do not exist or become increasingly sparse or altered then this should tell us a lot about when they were made and by who.
> Circular reasoning. eg If I find an old Aussie
> earthenware ginger beer bottle with a stamp on it
> "Woodies" I know I can date it possibly to late
> 19th Century. But if it is a strange item to me,
> and I arbitrarily say all pots with black drawings
> of animals are "X" dynasty dated to yyyy ,then
> assume because such is located in a tomb then the
> tomb must be X dynasty ......that is circular
> logic.
If you found a strange bottle all by its lonesome without any other context then why would you arbitrarily date it to "X" Dynasty dated to yyyy? This is not how archeology works. But if this bottle was right alongside your Woodies bottle and other artifacts from the period and you didn't find this strange bottle any time anywhere before this period or after then what would this tell you? Of course it does not mean with 100% certainty it dates to this period but it certainly decreases the likelihood it was not. You also look at the way it was manufactured to find out the earliest time not only could it have been made but also when people stopped making them this way. But this isn't what Giza is about though is it? There are several hundred tombs, dozens of sarcophagi, paintings, reliefs, pots, bowls, on and on and on-thousands of examples which when taken as a whole provide a greater context that establishes provenance. This can be compared to other locations and grouping made to establish relative dating.
An interesting example I would give are the "Reserve Heads" found at Giza. 31 have been discovered so far and except for four, also from a 4th Dynasty context, all are found at Giza.
They seem to be unique portraits of individuals with similarities that suggest familiar relationships, but regardless they are only found in mastabas and nearly all in the Western Cemetery most of which coming from cemetery 4000. So here is your "X" bottle yet how should we date them? Can I say with 100% certainty they are from the 4th Dynasty? Maybe they are the faces of this lost civilization? Well, sure, these people could have went to 31 other tombs, "or wherever", before their time and found every single one of them and claimed them as their own...or maybe, just maybe they belong to the very context they are found of which not only is there no other context from any other period but neither are there any of these heads found elsewhere. Kind of reminds one of these sarcophagi does it not?
> What else is there to establish when it made or
> was put there?
There are many different methods: RCD, thermoluminescence, stratigraphy, cross-dating, astronomy, seriation, ect ect. The farther you go back in time absolute dating is virtually impossible so if this is one's "burden of proof" it is unrealistic. The best we can usually ever hope to attain is the highest rate of probability so to look at the monuments of Giza, when all things are considered which includes the context of history as a whole, the probability it was done sometime during the Naqada/Dynastic period is extremely high whereas the probability they were made tens of thousands of years ago by some unknown civilization is extremely if not infinitesimally low.
With that being said, I have also argued here many a time that the core structures of Giza and Dashur do in fact predate the 4th Dynasty (though still within the Dynastic period) and have placed the Sphinx and associated temples even farther back which may have even been shortly prior to 6,000BC. If anyone cares I can get into it, but the point is the disparity of the monuments with the technological ability of the AE of the time is not lost on me which is really not the argument to be made anyways as there is actual evidence at Giza that these structures predate the 4th Dynasty which strangely rarely gets discussed here. To me, the 4th Dynasty is not the beginning of the construction process but the end which is why it is only their name on the door (figuratively speaking).
> In your earlier reply to me (thanks for that
> appreciated!) the thrust of your conforming to
> convention points is there was a relatively brief
> period 100 to 200 yrs in OK when suddenly
> technology advanced rapidly to work granite and
> ...topic complete differnet design in basalt...
> then it apparently disappeared only for another
> spurt of phenomenal both volume and scale of stone
> working capability to arise in brief times such as
> Ramsees II and even later in Serepeum! (NK LOL!)
Hard stone like granite and diorite was worked since the very beginnings of Dynastic Egypt. A 15 ton cut granite portcullis door, for example, was found in a 1st Dynasty tomb and of course a plethora of exquisitely made wares. But constructing entire structures in stone as seen in the 3rd Dynasty and after is completely absent despite the fact the archeological or cultural record provides no explanation for this sudden and dramatic departure that literally happened overnight. After it was established, however, it did not disappear, which is telling, just the scope and volume of the work waxed and waned which the (late) MK/NK was no doubt a renaissance of monumental stonework, something I do not think has ever been adequately explained.
> You know there are correlating evidence of
> unexplainable stonework all over the world
> similarly arbitrarily assigned a dating such as
> "Mayan" or "Aztec".
Of course. I have been to Mexico, Peru, and Bolivia and have seen many of these sites for myself. I am happy to discuss it, but there is a big difference in the capability of AE culture and that of the Meso/South Americans. And not only that, but most telling of all is often, like the Inca for example, you can see the different phases of construction with your own eyes clearly able to delineate what was "Inca" and what was not. This should be of note to any who hold the view the AE monuments were built by some antediluvian lost civilization as the Inca were clearly culturally and technologically inferior to the AE yet why do we not see inferior AE stonework on top of the superior work from this lost civilization? Though the AE supposedly "inherited" every single megalithic monument in their 3,000yr history they never built on top of them or made substandard repairs? They miraculously found each structure in perfect move-in condition right across their entire 3,000yr history? Kind of silly if you think about it. Everywhere you go all over the world when one culture has inherited the infrastructure from another you can clearly see a demarcation between the two which is part and parcel of the ancient human experience. But
except
for Egypt? This should speak volumes.
> The Kings lists is the major guide and we do know
> when some such were created (such as Manetho )but
> did they have verifiable 2-3000 year old source
> information or were they also best guessing just
> like modern Eygptologists?
See for yourself and make up your own mind:
List of King Lists.
> Why cant for example all granite boxes be say 2nd
> dynasty?.... is it because the potshards don't
> match? or the graffiti says someone claimed it?
There is no context of granite or stone work in general of this calibre in the 2nd Dynasty which was basically limited to stoneware and a few examples of crude cut limestone flooring and low walls. This was a tyrpical sarcophagus of the 2nd Dynasty:
Note the similarity of lid shape with those of later OK examples.
Many many 1st-2nd Dynasty tombs have been explored yet not one contains a granite or stone box yet they are ubiquitous from the OK onward. Regardless of potshards or graffiti does this mean something or nothing?
> There is potter near me who reproduces Chinese
> Ming copies... didn't A Egypt ever think of such
> revisionary nostalgia?
Sure, but where are the originals? Oh, but those
are
the originals. Right.
> They must have been there, because we can see such
> things today. It is just we call them 4th Dynasty
> AE.
So call them Klingons if you'd like, but does this change the context from the 3rd millennium to say the 14th? Or 50th? Again, I wouldn't get so hung up on the minutia of "dynasties" but focus more on the period.
> There must have been a 4th Dynasty AE too but what
> did they do?
How about this: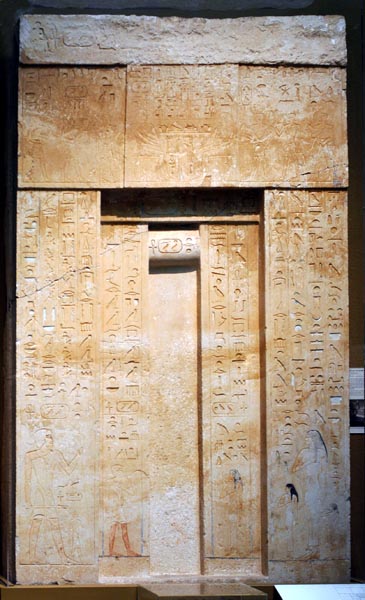 Or this: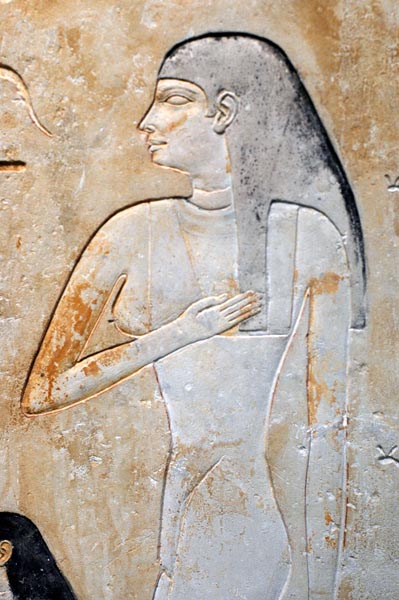 Or this:
Or these:
I wonder if one can do these things what else could they do? Could they make stone boxes to bury themselves in?
Here is a copy of a relief from an OK Giza mastaba depicting them pulling one of these very stone boxes to "presuambly" bury the person in that very mastaba: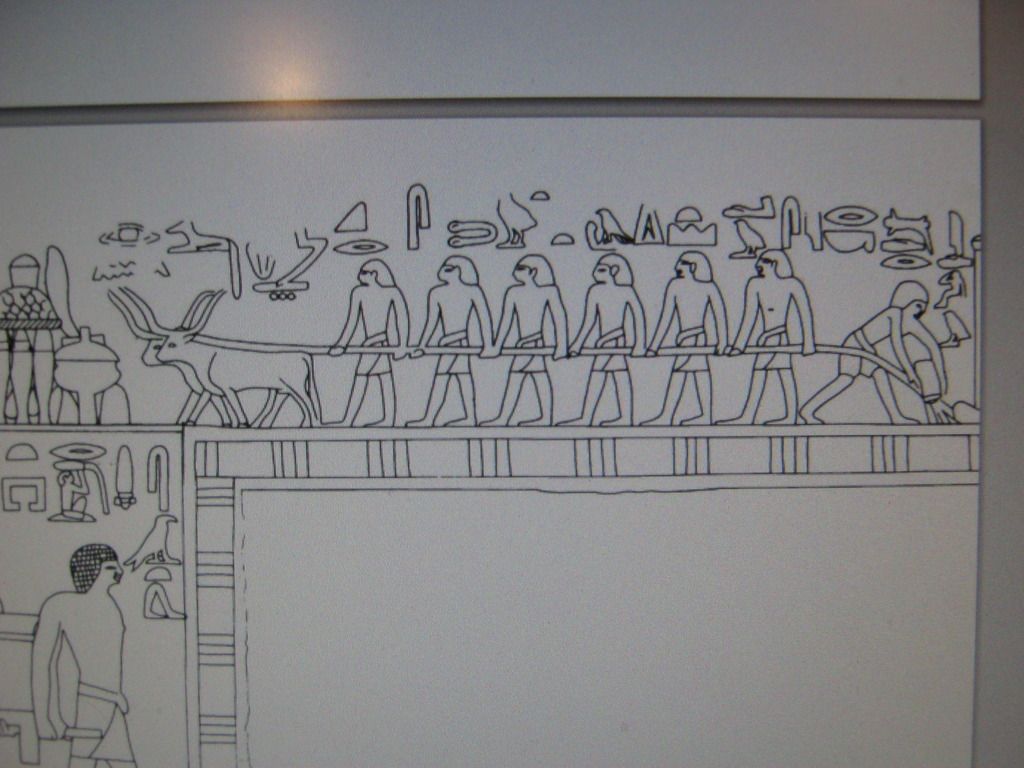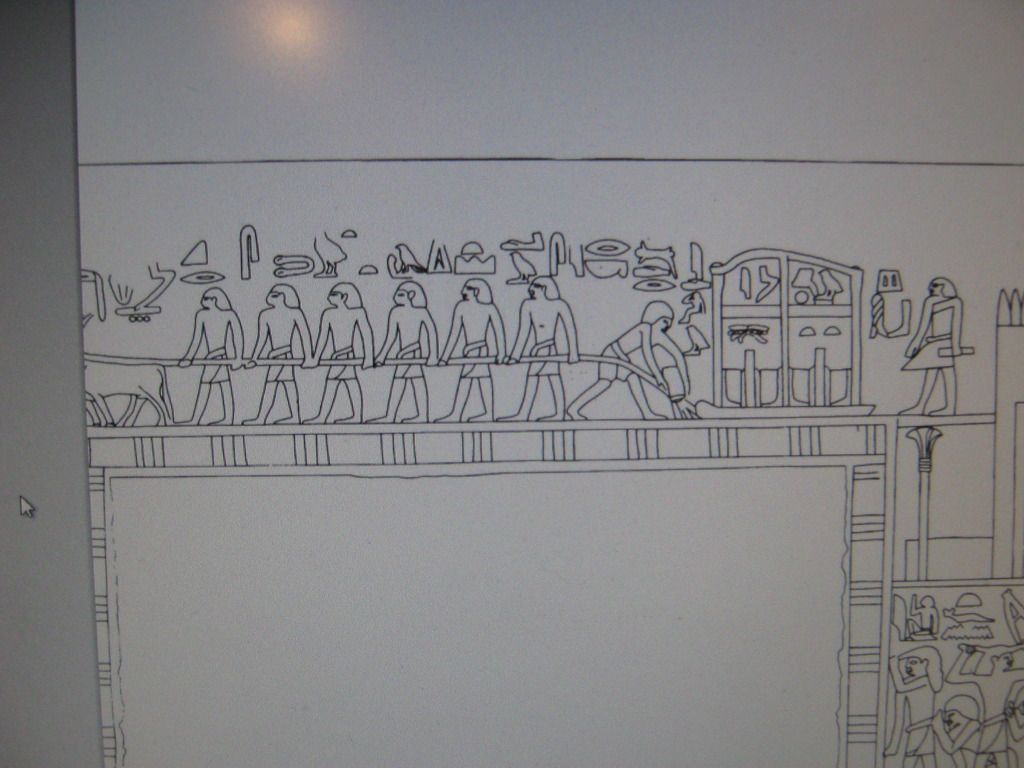 So I guess this is proof they got these lost civilization stone boxes from somewhere else and dragged them to the underground chamber of their mastaba....?
> Miraculous short term not to be
> repeated technological feats (apparently)! or
> adoptors who moved in , staked ownership and
> renovated?
I bought this house 10yrs ago and have extensively renovated to where other than the framing, foundation, drywall, electrical, and a patch of stair carpet I am too lazy to replace there is no physical evidence left of the former owner or external proof this house was made prior to 2006. Digging in the back of my property, however, I have found an old tire, pots, various cans, pipes, ect ect all of which are well older than 10yrs. And all the people who did the work for me I could not do myself took their tools with them of which what I have of my own are barely capable of the task.
> Mate don't bust a boiler ...just sayin'
All good. This is what its all about friend.
Edited 1 time(s). Last edit at 11-Apr-16 03:50 by Thanos5150.
Subject
Views
Written By
Posted
Menkaure's Sarcophagus, Where did Vyse really send it ?
3669
DUNE
10-Feb-15 12:58
Re: Menkaure's Sarcophagus, Where did Vyse really send it ?
2083
DScribr
10-Feb-15 17:39
Re: Menkaure's Sarcophagus, Where did Vyse really send it ?
770
DUNE
10-Feb-15 19:46
Re: Menkaure's Sarcophagus, Where did Vyse really send it ?
740
Jon Ellison
10-Feb-15 19:58
Re: Menkaure's Sarcophagus, Where did Vyse really send it ?
687
Origyptian
11-Mar-15 21:13
Re: Menkaure's Sarcophagus-What contradictions???
609
DScribr
11-Mar-15 22:20
Re: Menkaure's Sarcophagus, Why aren't the facts good enough for you???
778
DScribr
10-Feb-15 20:38
Re: Menkaure's Sarcophagus, Why aren't the facts good enough for you???
687
DUNE
10-Feb-15 20:55
Re: Menkaure's Sarcophagus, Why aren't the facts good enough for you???
546
DScribr
10-Feb-15 22:06
Re: Menkaure's Sarcophagus, Why aren't the facts good enough for you???
748
DUNE
10-Feb-15 23:10
Re: Menkaure's Sarcophagus, 'One can ONLY agree'?!?!?
564
DScribr
10-Feb-15 23:53
Re: Menkaure's Sarcophagus, 'One can ONLY agree'?!?!?
601
DUNE
13-Feb-15 15:19
Re: Menkaure's Sarcophagus, 'One can ONLY agree'?!?!?
594
Thunderbird
13-Feb-15 16:18
Re: Menkaure's Sarcophagus, 'One can ONLY agree'?!?!?
638
DScribr
14-Feb-15 03:37
Re: Menkaure's Sarcophagus, 'One can ONLY agree'?!?!?
595
DUNE
11-Mar-15 17:18
Re: Menkaure's Sarcophagus became Col. Campbell's responsibility.
573
DScribr
11-Mar-15 22:37
Re: Menkaure's Sarcophagus, 'One can ONLY agree'?!?!?
701
Corpuscles
04-Mar-16 07:18
Re: Menkaure's Sarcophagus, 'One can ONLY agree'?!?!?
720
DUNE
04-Mar-16 09:44
Re: Menkaure's Sarcophagus, 'One can ONLY agree'?!?!?
636
Merrell
04-Mar-16 11:34
Re: Menkaure's Sarcophagus, 'One can ONLY agree'?!?!?
797
Corpuscles
04-Mar-16 11:37
Re: Menkaure's Sarcophagus, 'One can ONLY agree'?!?!?
656
DUNE
04-Mar-16 12:19
Re: Menkaure's Sarcophagus, 'One can ONLY agree'?!?!?
731
DUNE
04-Mar-16 12:57
Re: Menkaure's Sarcophagus, 'One can ONLY agree'?!?!?
697
Corpuscles
04-Mar-16 21:21
Hidden In Plain View
665
loveritas
04-Mar-16 22:30
Re: Hidden In Plain View
617
Corpuscles
04-Mar-16 23:11
Re: Menkaure's Sarcophagus....Hawass and Robert Ballard
635
Thunderbird
04-Mar-16 22:47
Re: Menkaure's Sarcophagus....Hawass and Robert Ballard
706
Martin Stower
04-Mar-16 23:19
Re: Menkaure's Sarcophagus....Hawass and Robert Ballard
646
Corpuscles
04-Mar-16 23:37
Re: Menkaure's Sarcophagus....Hawas s and Robert Ballard
732
Martin Stower
05-Mar-16 00:58
Re: Menkaure's Sarcophagus....Hawass and Robert Ballard
632
Corpuscles
04-Mar-16 23:32
Re: Around the Sphinx a perspective
572
Thunderbird
05-Mar-16 21:05
Re: Menkaure's Sarcophagus.....Ping for Audrey
548
Thunderbird
04-Mar-16 16:41
Re: Menkaure's Sarcophagus, 'One can ONLY agree'?!?!?
664
Audrey
06-Mar-16 18:42
Re: Menkaure's Sarcophagus, 'One can ONLY agree'?!?!?
612
DUNE
06-Mar-16 19:19
Re: Menkaure's Sarcophagus, 'One can ONLY agree'?!?!?
626
Martin Stower
07-Mar-16 01:05
Re: Menkaure's Sarcophagus, Where did Vyse really send it ?
465
Jon Ellison
10-Feb-15 17:51
Re: Menkaure's Sarcophagus, Where did Vyse really send it ?
484
eyeofhorus33
10-Feb-15 18:55
Re: Menkaure's Sarcophagus, Where did Vyse really send it ?
455
Jon Ellison
10-Feb-15 18:57
Re: Menkaure's Sarcophagus, Where did Vyse really send it ?
633
Martin Stower
04-Mar-16 22:33
Re: Menkaure's Sarcophagus, Where did Vyse really send it ?
547
DScribr
18-Mar-16 20:58
Re: Menkaure's Sarcophagus, Where did Vyse really send it ?
531
Jon Ellison
19-Mar-16 18:33
Re: Menkaure's Sarcophagus, Where did Vyse really send it ?
539
Martin Stower
19-Mar-16 19:53
Re: Menkaure's Sarcophagus, Where did Vyse really send it ?
474
DScribr
31-Mar-16 17:08
Re: Menkaure's Sarcophagus, Where did Vyse really send it ?
479
Merrell
01-Apr-16 08:58
Quarantine info for Ori
600
DScribr
01-Apr-16 23:28
Re: Quarantine info for Ori
570
Origyptian
02-Apr-16 15:16
Re: Quarantine info for Ori
552
DScribr
02-Apr-16 19:07
Quarantine - 1838
491
Merrell
02-Apr-16 20:02
Re: Quarantine - 1838
543
DScribr
04-Apr-16 17:35
Re: Menkaure's Sarcophagus, Where did Vyse really send it ?
459
Origyptian
19-Mar-16 17:58
Re: Menkaure's Sarcophagus, Where did Vyse really send it ?
507
Martin Stower
19-Mar-16 19:45
Re: Menkaure's Sarcophagus, Where did Vyse really send it ?
547
Origyptian
19-Mar-16 23:01
Re: Menkaure's Sarcophagus, Where did Vyse really send it ?
590
Martin Stower
20-Mar-16 00:35
Re: Menkaure's Sarcophagus, Where did Vyse really send it ?
588
Origyptian
21-Mar-16 14:24
Re: Menkaure's Sarcophagus, Where did Vyse really send it ?
553
Martin Stower
21-Mar-16 20:09
Re: Menkaure's Sarcophagus, Where did Vyse really send it ?
569
Origyptian
21-Mar-16 20:35
Re: Menkaure's Sarcophagus, Where did Vyse really send it ?
665
Martin Stower
21-Mar-16 23:12
Re: Menkaure's Sarcophagus, Where did Vyse really send it ?
549
Audrey
22-Mar-16 01:22
Re: Menkaure's Sarcophagus, Where did Vyse really send it ?
624
Martin Stower
22-Mar-16 02:26
Re: Menkaure's Sarcophagus, Where did Vyse really send it ?
536
Audrey
22-Mar-16 15:45
Re: Menkaure's Sarcophagus, Where did Vyse really send it ?
567
Martin Stower
22-Mar-16 16:52
Re: Menkaure's Sarcophagus, Where did Vyse really send it ?
899
Audrey
23-Mar-16 03:09
Re: Menkaure's Sarcophagus, Where did Vyse really send it ?
625
Martin Stower
23-Mar-16 15:50
Re: Menkaure's Sarcophagus, Where did Vyse really send it ?
484
DScribr
31-Mar-16 17:18
Re: Menkaure's Sarcophagus, Where did Vyse really send it ?
556
DScribr
31-Mar-16 17:14
Re: Menkaure's Sarcophagus, Where did Vyse really send it ?
497
Origyptian
31-Mar-16 17:30
Re: Menkaure's Sarcophagus, Where did Vyse really send it ?
567
DScribr
31-Mar-16 17:40
Re: Menkaure's Sarcophagus, Where did Vyse really send it ?
565
Origyptian
31-Mar-16 18:09
Re: Menkaure's Sarcophagus, Where did Vyse really send it ?
478
DScribr
01-Apr-16 23:16
Re: Menkaure's Sarcophagus, Where did Vyse really send it ?
547
Origyptian
01-Apr-16 23:32
Re: Menkaure's Sarcophagus, Where did Vyse really send it ?
510
Martin Stower
02-Apr-16 22:09
Re: Menkaure's Sarcophagus, Where did Vyse really send it ?
503
Origyptian
03-Apr-16 13:36
Re: Menkaure's Sarcophagus was sent to England
544
DScribr
04-Apr-16 17:48
Re: Menkaure's Sarcophagus was sent to England
507
Origyptian
04-Apr-16 18:45
Re: Menkaure's Sarcophagus became Col. Campbell's responsibility
474
DScribr
04-Apr-16 22:24
Re: Menkaure's Sarcophagus became Col. Campbell's responsibility
547
Origyptian
04-Apr-16 23:58
Re: Menkaure's Sarcophagus became Col. Campbell's responsibility
565
Corpuscles
05-Apr-16 09:18
Re: Menkaure's Sarcophagus became Col. Campbell's responsibility
555
DUNE
05-Apr-16 11:40
Re: Menkaure's Sarcophagus became Col. Campbell's responsibility
577
Origyptian
05-Apr-16 15:06
Re: Menkaure's Sarcophagus became Col. Campbell's responsibility
540
Corpuscles
05-Apr-16 21:16
Re: Menkaure's Sarcophagus became Col. Campbell's responsibility
524
DScribr
06-Apr-16 16:18
Re: Menkaure's Sarcophagus became Col. Campbell's responsibility
564
Martin Stower
06-Apr-16 17:39
Re: Menkaure's Sarcophagus, Where did Vyse really send it ?
522
DScribr
04-Apr-16 17:42
Re: Menkaure's Sarcophagus, Where did Vyse really send it ?
619
Martin Stower
05-Apr-16 15:23
Re: Menkaure's Sarcophagus, Where did Vyse really send it ?
549
Origyptian
05-Apr-16 15:48
Firman
542
DScribr
06-Apr-16 16:23
Re: Firman
482
Martin Stower
06-Apr-16 17:17
Re: Menkaure's Sarcophagus, Where did Vyse really send it ?
560
DScribr
31-Mar-16 17:24
Re: Menkaure's Sarcophagus, Where did Vyse really send it ?
577
Origyptian
31-Mar-16 17:55
Re: Menkaure's Sarcophagus, Where did Vyse really send it ?
524
R Avry Wilson
01-Apr-16 06:43
Re: Menkaure's Sarcophagus, Where did Vyse really send it ?
519
Origyptian
01-Apr-16 15:37
Re: Menkaure's Sarcophagus, Where did Vyse really send it ?
726
Martin Stower
02-Apr-16 22:41
Re: Menkaure's Sarcophagus, Where did Vyse really send it ?
490
Jon Ellison
02-Apr-16 23:35
Re: Menkaure's Sarcophagus, Where did Vyse really send it ?
588
Martin Stower
03-Apr-16 00:47
Re: Menkaure's Sarcophagus, Where did Vyse really send it ?
524
Jon Ellison
03-Apr-16 03:44
Re: Menkaure's Sarcophagus, Where did Vyse really send it ?
588
Audrey
03-Apr-16 04:44
Re: Menkaure's Sarcophagus, Where did Vyse really send it ?
532
Jon Ellison
03-Apr-16 11:05
Re: Menkaure's Sarcophagus, Where did Vyse really send it ?
551
Martin Stower
03-Apr-16 13:01
Re: Menkaure's Sarcophagus, Where did Vyse really send it ?
474
Jon Ellison
03-Apr-16 14:02
Re: Menkaure's Sarcophagus, Where did Vyse really send it ?
556
Martin Stower
03-Apr-16 20:02
Re: Menkaure's Sarcophagus, Where did Vyse really send it ?
537
Martin Stower
03-Apr-16 12:31
Re: Menkaure's Sarcophagus, Where did Vyse really send it ?
491
Audrey
04-Apr-16 03:42
Research R US
490
DScribr
04-Apr-16 17:53
Re: Menkaure's Sarcophagus, Where did Vyse really send it ?
538
Martin Stower
05-Apr-16 13:30
Re: Menkaure's Sarcophagus, Where did Vyse really send it ?
500
Martin Stower
03-Apr-16 12:21
Re: Menkaure's Sarcophagus, Where did Vyse really send it ?
592
Corpuscles
03-Apr-16 19:59
Re: Menkaure's Sarcophagus, Where did Vyse really send it ?
547
Martin Stower
03-Apr-16 21:59
Re: Menkaure's Sarcophagus, Where did Vyse really send it ?
553
Origyptian
03-Apr-16 22:53
Re: Menkaure's Sarcophagus, Where did Vyse really send it ?
550
Origyptian
03-Apr-16 13:53
Re: Menkaure's Sarcophagus, Where did Vyse really send it ?
571
Martin Stower
05-Apr-16 14:26
Re: Menkaure's Sarcophagus, Where did Vyse really send it ?
544
Origyptian
05-Apr-16 14:47
Re: Menkaure's Sarcophagus, Where did Vyse really send it ?
494
Martin Stower
05-Apr-16 14:52
Furthermore . . .
651
Martin Stower
05-Apr-16 16:01
Re: Furthermore . . .
537
Origyptian
05-Apr-16 16:05
Re: Furthermore . . .
524
Martin Stower
05-Apr-16 16:42
Re: Furthermore . . .
561
Martin Stower
05-Apr-16 19:11
Re: Furthermore . . .
517
Origyptian
05-Apr-16 19:30
Re: Furthermore . . .
505
Martin Stower
05-Apr-16 20:49
Re: Furthermore . . .
512
Origyptian
05-Apr-16 23:49
Re: Furthermore . . .
544
Martin Stower
06-Apr-16 01:45
Re: Furthermore . . .
580
Origyptian
06-Apr-16 02:49
Re: Furthermore . . .
532
DUNE
06-Apr-16 12:35
Re: Furthermore . . .
500
DScribr
06-Apr-16 16:45
Re: Furthermore . . .
516
Corpuscles
06-Apr-16 19:44
Re: Furthermore . . .
506
DUNE
06-Apr-16 20:21
Re: Furthermore . . .
499
Martin Stower
06-Apr-16 14:31
Re: Furthermore . . .
463
Origyptian
07-Apr-16 05:24
Re: Furthermore . . .
524
DUNE
07-Apr-16 07:06
Re: Furthermore . . .
544
Origyptian
07-Apr-16 13:05
Re: Furthermore . . .
503
DUNE
07-Apr-16 13:31
Re: Furthermore . . .
537
Origyptian
07-Apr-16 13:53
Re: Furthermore . . .
579
Martin Stower
07-Apr-16 14:12
Re: Furthermore . . .
548
Corpuscles
07-Apr-16 18:24
Re: Furthermore . . .
515
Martin Stower
07-Apr-16 20:04
Re: Furthermore . . .
516
Origyptian
07-Apr-16 23:23
Re: Furthermore . . .
550
Martin Stower
08-Apr-16 00:29
Re: Furthermore . . .
548
Corpuscles
08-Apr-16 02:49
Re: Furthermore . . .
487
Origyptian
08-Apr-16 06:04
Re: Furthermore . . .
453
Martin Stower
08-Apr-16 15:37
Re: Furthermore . . .
558
Martin Stower
07-Apr-16 13:56
Re: Furthermore . . .
601
Martin Stower
07-Apr-16 13:33
Re: Furthermore . . .
492
Origyptian
07-Apr-16 14:18
Re: Furthermore . . .
505
Martin Stower
07-Apr-16 14:52
Re: Furthermore . . .
480
R Avry Wilson
07-Apr-16 19:54
Re: Furthermore . . .
445
DScribr
07-Apr-16 21:14
Re: Furthermore . . .
515
Martin Stower
07-Apr-16 23:14
Afterthought
478
DScribr
07-Apr-16 23:42
The Death of Beatrice
588
loveritas
07-Apr-16 20:55
Re: The Death of Beatrice
569
Corpuscles
07-Apr-16 21:32
Re: The Death of Beatrice
775
loveritas
07-Apr-16 21:46
Re: The Life of Beatrice
564
DScribr
07-Apr-16 21:33
Re: The Life of Beatrice
523
R Avry Wilson
07-Apr-16 23:35
Re: The Life of Beatrice
626
DScribr
07-Apr-16 23:54
Re: The Life of Beatrice
587
R Avry Wilson
08-Apr-16 01:31
Re: 2 Ships carrying the loot?
588
Thunderbird
08-Apr-16 03:11
Re: 2 Ships carrying the loot?
530
Origyptian
08-Apr-16 06:42
Re: 2 Ships carrying the loot?
583
Thunderbird
08-Apr-16 15:35
Re: 2 Ships carrying the loot?
604
DUNE
08-Apr-16 16:29
Re: 2 Ships carrying the loot?
533
Martin Stower
08-Apr-16 16:49
Re: 2 Ships carrying the loot?
551
DUNE
08-Apr-16 17:12
Re: 2 Ships carrying the loot?
528
Martin Stower
08-Apr-16 19:04
Re: 2 Ships carrying the loot?
529
DUNE
08-Apr-16 19:14
Re: 2 Ships carrying the loot?
527
Martin Stower
08-Apr-16 23:05
Re: 2 Ships carrying the loot?
531
R Avry Wilson
09-Apr-16 00:09
Re: 2 Ships carrying the loot?
536
Martin Stower
09-Apr-16 01:44
Re: 2 Ships carrying the loot?
567
R Avry Wilson
09-Apr-16 01:57
Re: 2 Ships carrying the loot?
519
DUNE
09-Apr-16 07:32
Re: 2 Ships carrying the loot?
568
Martin Stower
09-Apr-16 12:44
Re: Finders keepers
624
Thunderbird
09-Apr-16 15:52
Re: Finders keepers
523
Origyptian
09-Apr-16 18:16
Re: Stolen loot
562
Thunderbird
08-Apr-16 19:38
Re: Stolen loot
526
DScribr
09-Apr-16 18:57
Re: Stolen loot
478
Corpuscles
09-Apr-16 21:19
Re: Stolen loot
517
Martin Stower
09-Apr-16 23:15
Caviglia's Dismissal.
536
DScribr
11-Apr-16 17:53
Re: Caviglia's Dismissal.
431
Martin Stower
11-Apr-16 21:51
Re: 2 Ships carrying the loot?
508
Origyptian
09-Apr-16 17:07
Re: 2 Ships carrying the loot?
526
DUNE
09-Apr-16 17:45
Re: 2 Ships carrying the loot?
499
Origyptian
09-Apr-16 18:21
Re: 2 Ships carrying the loot?
466
Origyptian
09-Apr-16 17:19
Re: The Life of Beatrice
511
DScribr
08-Apr-16 17:38
Re: The Life of Beatrice
463
DUNE
08-Apr-16 18:56
Re: The Life of Beatrice
490
R Avry Wilson
09-Apr-16 01:55
Re: The Life of Beatrice
494
DScribr
09-Apr-16 19:13
Shifting sarc: source found
604
R Avry Wilson
13-Apr-16 06:59
Re: Shifting sarc: source found
519
Martin Stower
13-Apr-16 10:34
Re: Shifting sarc: source found
443
DScribr
13-Apr-16 16:44
Re: Vyse Shifting sarc: source found
528
Luminescence
13-Apr-16 17:21
ATTN: COLETTE D.
607
DScribr
14-Apr-16 19:49
Re: ATTN: YOE WILLIE it is me COLETTE D.
583
Luminescence
15-Apr-16 04:30
Re: ATTN: COLETTE D.
480
DScribr
15-Apr-16 17:55
Re: ATTN: WILLIE WILLIE COLETTE D.
470
Luminescence
16-Apr-16 00:28
Re: ATTN: HEY MARTIN and WILLIE WILLIE anyone COLETTE D.
589
Luminescence
16-Apr-16 00:58
Re: ATTN: HEY MARTIN and WILLIE WILLIE anyone COLETTE D.
544
Martin Stower
16-Apr-16 10:37
Re: ATTN: WILLIE WILLIE COLETTE D.
452
Origyptian
16-Apr-16 15:59
Re: ATTN: WILLIE WILLIE COLETTE D.
441
Martin Stower
16-Apr-16 16:28
Re: ATTN: WILLIE WILLIE COLETTE D.
461
Origyptian
16-Apr-16 17:08
Re: ATTN: WILLIE WILLIE COLETTE D.
550
Martin Stower
16-Apr-16 20:16
Re: ATTN: WILLIE WILLIE COLETTE D.
471
Origyptian
16-Apr-16 21:46
Re: ATTN: WILLIE WILLIE COLETTE D.
592
Audrey
16-Apr-16 22:29
Re: ATTN: WILLIE WILLIE COLETTE D.
501
Martin Stower
17-Apr-16 00:03
Re: Andrew's sarcophagus Technicians Artists WILLIE COLETTE D.
577
Luminescence
17-Apr-16 03:05
Re: Andrew's sarcophagus Technicians Artists WILLIE COLETTE D.
344
Audrey
17-Apr-16 22:03
Re: Andrew's sarcophagus Technicians Artists WILLIE COLETTE D.
489
Martin Stower
18-Apr-16 14:40
Re: Andrew's sarcophagus Technicians Artists WILLIE COLETTE D.
317
Thanos5150
18-Apr-16 17:03
Re: Andrew's sarcophagus Technicians Artists WILLIE COLETTE D.
423
DScribr
18-Apr-16 17:10
For The Record
406
DScribr
18-Apr-16 17:13
Fully Loaded.
360
DScribr
16-Apr-16 19:25
Pencil Lines On Cartouche Explanation
480
DScribr
16-Apr-16 19:20
Re: ATTN: COLETTE D.
443
DScribr
16-Apr-16 18:45
Re: CARTOUCHE NOT GOING THERE ATTN: Willie Martin Origyptian COLETTE D.
403
Luminescence
16-Apr-16 19:27
Re: The Life of Beatrice
469
Origyptian
09-Apr-16 16:42
Re: The Death of Beatrice
423
Martin Stower
08-Apr-16 23:03
Re: Furthermore . . .
728
Martin Stower
06-Apr-16 15:07
Same story-Different day.
524
DScribr
06-Apr-16 16:28
Get it right.
618
Martin Stower
05-Apr-16 16:12
Re: Get it right.
612
Origyptian
05-Apr-16 16:31
Re: Get it right.
535
Martin Stower
05-Apr-16 16:49
Re: Get it right.
746
Origyptian
05-Apr-16 19:25
Re: Get it right.
569
Martin Stower
05-Apr-16 20:42
Re: Get it right.
529
Origyptian
05-Apr-16 23:55
Re: Get it right.
529
Martin Stower
06-Apr-16 01:02
Re: Get it right.
504
Origyptian
06-Apr-16 02:43
Re: Get it right.
567
Martin Stower
06-Apr-16 14:38
Re: Menkaure's Sarcophagus, Where did Vyse really send it ?
572
DScribr
04-Apr-16 17:44
Re: Menkaure's Sarcophagus, Where did Vyse really send it ?
548
DScribr
01-Apr-16 23:24
Re: Menkaure's Sarcophagus, Where did Vyse really send it ?
434
Origyptian
02-Apr-16 15:27
Re: Menkaure's Sarcophagus, Where did Vyse really send it ?
511
Jon Ellison
02-Apr-16 18:49
Re: Menkaure's Sarcophagus. Campbell sent it to England.
476
DScribr
02-Apr-16 19:17
Re: Menkaure's Sarcophagus. Campbell sent it to England.
489
Origyptian
02-Apr-16 20:26
Re: Menkaure's Sarcophagus. Campbell sent it to England.
493
DScribr
04-Apr-16 17:58
Re: Menkaure's Sarcophagus, Where did Vyse really send it ?
519
DScribr
02-Apr-16 19:08
Re: Menkaure's Sarcophagus, Where did Campbell send it?
514
DScribr
02-Apr-16 19:15
Re: Menkaure's Sarcophagus, Where did Campbell send it?
472
Martin Stower
02-Apr-16 22:53
Re: Menkaure's Sarcophagus, Where did Campbell send it?
416
Origyptian
03-Apr-16 14:05
Re: Menkaure's Sarcophagus, Where did Vyse really send it ?
542
Martin Stower
02-Apr-16 23:43
Re: Menkaure's Sarcophagus, Where did Vyse really send it ?
541
Origyptian
03-Apr-16 14:17
REAL research IS difficult without accurate info....
513
DScribr
04-Apr-16 18:12
Re: Menkaure's Sarcophagus, Where did Vyse really send it ?
467
DScribr
04-Apr-16 18:07
Re: Menkaure's Sarcophagus, Where did Vyse really send it ?
501
Martin Stower
05-Apr-16 13:37
Re: Menkaure's Sarcophagus, Where did Vyse really send it ?
487
DScribr
06-Apr-16 16:33
Re: Menkaure's Sarcophagus, Where did Vyse really send it ?
477
Origyptian
07-Apr-16 05:37
Wasted days and wasted nights
567
drrayeye
07-Apr-16 21:42
Re: Wasted days and wasted nights, and Bandwidth.
512
DScribr
07-Apr-16 23:57
Re: Menkaure's Sarcophagus, Where did Vyse really send it ?
524
molder
08-Apr-16 06:25
Re: Menkaure's Sarcophagus, Where did Vyse really send it ?
514
Origyptian
08-Apr-16 06:51
Re: Menkaure's Sarcophagus, Where did Vyse really send it ?
535
Jon Ellison
08-Apr-16 11:53
Re: Menkaure's Sarcophagus Revisited
445
Thanos5150
08-Apr-16 16:57
Re: Menkaure's Sarcophagus Revisited
480
Thanos5150
08-Apr-16 17:15
Re: Menkaure's Sarcophagus, Where did Vyse really send it ?
735
Origyptian
09-Apr-16 16:01
Re: Menkaure's Sarcophagus, Where did Vyse really send it ?
678
Thanos5150
09-Apr-16 17:49
Re: Menkaure's Sarcophagus, Where did Vyse really send it ?
503
Origyptian
09-Apr-16 18:36
Re: Menkaure's Sarcophagus, Where did Vyse really send it ?
555
Jon Ellison
09-Apr-16 18:47
Re: Menkaure's Sarcophagus, Where did Vyse really send it ?
379
Origyptian
09-Apr-16 18:58
Re: Menkaure's Sarcophagus, Where did Vyse really send it ?
512
Jon Ellison
09-Apr-16 19:18
Re: Menkaure's Sarcophagus, Where did Vyse really send it ?
464
Origyptian
10-Apr-16 16:15
Re: Menkaure's Sarcophagus, Where did Vyse really send it ?
393
DScribr
11-Apr-16 17:56
Re: Menkaure's Sarcophagus, Where did Vyse really send it ?
553
Thanos5150
09-Apr-16 20:09
Re: Menkaure's Sarcophagus, Where did Vyse really send it ?
451
Jon Ellison
09-Apr-16 20:33
Re: Menkaure's Sarcophagus, Where did Vyse really send it ?
470
Thanos5150
09-Apr-16 22:39
Re: Menkaure's Sarcophagus, Where did Vyse really send it ?
543
Martin Stower
09-Apr-16 23:57
Re: Menkaure's Sarcophagus, Where did Vyse really send it ?
375
DScribr
11-Apr-16 17:58
Re: Menkaure's Sarcophagus, Where did Vyse really send it ?
493
Origyptian
11-Apr-16 18:52
Re: Menkaure's Sarcophagus, Where did Vyse really send it ?
425
Thanos5150
11-Apr-16 19:42
Re: Menkaure's Sarcophagus, Where did Vyse really send it ?
369
Jon Ellison
11-Apr-16 20:55
Re: Menkaure's Sarcophagus, Where did Vyse really send it ?
399
Origyptian
11-Apr-16 21:29
Re: Menkaure's Sarcophagus, Where did Vyse really send it ?
482
Thanos5150
11-Apr-16 22:49
Re: Menkaure's Sarcophagus, Where did Vyse really send it ?
565
Origyptian
11-Apr-16 23:06
Re: Menkaure's Sarcophagus, Where did Vyse really send it ?
563
Thanos5150
12-Apr-16 00:14
Re: Menkaure's Sarcophagus, Where did Vyse really send it ?
402
Origyptian
12-Apr-16 04:58
Re: Menkaure's Sarcophagus, Where did Vyse really send it ?
459
Thanos5150
12-Apr-16 05:06
Re: Menkaure's Sarcophagus, Where did Vyse really send it ?
493
Thanos5150
09-Apr-16 19:49
Re: Menkaure's Sarcophagus, Where did Vyse really send it ?
390
Origyptian
10-Apr-16 16:30
Re: Menkaure's Sarcophagus, Where did Vyse really send it ?
467
Thanos5150
10-Apr-16 21:06
Re: Menkaure's Sarcophagus, Where did Vyse really send it ?
480
DUNE
10-Apr-16 21:33
Re: Menkaure's Sarcophagus, Where did Vyse really send it ?
486
Corpuscles
10-Apr-16 22:01
Re: Menkaure's Sarcophagus, Where did Vyse really send it ?
586
Thanos5150
11-Apr-16 03:47
Re: Menkaure's Sarcophagus, Where did Vyse really send it ?
508
Jon Ellison
11-Apr-16 12:56
Re: Menkaure's Sarcophagus, Where did Vyse really send it ?
497
Thanos5150
12-Apr-16 00:38
Re: Menkaure's Sarcophagus, Where did Thanos really say it????
453
DScribr
12-Apr-16 17:19
Re: Menkaure's Sarcophagus, Where did Vyse really send it ?
159
Origyptian
10-Apr-16 23:31
Re: Menkaure's Sarcophagus, Where did Vyse really send it ?
454
Thanos5150
11-Apr-16 04:23
Re: Menkaure's Sarcophagus, Where did Vyse really send it ?
446
Thanos5150
11-Apr-16 04:59
Re: Menkaure's Sarcophagus, Where did Vyse really send it ?
474
Jon Ellison
11-Apr-16 07:03
Re: Geopolymer molds
452
Thunderbird
11-Apr-16 19:47
Re: Geopolymer molds
439
Jon Ellison
11-Apr-16 21:39
Re: Engineering applications
429
Thunderbird
12-Apr-16 05:49
Re: Engineering applications
447
Jon Ellison
12-Apr-16 07:43
Re: Menkaure's Sarcophagus, Where did Vyse really send it ?
505
Thanos5150
11-Apr-16 20:51
Re: Menkaure's Sarcophagus, Where did Vyse really send it ?
387
Jon Ellison
11-Apr-16 21:11
Re: Menkaure's Sarcophagus, Where did Vyse really send it ?
467
Thanos5150
12-Apr-16 01:05
Re: Menkaure's Sarcophagus, Where did Vyse really send it ?
483
Corpuscles
12-Apr-16 00:09
Re: Menkaure's Sarcophagus, Where did Vyse really send it ?
418
Martin Stower
11-Apr-16 12:25
Re: Menkaure's Sarcophagus, Where did Vyse really send it ?
462
Corpuscles
09-Apr-16 20:12
Re: Menkaure's Sarcophagus, Where did Vyse really send it ?
523
Thanos5150
10-Apr-16 00:05
Re: Menkaure's Sarcophagus, Where did Vyse really send it ?
530
Thunderbird
10-Apr-16 01:25
Re: Menkaure's Sarcophagus, Where did Vyse really send it ?
720
Thanos5150
10-Apr-16 03:57
Re: Menkaure's Sarcophagus, Where did Vyse really send it ?
530
DUNE
10-Apr-16 06:58
Re: Menkaure's Sarcophagus, Where did Vyse really send it ?
505
Origyptian
10-Apr-16 15:14
Re: Menkaure's Sarcophagus, Where did Vyse really send it ?
560
Thanos5150
10-Apr-16 17:16
Re: Menkaure's Sarcophagus, Where did Vyse really send it ?
492
DUNE
10-Apr-16 18:24
Re: Menkaure's Sarcophagus, Where did Vyse really send it ?
394
Corpuscles
10-Apr-16 19:44
Re: Menkaure's Sarcophagus, Where did Vyse really send it ?
534
DUNE
10-Apr-16 20:24
Re: Menkaure's Sarcophagus, Where did Vyse really send it ?
415
Corpuscles
10-Apr-16 20:45
Re: Menkaure's Sarcophagus, Where did Vyse really send it ?
485
DUNE
10-Apr-16 20:47
Re: Menkaure's Sarcophagus, Where did Vyse really send it ?
381
Thanos5150
10-Apr-16 21:28
Re: Menkaure's Sarcophagus, Where did Vyse really send it ?
469
Martin Stower
11-Apr-16 12:32
Re: Menkaure's Sarcophagus, Where did Vyse really send it ?
406
Origyptian
11-Apr-16 13:29
Re: Menkaure's Sarcophagus, Where did Vyse really send it ?
384
Martin Stower
11-Apr-16 14:48
Re: Menkaure's Sarcophagus, Where did Vyse really send it ?
426
Origyptian
11-Apr-16 15:38
Re: Menkaure's Sarcophagus, Where did Vyse really send it ?
474
Martin Stower
11-Apr-16 15:48
Re: Menkaure's Sarcophagus, Where did Vyse really send it ?
388
DUNE
11-Apr-16 17:40
Thanks DUNE!!!
395
DScribr
11-Apr-16 18:28
Re: We must consider.....the possibilities
390
Thunderbird
11-Apr-16 22:56
Re: We must consider.....the possibilities
406
Martin Stower
12-Apr-16 00:24
Re: Menkaure's Sarcophagus, Where did Vyse really send it ?
442
Thanos5150
12-Apr-16 01:10
Re: Menkaure's Sarcophagus, Where did Vyse really send it ?
434
Origyptian
12-Apr-16 02:42
Re: Menkaure's Sarcophagus, Where did Vyse really send it ?
421
Thanos5150
12-Apr-16 04:39
Re: Menkaure's Sarcophagus, Where did Vyse really send it ?
485
Jon Ellison
12-Apr-16 08:02
Re: Menkaure's Sarcophagus, Where did Vyse really send it ?
422
DUNE
12-Apr-16 11:07
Re: Menkaure's Sarcophagus, Where did Vyse really send it ?
397
Jon Ellison
12-Apr-16 11:11
Re: Menkaure's Sarcophagus, Where did Vyse really send it ?
462
DUNE
12-Apr-16 12:06
Re: Menkaure's Sarcophagus, Where did Vyse really send it ?
364
Jon Ellison
12-Apr-16 13:44
Re: Menkaure's Sarcophagus, Where did Vyse really send it ?
399
Origyptian
12-Apr-16 14:19
Looks good!
403
DScribr
12-Apr-16 17:38
Re: Menkaure's Sarcophagus, Where did Vyse really send it ?
433
Corpuscles
12-Apr-16 21:18
Re: Menkaure's Sarcophagus, Where did Vyse really send it ?
442
DScribr
12-Apr-16 21:23
Re: Menkaure's Sarcophagus, Where did Vyse really send it ?
398
Origyptian
12-Apr-16 21:38
Re: Menkaure's Sarcophagus, Where did Vyse really send it ?
338
Origyptian
12-Apr-16 14:10
Re: Menkaure's Sarcophagus, Where did Vyse really send it ?
407
Jon Ellison
12-Apr-16 14:27
NO Rush...
415
DScribr
12-Apr-16 17:31
Re: Menkaure's Sarcophagus, Where did Vyse really send it ?
367
Martin Stower
12-Apr-16 12:13
Re: Menkaure's Sarcophagus, Where did Vyse really send it ?
379
Jon Ellison
12-Apr-16 13:15
Re: Menkaure's Sarcophagus, Where did Vyse really send it ?
479
Martin Stower
12-Apr-16 15:54
Re: Menkaure's Sarcophagus, Where did Vyse really send it ?
314
DUNE
12-Apr-16 16:19
Re: Menkaure's Sarcophagus, Where did Vyse really send it ?
321
Origyptian
12-Apr-16 19:53
Meaning of letter by Forshall
344
DScribr
12-Apr-16 20:50
Re: Menkaure's Sarcophagus, Where did Vyse really send it ?
364
Corpuscles
12-Apr-16 21:57
Re: Menkaure's Sarcophagus, Where did Vyse really send it ?
449
Martin Stower
12-Apr-16 23:42
Re: Menkaure's Sarcophagus, Where did Vyse really send it ?
499
Jon Ellison
12-Apr-16 16:46
Re: Menkaure's Sarcophagus, Where did Vyse really send it ?
353
Martin Stower
12-Apr-16 17:50
Re: Menkaure's Sarcophagus, Where did Vyse really send it ?
285
Jon Ellison
12-Apr-16 18:47
Re: Menkaure's Sarcophagus, Where did Vyse really send it ?
380
Martin Stower
12-Apr-16 21:15
Re: Menkaure's Sarcophagus, Where did Vyse really send it ?
378
Origyptian
12-Apr-16 21:24
Re: Menkaure's Sarcophagus, Where did Vyse really send it ?
405
Martin Stower
12-Apr-16 21:34
Re: Menkaure's Sarcophagus, Where did Vyse really send it ?
420
Jon Ellison
12-Apr-16 22:05
Re: Menkaure's Sarcophagus, Where did Vyse really send it ?
445
Origyptian
12-Apr-16 22:32
Re: Menkaure's Sarcophagus, Where did Vyse really send it ?
397
Jon Ellison
12-Apr-16 22:56
Re: Menkaure's Sarcophagus, Where did Vyse really send it ?
473
Origyptian
13-Apr-16 03:18
Re: Menkaure's Sarcophagus, Where did Vyse really send it ?
505
Martin Stower
12-Apr-16 23:25
Re: Menkaure's Sarcophagus, Where did Vyse really send it ?
378
Jon Ellison
12-Apr-16 23:32
Re: Menkaure's Sarcophagus, Where did Vyse really send it ?
411
Origyptian
13-Apr-16 03:32
Re: the new interpretation!
413
Corpuscles
13-Apr-16 05:24
Re: the new interpretation!
353
Origyptian
13-Apr-16 19:33
Re: the new interpretation Vyse Campbell Painting WHO DID IT
426
Luminescence
13-Apr-16 20:30
Dr Collette question regarding signwriting -Campbells Chamber
477
Corpuscles
13-Apr-16 21:19
Re: Dr Collette question regarding signwriting -Campbells Chamber
422
Luminescence
13-Apr-16 21:40
Re: Dr Collette question regarding signwriting -Campbells Chamber
475
Luminescence
13-Apr-16 21:56
Re: Dr Collette question regarding signwriting -Campbells Chamber
440
Corpuscles
13-Apr-16 22:43
Re: Dr Collette question regarding signwriting -Campbells Chamber
453
Martin Stower
13-Apr-16 23:06
Re: Dr Collette question regarding signwriting -Campbells Chamber
453
DScribr
14-Apr-16 20:14
Re: Dr Collette question!!!!!!!!!!!! !!!!!!!!!!!!!!!!!!!! !!!!!!!!!
468
DScribr
14-Apr-16 20:10
Re: the new interpretation Vyse Campbell Painting WHO DID IT
526
Martin Stower
13-Apr-16 21:59
Re: the new interpretation Vyse Campbell Painting WHO DID IT
391
Luminescence
13-Apr-16 22:15
Re: the new interpretation Vyse Campbell Painting WHO DID IT
362
Martin Stower
13-Apr-16 22:38
Re: the new interpretation Vyse Campbell Painting WHO DID IT
419
Luminescence
13-Apr-16 23:00
Re: the new interpretation Vyse Campbell Painting WHO DID IT
408
Corpuscles
13-Apr-16 23:32
Re: the new interpretation Vyse Campbell Painting WHO DID IT
426
Luminescence
14-Apr-16 02:57
Re: the new interpretation!
409
Corpuscles
13-Apr-16 21:51
Re: the new interpretation!
388
Origyptian
14-Apr-16 15:08
Re: Menkaure's Sarcophagus, Where did Vyse really send it ?
556
Martin Stower
13-Apr-16 11:17
Re: Menkaure's Sarcophagus, Where did Vyse really send it ?
507
Jon Ellison
13-Apr-16 12:18
Re: Menkaure's Sarcophagus, Where did Vyse really send it ?
433
Origyptian
14-Apr-16 15:02
Re: Menkaure's Sarcophagus, Where did Vyse really send it ?
427
Martin Stower
14-Apr-16 15:32
Re: Menkaure's Sarcophagus, Where did Vyse really send it ?
414
Origyptian
14-Apr-16 15:41
Re: Menkaure's Sarcophagus, Where did Vyse really send it ?
380
Martin Stower
14-Apr-16 18:30
Re: Menkaure's Sarcophagus, Where did Vyse really send it ?
380
Origyptian
14-Apr-16 19:30
Cherry Picking
396
DScribr
14-Apr-16 19:53
Re: Cherry Picking
370
Origyptian
14-Apr-16 20:06
Re: Cherry Picking
460
DScribr
15-Apr-16 18:00
Re: Menkaure's Sarcophagus, Where did Vyse really send it ?
393
Martin Stower
14-Apr-16 20:53
Re: Menkaure's Sarcophagus, Where did Vyse really send it ?
384
Origyptian
14-Apr-16 21:10
Re: Menkaure's Sarcophagus, Where did Vyse really send it ?
531
Martin Stower
14-Apr-16 22:22
Sarcophagus there for a reason.
537
DScribr
15-Apr-16 18:06
Fact VS Speculation.
416
DScribr
14-Apr-16 17:41
Re: Menkaure's Sarcophagus, Where did Vyse really send it ?
400
Origyptian
12-Apr-16 20:47
Re: Menkaure's Sarcophagus, Where did Vyse really send it ?
365
Martin Stower
12-Apr-16 21:20
Re: Menkaure's Sarcophagus, Where did Vyse really send it ?
453
Origyptian
12-Apr-16 21:40
Re: Menkaure's Sarcophagus, Where did Vyse really send it ?
428
Martin Stower
12-Apr-16 22:18
Re: Menkaure's Sarcophagus, Where did Vyse really send it ?
443
Origyptian
13-Apr-16 02:59
Re: Menkaure's Sarcophagus, Where did Vyse really send it ?
448
Thanos5150
12-Apr-16 23:03
Re: Menkaure's Sarcophagus, Where did Vyse really send it ?
403
Jon Ellison
12-Apr-16 23:07
Re: Menkaure's Sarcophagus, Where did Vyse really send it ?
430
Thanos5150
12-Apr-16 23:19
Re: Menkaure's Sarcophagus, Where did Vyse really send it ?
378
Jon Ellison
12-Apr-16 23:29
Re: Menkaure's Sarcophagus, Where did Vyse really send it ?
406
Thanos5150
13-Apr-16 03:16
Re: Menkaure's Sarcophagus, Where did Vyse really send it ?
530
Origyptian
13-Apr-16 03:39
Re: Menkaure's Sarcophagus, Where did Vyse really send it ?
435
Thanos5150
13-Apr-16 03:57
Re: Menkaure's Sarcophagus, Where did Vyse really send it ?
410
Jon Ellison
13-Apr-16 03:58
Re: Menkaure's Sarcophagus, Where did Vyse really send it ?
391
Thanos5150
13-Apr-16 04:26
Re: Menkaure's Sarcophagus, Where did Vyse really send it ?
478
Jon Ellison
13-Apr-16 09:22
Re: Menkaure's Sarcophagus, Where did Vyse really send it ?
510
DUNE
13-Apr-16 10:21
Re: Menkaure's Sarcophagus, Where did Vyse really send it ?
425
Corpuscles
13-Apr-16 20:52
Re: Menkaure's Sarcophagus, Where did Vyse really send it ?
417
DUNE
13-Apr-16 21:18
Re: Menkaure's Sarcophagus, Where did Vyse really send it ?
502
Thanos5150
13-Apr-16 17:37
Re: Menkaure's Sarcophagus, Where did Vyse really send it ?
396
Origyptian
13-Apr-16 18:57
Re: Menkaure's Sarcophagus, Where did Vyse really send it ?
480
Jon Ellison
13-Apr-16 19:28
Re: Menkaure's Sarcophagus, Where did Vyse really send it ?
517
Thanos5150
14-Apr-16 01:00
Re: Menkaure's Sarcophagus, Where did Vyse really send it ?
371
Jon Ellison
14-Apr-16 11:03
Re: Menkaure's Sarcophagus, Where did Vyse really send it ?
420
Thanos5150
13-Apr-16 04:36
The Biggest Mystery Here.
459
DScribr
13-Apr-16 17:13
Re: Menkaure's Sarcophagus, Where did Vyse really send it ?
402
Origyptian
13-Apr-16 03:26
Issue Forgotten
435
DScribr
13-Apr-16 17:19
Re: Issue Forgotten
403
Origyptian
13-Apr-16 17:56
Re: Menkaure's Sarcophagus, Where did Vyse really send it ?
432
Martin Stower
13-Apr-16 01:25
Re: Menkaure's Sarcophagus, Where did Vyse really send it ?
490
Origyptian
13-Apr-16 03:20
Re: Menkaure's Sarcophagus, Where did Vyse really send it ?
475
Thanos5150
14-Apr-16 00:50
Re: Menkaure's Sarcophagus, Where did Vyse really send it ?
412
Origyptian
14-Apr-16 15:11
Re: Menkaure's Sarcophagus, Where did Vyse really send it ?
377
Thanos5150
14-Apr-16 18:24
Re: Menkaure's Sarcophagus, Where did Vyse really send it ?
379
Origyptian
14-Apr-16 19:22
Re: Menkaure's Sarcophagus, Where did Vyse really send it ?
402
Thanos5150
14-Apr-16 23:29
Re: Menkaure's Sarcophagus, Where did Vyse really send it ?
439
Martin Stower
13-Apr-16 10:31
Re: Menkaure's Sarcophagus, Where did Vyse really send it ?
419
Jon Ellison
13-Apr-16 11:08
Re: Menkaure's Sarcophagus, Where did Vyse really send it ?
469
Origyptian
12-Apr-16 14:46
Re: Menkaure's Sarcophagus, Where did Vyse really send it ?
404
Martin Stower
12-Apr-16 16:51
Re: Menkaure's Sarcophagus, Where did Vyse really send it ?
401
Jon Ellison
12-Apr-16 16:58
Re: Menkaure's Sarcophagus, Where did Vyse really send it ?
334
Martin Stower
12-Apr-16 17:59
Re: Menkaure's Sarcophagus, Where did Vyse really send it ?
367
Origyptian
12-Apr-16 20:29
Re: Menkaure's Sarcophagus, Where did Vyse really send it ?
396
Origyptian
12-Apr-16 20:11
Re: Menkaure's Sarcophagus, Where did Vyse really send it ?
419
Martin Stower
12-Apr-16 20:42
Re: Menkaure's Sarcophagus, Where did Vyse really send it ?
395
Origyptian
12-Apr-16 20:58
Great Minds Think Alike.
425
DScribr
12-Apr-16 17:47
Re: Menkaure's Sarcophagus, Where did Vyse really send it ?
413
Origyptian
12-Apr-16 13:47
Re: Menkaure's Sarcophagus, Where did Vyse really send it ?
379
Jon Ellison
12-Apr-16 13:53
Re: Menkaure's Sarcophagus, Where did Vyse really send it ?
426
R Avry Wilson
12-Apr-16 16:30
Re: Menkaure's Sarcophagus, Where did Vyse really send it ?
541
Thanos5150
12-Apr-16 18:25
Re: gaze in awe and wonderment
375
Thunderbird
12-Apr-16 22:54
But WAIT...there's more...
408
DScribr
12-Apr-16 17:27
Re: But WAIT...there's more...
405
Thanos5150
12-Apr-16 19:52
Re: But WAIT...there's more...
396
DScribr
12-Apr-16 21:10
Vyse Left
395
DScribr
11-Apr-16 18:19
Re: Menkaure's Sarcophagus, Where did Vyse really send it ?
349
Thanos5150
10-Apr-16 20:11
Re: Menkaure's Sarcophagus, Where did Vyse really send it ?
421
Origyptian
10-Apr-16 22:32
Re: Menkaure's Sarcophagus, Where did Vyse really send it ?
393
Martin Stower
11-Apr-16 01:28
Re: Menkaure's Sarcophagus, Where did Vyse really send it ?
524
Origyptian
11-Apr-16 14:13
Re: Menkaure's Sarcophagus, Where did Vyse really send it ?
434
Martin Stower
11-Apr-16 15:41
Re: Menkaure's Sarcophagus, Where did Vyse really send it ?
382
DScribr
11-Apr-16 18:35
'Doubtless'
400
DScribr
11-Apr-16 18:32
Re: 'Doubtless'
388
Martin Stower
11-Apr-16 21:44
Re: 'Doubtless'
362
Corpuscles
11-Apr-16 22:44