Mysteries : The Official GrahamHancock.com forums
For serious discussion of the controversies, approaches and enigmas surrounding the origins and development of the human species and of human civilization. (NB: for more 'out there' posts we point you in the direction of the '
Paranormal & Supernatural
' Message Board).
The descending passages of the Giza pyramids as well as those of the Red, Bent, and Meidum pyramids are all know as "polar passages" having been constructed to align with the point in the sky directly above earth's rotational axis traditionally observed by way of the "pole star"; the star closest to this central point that stays fixed in the sky. Because of procession of the equinoxes, the pole star of early dynastic Egypt was not Polaris as it is today, but rather Thuban (Alpha Draconis) which maintained this position from approximately 3,942-1,900BC. Thuban achieved its closest position to true North around 2,830BC remaining within 1 degree of this position for nearly 200yrs.
Among others, antiquarian astronomer Richard Proctor calculated Thuban would have been seen through the descending passage of G1 at either 3,350BC or 2,170BC with a +/- error rate of 50-200yrs. If true, we can be reasonably confident to rule out the later date for numerous reasons leaving a time between 3,550BC-3,150BC (avg 3,350BC) the descending passage was constructed to align with Thuban.
If we recall this conversation:
[
www.grahamhancock.com
]
The
averages
of the 1995 RCD study are as follows:
Sakkara-2768 BC
Bent Pyramid-2720 BC
Meidum Pyramid-2705 BC
Abu Roash Pyramid-2804 BC
Abu Roash Temple-2795 BC
G1-2738 BC
G2-2765 BC
G3 2710 BC
RE the Giza samples:
Quote

(Myself) Of the 11 ranges for G1 only 3 are less than 2700BC. Of the 6 for G2 only one is less than 2700BC and four are 2800BC and above. G3, 5 out of 12 are below 2,700BC and is the only Giza pyramid to have at least one range less than 2,600BC though it is still as old or older than G1 is conventionally dated. Of the 29 ranges offered, 19 (66%) are in the 2,700-2,900 BC range.
If we look at the 1984 study the sample dates for G1 are as follows:
Sample number Age BC Location
10B (charcoal) 3809 +-160 198th course top platform, SW corner
10B (wood) 3101 +-414 198th course top platform, SW corner
06 3090 +-153 25-26 course West side, NW corner
08 3062 +-157 108-109 course West side, NW corner
10A 3020 +-131 198th course top platform, SW corner
14 2998 +-319 5th course South side, SE corner
13 2975 +-168 5th course, SE corner
04 2971 +-120 2nd course core block North side
11 2950 +-164 Top platform, SW corner
05 2929 +-100 2nd course North side, near NW corner
07 2909 +- 97 65th course West side, NW corner
02 2909 +-104 2nd course North side East face 2nd tier
01 2869 +- 94 2nd course North side East end
13 2864 +-362 5th course SE corner
03 2853 +-104 2nd course North face 2nd tier
Averaging these out from the 1984 study gives us a date of 3,021BC +/- (avg) 176yrs i.e 3197-2845BC.
While the RCD studies do not conclusively prove Proctor's assessment, they do provide at the very least a credible context for a date of construction between 2,830BC and 3,150BC: the range of Thuban's closet point to true North and the lowest +/- date of Thuban being visible through the G1 descending passage.
The problem with the 3,350BC date, among others for some, is that it does not coincide with theories of the dates of c. 2450BC provided for the "air shafts" of G1 aligning with various stars at this time. Considering all of the descending passages of the main pyramids attributed to the 4th Dynasty are agreed to have been polar passages, whether or not this was the function of G1's should not be in dispute. The only question is
when
it was meant to align with the pole star. And given it does not seem plausible both 3,350BC and 2,450BC are correct, the latter date not even possible for an alignment of Thuban with the descending passage, the question we are ultimately lead to is were in fact the air shafts designed to line up with stars in 2450BC if at all? As sacrilegious as it may be to some, I suggest no, they were not.
The QC air shafts were closed off at the chamber ends as well as both terminating approximately 20ft from the outside of the pyramid. Both continue at some distance then make a significant bends upwards. Both shafts are blocked by a series of doors.
The northern KC air shaft makes several zig-zagging bends at various intervals along its 235ft and the southern KC makes two bends. Both exit the exterior of G1 though we have no way of knowing whether they exited the casing stones or not.
We are so used to seeing diagrams of the G1 interior that depict the shafts in a straight line, like so: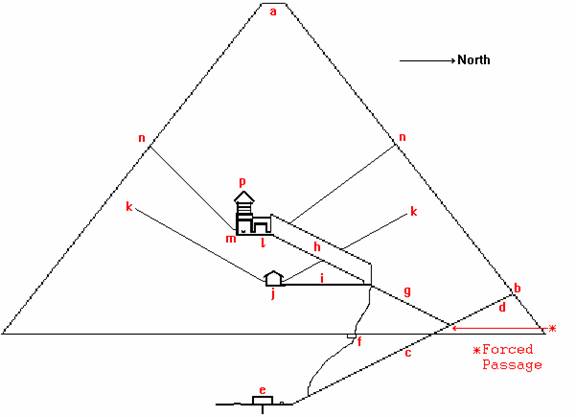 we take it for granted the possibility the shafts align straight to the stars when in reality this is not the case.
The QC has closed entrance and exits for both of its shafts, makes bends, and each shaft is blocked by at least one door if not two (or more)- hardly the stuff of "star shafts" either literally or symbolically. And are we to assume if the pharaoh were buried in the KC he sometimes vacationed in the QC to use those shafts instead to go to different stars? And despite the fact, if we accept mainstream chronology, Khafre would have been present during the construction of G1 if not intimately privy to all of its innovations; star shafts among them, he nor Menkaure incorporated these features into their own pyramids? Regardless, on what planet do we accept viewing a star, either to actually see or shoot a soul at, whether it is at a certain date or not; is to be achieved through a wall, around several bends, through doors, and then through 20+ft of the exterior of the building? Not happening. And the KC is no better as the northern shaft has no less than four bends zigzagging to and fro and the southern shaft has two with a varying shaft size and shape along its length.
The idea the G1 shafts were stellar aligned is nothing new and has been bandied about for several decades; long before the likes of Bauval and Spence. The inherent difficulties of this theory as I have noted above are often conveniently dismissed as "irrelevant" with the idea they did not actually have to make sense as they were merely "magical" in nature and not meant to serve a practical purpose either physically or symbolically. Any engineer who looks at these shafts would agree they are a technological marvel unto themselves and one of the most daunting architectural aspects of building G1 and yet them actually functioning in any logical way to serve the purpose ascribed to them is "irrelevant"? If this is the case then it goes without saying they would truly be "magical" indeed.
There will be those that disagree. There will be charts and graphs and all else in between offered to show how these shafts could have lined up with any number of stars at any given time and yet none will trump the physical evidence that clearly contradicts this novel idea.
Maybe instead of "magical shafts" that do nothing to actually serve the purpose ascribed to them, maybe the riddle of when G1 and the other great pyramids were built should be taken from a different, much simpler and more practical approach. We know these pyramids were aligned to the cardinal points. We know their descending passages were polar passages just as we know Thuban was the pole star at this time. We know that numerous structures, including these very same pyramids, throughout AE history were aligned to the pole star regardless of the pole star of the time. While the shafts of G1 resemble absolutely nothing one would expect of a star shaft, the descending passages of the great pyramids clearly do, and if so would have been made to view Thuban, the pole star of the time, which could only have been, according to astronomer Richard Proctor, sometime around 3350BC.
Regardless of the actual date, it seems to me this proven model of AE construction could be used not only to date G1 but all of the great pyramids whose descending passages align to Thuban. How do we find these answers?
Post Edited (19-Oct-14 05:53)
Sorry, only registered users may post in this forum.