Mysteries : The Official GrahamHancock.com forums
For serious discussion of the controversies, approaches and enigmas surrounding the origins and development of the human species and of human civilization. (NB: for more 'out there' posts we point you in the direction of the '
Paranormal & Supernatural
' Message Board).
David L wrote:
> And whomever created that web site is a nut case. I think most
> of us would be dead if the axis tilted that much.
>
> If the axial tilt had changed even one degree, my computerized
> telescope would be way off the mark when I direct to particular
> object in the sky. It's not off--not by a little bit.
>
> Unless you have a wide open view of the horizon, you don't see
> where the sun rises. And make sure you are not using a compass
> to find north. It's way off.
>
> The USNO site is where you go to get the straight scoop:
> [
www.usno.navy.mil
]
That's true. The writer of that article really doesn't understand the phenomena he's talking about. He's confusing the
overhead
position of the sun at midday at the summer solstice with the sunrise and sunset points on the horizon.
Because of the earth's tilt of 23.5 degrees the
apparent
movement of the sun in the Northern Hemisphere is a giant arc in the sky, tilted towards the south (with the remainder of the circle below the horizon from your point of view).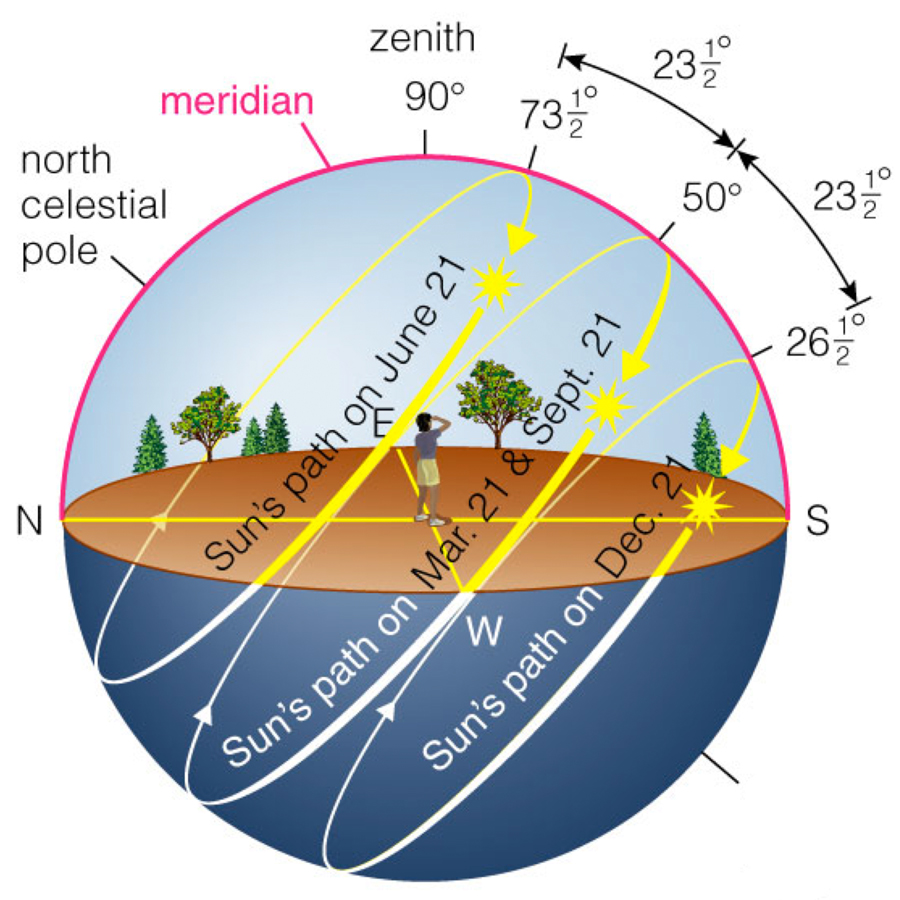 On the Tropic of Cancer, the sun will be
overhead
at midday on the summer solstice, but that doesn't mean that the rising and setting points of the sun on the horizon on that day can't be further north than that. They are, as is obvious from the diagram.
In fact, the further north you go on that day, the rising and setting points move further north too. In Britain, and other countries at that latitude, the rising and setting points are very far north, giving the extremely long days and short nights of summer. Move further north to just below the Arctic Circle, and the sun skirts the horizon in the north, rising and setting in effect due north. Further north again, to the North Pole itself, and the sun doesn't set at all during midsummer. At 'midnight', it's due north.
This page gives a clear explanation, with diagrams:
[
physics.weber.edu
]
Carol
Post Edited (04-Nov-12 16:25)
Sorry, only registered users may post in this forum.