Mysteries : The Official GrahamHancock.com forums
For serious discussion of the controversies, approaches and enigmas surrounding the origins and development of the human species and of human civilization. (NB: for more 'out there' posts we point you in the direction of the '
Paranormal & Supernatural
' Message Board).
In retrospect and non-withstanding a dozen years having elapsed since this topic's date-stamp, I would venture to opine the inscription is less esoteric and overtly symbolic. It is not hieroglyphic and bears the hallmark of enlightened knowledge pertaining the function of Giza.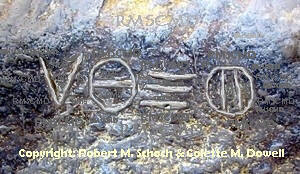 The two angled Causeways of G1 & G2, depicted by the 'V' glyph, share a mutual origin --
at a point in the so-called "workmen's barracks'
-- and target the Solstices in 1250 BC (when the slant of Earth's Pole axis was 14° and the latitude of the Tropics accordingly separated by 28°).
The glyph on far right portrays the Globe's Tropic Circles. The disc next to the 'V' and halved by a centre line, corroborate such being respective of Earth's equator - emphasized as representing latitude. Flanking the three parallel lines, the orientation of the two circular inscriptions, suggest Earth's oblique slant becoming angularly opposed.
For greater context ref:
Astronomical alignments of Giza
article.
Edited 1 time(s). Last edit at 30-Sep-19 18:55 by hendrik dirker.
Sorry, only registered users may post in this forum.