Mysteries : The Official GrahamHancock.com forums
For serious discussion of the controversies, approaches and enigmas surrounding the origins and development of the human species and of human civilization. (NB: for more 'out there' posts we point you in the direction of the '
Paranormal & Supernatural
' Message Board).
Hé Avry,
Do you want to locate Punt in present-day Uganda?
(btw, you posted the one picture from your link that does not show up, is this a similar one?:
drawing: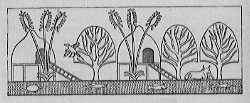 Avry: "Who was it that Hatshepsut sent on this journey?
Why, our old friend Senmut. Oh, and did I mention? His tomb ? the one with the ceiling in question ? is immediately to the east of the Lower Court of Hatshepsut?s temple. I wonder what its orientation points to ?"
This must be the one (he did have a second tomb though):
According to the picture the orientation of the tomb is about E-W. So???
Avry: "Lastly, there is something we need to think about, and that is when do we know Punt was at least first visited, and by whom?"
Wel, we have a record of an expedition to Punt on the Palermo Stone.
Was it during the reign of Sahure? (working from memory here.)
But isn't there something in a 4th dynasty tomb at Giza that might be related to Punt?
If, like you suggested, the ceiling of Senenmut contains a reference to an eclips that occured about a thousend years earlier, I'm very curious how you are going to construct a logical link.
Regards,
Jeff
P.S.: I'm not sure, but isn't Mars missing from Senenmut's ceiling?
Sorry, only registered users may post in this forum.