Mysteries : The Official GrahamHancock.com forums
For serious discussion of the controversies, approaches and enigmas surrounding the origins and development of the human species and of human civilization. (NB: for more 'out there' posts we point you in the direction of the '
Paranormal & Supernatural
' Message Board).
Thanos5150 Wrote:
-------------------------------------------------------
> Hello Steve.
>
> I think Loveritas's scenario is spot on.
>
> To quote myself:
>
>
Surely there must be at least one source that
> makes note of or pictures this "ancient
> geopolymer" slurry...?
>
> Given the effort and detail put into the
> excavation and restoration, is it really possible
> Reisner, Hassan, et al could have missed something
> so obvious and amazing as 4500+yr old "geoplymer"?
> Even if it was misidentified as mortar someone
> somewhere would have said something. At best it
> would have been an amazing discovery as it would
> have predated the Roman use of "cement" by over
> 4,000yrs, at worst-wow the DE sure used a lot of
> mortar to level the foundation. It is impossible
> this would not only have been noted but common
> knowledge as a wonder of the ancient world.
>
> On the flip side, to assume for your sake this is
> ancient, Egyptologists estimate that over
>
500,000 tons of mortar
was used in the
> construction of G1. And yet to level the
> foundation, instead of mortar which for their
> purposes would have worked just as well, they
> instead used magic geoplymer that, unless you
> believe the core blocks are made of the stuff too
> (which you yourself said was taking it to far)
> otherwise no one can find the stuff anywhere?
>
> Here is a simple common sense challenge to
> believers that this is geopolymer- find one
> description of it existing (even if said to be
> mortar) prior to the modern restoration. If there
> are none, then it is not ancient.
Hi Lee
Thanks for your comment.
I guess it was my mistake to wade into the paving blocks? Indeed even to deviate from topic to the more contested and emotional Egypt. Does anyone know when they were apparently "restored", whether any originals remained in situ? What mortar was used if any? I concede it
might
simply be relatively modern using lime mortar?
For those who have not studied Geopolymer or more particularly reconstituted limestone it is incredibly difficult even for trained geologists to tell the difference. Note geopolymer reconstitute is all completely natural occurring substances.
eg Before the conference 2006 (Merrell posted some papers from it) Davidovit's had 6 professional geologists to examine blind samples some real and several man made reconstituted with different methods. In their preferred methods they were unable to tell the difference and declared
it all to be
natural stone.
The trick to distinguish (in part) is to examine the chemical composition, especially with the supposed source of the thought to be natural stone.
In regards to your repeated question:
I wonder whether Flinders Petrie would satisfy you? I am sure you have read this before , but likely from his book direct? (rather than this source requoting it)
Quote
F Petrie
In addition to achieving seamless joins between blocks, the highly polished limestone casing stones that covered the pyramid were fixed with a 'fine aluminosilicate cement'. The finished pyramid contained approximately 115,000 of these stones, (Over 13 acres), each weighing ten tons or more. These stones were dressed on all six of their sides, not just the side exposed to the visible surface, to tolerances of .01 inch. They were set together so closely that a thin razor blade could not be inserted between the stones.

Egyptologist Petrie expressed his astonishment of this feat by writing: - 'Merely to place such stones in exact contact would be careful work, but to do so with cement in the joint seems almost impossible; it is to be compared to the finest opticians' work on the scale of acres"

Source of quote
Or going back earlier Col H Vyse 1837
Quote
Operations -Vol 1 page 261
They were quite perfect, had been hewn into the required angle before they were built in, and had then
been polished down to one uniform surface;' the joints were scarcely perceptible, and not wider than the thickness
of silver paper; and such is the tenacity of the cement with which they are held together,' that a frag- ment of one, that has been destroyed, remained firmly fixed in its original alignment, notwithstanding the lapse of time
and the violence, to which it had been exposed.

The pavement beyond the line of the building was well laid, and beautifully finished ; but beneath the edifice it was worked with even greater exactness, and to the most perfect level, in order, probably, to obtain a lasting foundation for the magnificent structure to be built upon it.
(Note I realise this is different North side pavement I couldn't resist including that quote add on.)
Anyway the point is, both gentleman recognised the extreme nature of very unusual cement used to join the casing stones.
Davidovits , somewhere refers to an experiment with saturated kaolinic limestone sprinkled with caustic soda and the reaction after drying of two parts, hardens with the joint harder than the original stone.
Some explorers , very early on,
noticed
unknown to them then '
magic happening ' with stone working
.
However, again the basalt paving could simply be the simple gypsum or lime mortar used by the AE (or restorers) but even so, they HAD actually developed cement or mortar, and according to you or someone else 500,000 tons of it?
It is no problem at all to me, if you and others dismiss all this as BS!
Again, I thought the vid in the OP on Peru Bolivia, was very interesting, albeit perhaps only to a few gullible fools like me?
Cheers
Edit PS
However "they" restored the basalt pavers. They used cement closely replicating limestone (from source above quoted)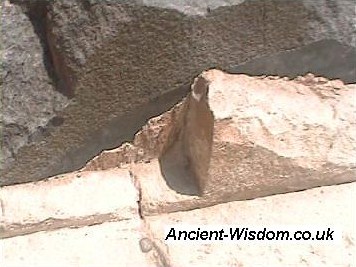 Note how thin the slather
Edit 2 PSS
I am guessing that Barbelo is going to tell me this was modern restored and the adjoining paver, - was pinched again!
Edited 2 time(s). Last edit at 02-Jan-20 05:29 by Corpuscles.
Sorry, only registered users may post in this forum.