Mysteries : The Official GrahamHancock.com forums
For serious discussion of the controversies, approaches and enigmas surrounding the origins and development of the human species and of human civilization. (NB: for more 'out there' posts we point you in the direction of the '
Paranormal & Supernatural
' Message Board).
A very interesting enigma with the serekh is that while its use is common in Dynasty 0, i.e. the depiction of this building, actual buildings which utilize this style, even tombs, are not found.
In the 1st Dynasty, however, not only do these buildings suddenly appear en masse in the form of very elaborate monumental tombs, but Egyptian material culture in general simply explodes in sophistication. Curiously though, several of these 1st Dynasty kings have tombs at Abydos (Umm el-Qa'ab) and Saqqara with the tombs at Saqqara being far superior with no palace facade at Umm el-Qa'ab (but they do have the serekh) and nothing but palace facade at Saqqara. The 1st Dynasty tombs at Saqqara, of which there are many, are truly marvelous. To look at Dynasty 0 then Dynasty 1, there is no doubt there is a sudden and fundamental change that occurred almost overnight. Stunning does not describe it.
While palace facade mastabas are most notably found at Saqqara, there are several other notable early Dynastic sites that have them as well, one of which the enormous very elaborate palace facade mastaba surrounded by a large enclosure wall at Naqada (Thinis) attributed to the early 1st Dynasty Queen Neithhotep (like thought to be the wife of Narmer/Menes early):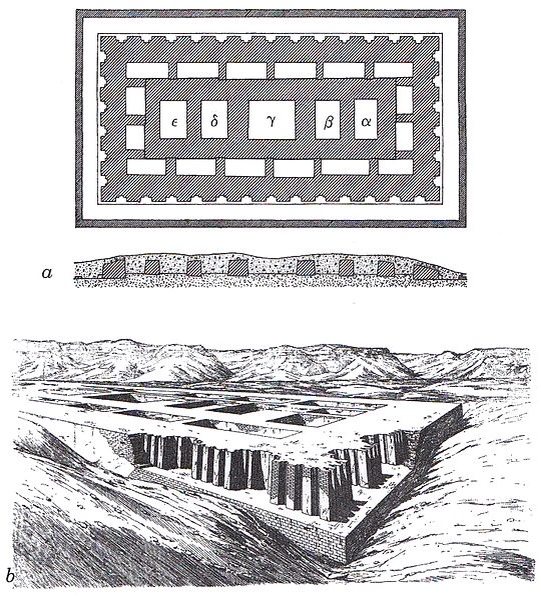 Neithhotep's name is found in a serekh implying she was a king in her own right, but instead of Horus above the serekh the symbol of the goddess Neith is depicted:
Interestingly, another queen, Merneith (buried at Abydos near Umm el-Qa'ab), perhaps a king as well, also bears the name of Neith.
The mastaba is very odd in that for one, it is in the middle of nowhere relative to royal cemeteries, some 80 miles from from the royal cemetery at Umm el-Qa'ab (Abydos) and farther still from Saqqara, but also that all of its internal structures including "burial chamber" are uncharacteristically above ground.
It was first excavated in the late 1800's and unfortunately by the time it was re-excavated decades later it had already begun to erode where today it is completely destroyed. Located south of the Naqada predynastic cemetery, I am reminded
again of the also seemingly out of place nearby massive mastabas at Beit Khallaf attributed to the 3rd Dynasty (Djoser/Senakht) which would have also been in the general area near Thinis, the early dynastic capital of Egypt before Memphis.
At any rate, we are left to wonder why this unusually large northern Egyptian palace facade style mastaba, literally at the very beginnings of Dynastic Egypt, was built in neither of the known royal cemeteries of the time.
I found this photo on Pinterest labeled "1938 Vintage Photo The Tomb or Hor Aha at Abydos second pharoah of Egypt" though I am certain it is not and is actually the mastaba of Neithhotep of whom Hor Aha is credited with building it for her under his reign.
From this ignored thread
The Lost Early Dynastic Cemetery of El-Reqaqna
I take an inventory of sites I have so far found that contain or may contain palace facade mastabas:
Quote

Notes to self:

Early Dynastic Cemeteries with monumental palace facade mastabas:

Saqqara Helwan Tarkhan Giza

(southern cemetery)

Abu Roash (Early Dynastic tomb superstructures found destroyed. Have yet to verify if any evidence of palace facade.)

[UPDATE: Verified-has many.]

El-Reqaqna

Beit Khallaf (? Large mastabas, no, which is interesting, not sure about others.)

Naga ed-Deir

The 1st Dynasty supposedly lasted less than 200yrs yet here we find a vast, highly developed network of cemeteries right from the get go, most occurring within the first 130yrs or less depending on whose dating. In conjunction with the sudden arrival of monumental palace facade architecture, among other things, I am even more convinced this goes far beyond just the "unifying" of Egypt.
It is without precedent, and traditional explanation as I have argued, that such a vast scope of otherwise unknown architectural works in the 1st Dynasty could appear so suddenly and in abundance over such a relatively very short archaeological period without influence from an outside (Mesopotamian) source.
Further reading:
Mesopotamian Origin of the Egyptian Serekh Palace Facade Building
Edited 10 time(s). Last edit at 26-Aug-19 02:20 by Thanos5150.
Sorry, only registered users may post in this forum.